Physio Omega Reviews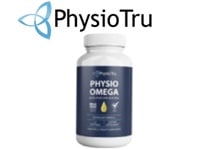 Physio Omega Review: A Detailed Look
PhysioTru Physio Omega is a dietary supplement claimed by the seller to promote cardiovascular health, support brain function, reduce joint pain, and support overall well-being.
In this saturated market PhysioTru claims to stand out with their unique formula that features DPA, a lesser known omega 3 fatty acid.
Below we take a closer look at the company, their customer reviews, and research this extra ingredient to see if this supplement is worth buying.
How Does Physio Omega Work?
PhysioTru head Dr. Sam Walters states that what he considers to be the most important health ingredient when it comes to protecting your heart and improving overall health is what he calls "The Missing Omega."
As most people are aware, the Omega-3 fatty acids they receive from fish oil supplements are often regarded as one of the best ways to bolster and improve health.
In fact, fish oil is one of the most common supplements because it's generally well tolerated and has good scientific support for its use. [1]
However, most fish oil supplements only contain EPA and DHA Omega 3s. The third Omega 3 is DPA, which is usually missing from fish oil supplements.
Dr. Walters argues that DPA is responsible for shutting off excess inflammation in the body and protecting your heart by fighting against the formation of blood clots, among other benefits.
PhysioTru states that the DPA used in Physio Omega is sustainably caught in clean American waters and taken from whole, wild caught Menhaden fish, and molecularly distilled to the highest possible purity.
Benefits of DPA
New research is coming out on the benefits of this lesser studied Omega 3 fatty acid, revealing that Docosapentaenoic acid (DPA) is critical to human health and development.
For instance, "infants obtain almost as much DPA as DHA from human milk. [2]
Additional research points to its importance in non-direct ways, for example one study found that,


"higher levels of DPA in human blood are positively correlated with lower blood triglycerides, cholesterol, inflammation, and overall risk of coronary heart diseases and acute myocardial infarction." [3]


With another study on older adults finding that,


"higher circulating levels of DPA were associated with lower total mortality, especially death from coronary heart disease." [4]

Other research suggests that DPA may act as a reservoir, helping the body retain its major n-3 fatty acids. [5]

Finally, one study examining the effects of DHA, DPA, and EPA on neurodegenerative disorders like dementia and Alzeheimer's found that while,
"DHA is quantitatively the most important omega-3 PUFA in the brain…independent effects for EPA and DPA are being identified, particularly in regards to their respective anti-inflammatory mediators."


Ultimately concluding that,


"Overall, a greater understanding of the individual roles of EPA, DPA and DHA in brain health, protection and repair is needed in order to make appropriate dietary recommendations and targeted therapeutic interventions." [6]

With another study going as far as stating that current scientific evidence is not strong enough to support including DPA into the Omega-3 Index. [7]
DPA Benefits Summary

While there is promising preliminary research, more robust and thorough clinical trials are needed to demonstrate the benefits of DPA. However, it may have a synergistic role with the other Omega 3s so a supplement containing all 3 might be beneficial.
Physio Omega Ingredients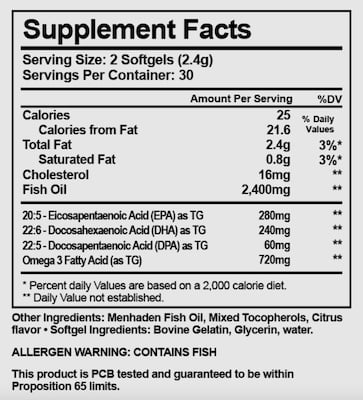 ( Physio Omega ingredients list )
Judging by the fact that Physio Omega contains a whopping 2,400 mg of Fish Oil, it's obvious that PhysioTru believes that the most important ingredient in their product is the DPA fish oil.
But Physio Omega also includes EPA and DHA, all of which are in triglyceride form for maximum absorption.
Customer Reviews & Complaints
On the PhysioTru website this supplement has a rating of 4.3 out of 5 from 329 reviews.
To their credit, the company also publishes negative customer reviews, something that not every brand will do.
On Amazon, at this time, Physio Omega has a score of 4.4/5 from over 800 customer reviews, with customers reporting a number of pros and cons.
See Physio Omega customer reviews on Amazon
Positive customer reviews mentioned:


increased energy
improved blood pressure
no bad aftertaste or fish burps
Negative customer reviews mentioned:


upset stomach
not feeling any different
felt it was too expensive
felt capsules were large and hard to swallow
Here on Reviewopedia, as well as on the BBB website, PhysioTru has decidedly more negative customer reviews, with the majority of customer complaints regarding billing and refund issues.
The company is not BBB accredited and has an F rating there, with a customer rating of only 1 / 5 stars from 16 customer reviews.
Customer Service
Customers who would like to contact support with any questions, concerns, or complaints can do so by,

Phone: 888-332-9372
Email: [email protected].
Cost & Price Plans
Currently the options for purchasing Physio Omega through the company website are as follows:


1 time purchase of a 3 month supply
3 month subscription that renews every 90 days
1 month subscription that renews every 30 days
The subscription model offers additional savings. If you opt in, ensure you cancel beforehand if you decide against receiving further products.
There is also the option to purchase 1 bottle with no subscription on Amazon.
Refund Policy
The PhysioTru return policy states that any customer who is unsatisfied with Physio Omega is welcome to return their unused portion for a full money back refund, minus shipping costs.
The product must be returned within 60 days of the delivery date and only two opened bottles from a multiple bottle order will be accepted for a full refund within the 60 day period.
All other bottles must be sealed and unopened. If the bottles are returned within the first 30 days, then only one opened bottle will be accepted.
Competitors and Alternatives
There are many other fish oil and Omega 3 supplements available for sale on the market.
We suggest that customers who are considering paying extra for supplements which claim to include DPA will still want to do their own due diligence before they agree to pay higher prices.
Fortunately, if you have decided that a fish oil supplement is right for you, there are a lot of well reviewed brands to choose from.
Some popular alternatives include:
InnovixLabs Triple Strength Omega 3 Fish Oil


This fish oil is formulated from wild-caught anchovy, sardine, and mackerel.
It is third party tested and 5 star rated for purity and potency by the IFOS.
1 serving has 900mg of Omega 3s including:


480mg EPA
360mg DHA
24mg DPA
It is also one of Healthline's best fish oil selections for 2023 and has a 4.7/5 rating from 1,400+ customer reviews on Amazon.
Nordic Naturals Ultimate Omega


One of the most popular fish oil supplements on the market, it is made from 100% wild caught anchovies and sardines.
Ultimate Omega contains 1,280mg total Omega 3s, with 650mg EPA and 450mg DHA.
It currently has a 4.7/5 rating from over 47,000 customer reviews on Amazon.
Viva Naturals Triple Strength Omega 3 Fish Oil


If you're looking for a high dose formula then this is a good option. One serving contains 2,200 mg of fish oil, including 1,400 mg of EPA and 480 mg of DHA.
It also uses sardines, anchovies, and mackerel oil and is purified to reduce mercury.
It has solid reviews with a 4.6/5 rating from over 9,000 customer reviews on Amazon.
The Bottom Line
Because the research on DPA is relatively limited when compared to the other Omega 3 fatty acids, it's best to find a supplement brand that prioritizes sourcing, testing, and suitable doses of EPA and DHA as well.
Ultimately, since Omega-3 fatty acids are derived from food, it can be a good idea to try to get them from a healthy diet that's high in fatty fish.
If that is difficult then it can a be a good idea to increase your intake with nutritional supplements.
As always, if you are on medications or have health issues it's best to consult your primary care physician before starting a new supplement regimen.
If you have any experience with Physio Omega, please leave your reviews below.
You may also be interested in
Physio Omega Customer Reviews

Jerry R
Contradicted by published scientific study
A total LIE per this NIH scientific study.
https://pubmed.ncbi.nlm.nih.gov/30103927/

John M
Paid for 4 bottles 1 month ago. Feb 22, 2022, No help no mailing. I SAY SCAM

Jeff H
Checked this product out with my Doctor. He said it's basically good I'm taking fish oil. Recently however as I'm due to retire soon I will be seeking an alternative. Don't really want to stay locked in to a monthly charge.
Cannot reach PhysioTru at current phone number 888-332-9372. So I guess I will email or look for a chat line to them. BTW because of the coating I open the capsules up using a pin just to make sure they get digested quickly. I drink coffee you know so....

Anne
We bought this product a year ago and have used it. My husband had a very high cholesterol number that would not go down, and he cannot handle the prescription medications. When he began taking this product his cholesterol was consistently about 250, about a month after beginning it, he had a blood test. His cholesterol was nearly 100 points lower. We both feel the Physio Tru was the catalyst but are not sure. It just looks like it works, at least to us.

Jett G
Boy you got me!
how does a "NMD" sell out to such a company?
A few extra bucks? must be some paycheck!, Hey doc don't you see enough patients and get enough from the TV appearances and resultant patients coming from seeing you on TV or was it too easy to pass this opportunity up being the "Lead" at the (or your) company. And to make this video so long by saying again and again how the 7 second tip is "coming up" only to run endlessly and repeating again and again how wonderful it is. and how can you say it is scientifically proven when reviewing this all I had to do was to look you up under under "Dr. Sam Walters scam" to learn it is not proven and and you know it. Not to mention the really low and awful scar tactics of having a heart attack surgery and death again and again. and who is the founder that cares so much for others? and I'm sure you discounting and saving everyone money for new suckers who ever is willing buy 8 btls. "promotion" "grandfathered" "never pay retail again" and "world class customer service team" "triple MBG" OMG! You are some piece of work pal. and 2 free downloads worth 27 bucks "that will save my life" your amazing Please stop the scam.
Really sad that but I'm sure you have scared a ton of seniors in buying this stuff and "limited time" HURRY HURRY HURRY.
welcome back my friends to the show that never ends!