Physicians Mutual Insurance
Physicians Mutual Insurance Reviews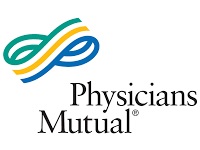 Physicians Mutual Insurance, found online at PhysiciansMutual.com, is a nationwide insurance company which states that they provide insurance policies of all kinds to benefit the average American worker.
How Does Physicians Mutual Work?
Currently Physicians Mutual Insurance offers Medicare Supplements, Life Insurance, including Whole Life, Term Life, and Juvenile Whole Life, Dental Insurance, Accident Insurance, Supplemental Health, Annuities, Funeral Pre-Planning Services, and more.
Unfortunately not all offerings are available in every single state, though prospective customers can see what is available to them by choosing their state of residence and the plan they are interested in, using their "Get a Quote" feature.
Once you know that a particular insurance policy is available in your residential area, you can either continue to get more information via their website, or you can request that a free informational kit about that plan be sent to your home or office. You can also request that a representative can call you directly to answer any questions you may have.
Cost/Price Plans
Using their website for information and for receiving a quote is completely free of charge. Customers who are interested in information about monthly rates for specific plans can use the "Get a Quote" feature to select their state of residence, the plan they are interested in, and answer a few simple questions to receive an instant estimation of what they can expect their monthly rates to be.
These rates are not set in stone, however, until you officially fill out an entire application and have it reviewed by Physicians Mutual Insurance for a final quote.
Refund Policy
Unfortunately insurance companies do not generally provide "refunds," as this is a monthly subscription based service. Some companies may allow their customers a period in which they can cancel their services without incurring any financial penalty and with the ability to receive a refund of their first initial month's premium.
Whether or not this company provides such a policy is not clear from their website, so concerned or curious customers should contact a representative regarding this matter if they feel cancellation might be a possibility.
Customer Service Contact Info
Customers who wish to contact Customer Service with questions, concerns, or complaints can do so by phone at 800-228-9100 for information on products, at 800-825-4141 for account holders, or by submitting them directly to their website.
Reputation
Unfortunately all insurance companies suffer from very mixed reviews, because different customers will have different needs, circumstances, and experiences.
Customers who are curious about a specific policy should look for reviews or experiences of that specific policy, as that will offer more beneficial information than general Physicians Mutual reviews will.
Competitors and Alternatives?
There are many, many different insurance companies operating in the United States today, and even more if you are willing to look at niche insurance providers in addition to large scale providers that offer many different types of insurance the way Physicians Mutual Insurance does.
If you have any experience with Physicians Mutual Insurance or their products, please leave your reviews below.
You may also be interested in
Physicians Mutual Insurance Customer Reviews