Persopo Reviews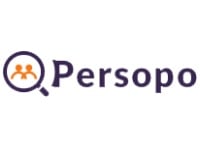 Persopo is an online search engine which states it provides users with access to the most updated and accessible available public records, such as marriage or death licenses, in all fifty states.
How Does It Work?
According to the advertorial, there are many good reasons people may want to research background information on the people they meet, whether they are new neighbors, co-workers, friends of your children, and more.
However, the website is very clear that their background search features should not be used to make employment decisions or to harass, stalk, or contact people who have made it clear they do not wish for you to contact them.
This website will give users access to criminal records, police arrest histories, traffic records, marriage and divorce records, birth and death records, addresses and contract information, known relatives, lawsuits, sexual offender records, and "even firearm licenses."
In order to access these records, all you will need is a full name and a state of known residence, whether past or present. You can better filter your results by also providing a city of known residence, but this is not required for the search process.
You will then be given an initial results listing, which publishes names, age, and names of known relatives, so you can choose which individual you would like to purchase a full record of.
Cost/Price Plans
There are three different membership packages available at this time.
For $19.93 per month, you can have unlimited reports on a month-by-month basis, while customers who choose to pay quarterly will receive a rate of $14.93 per month.
Customers should be aware that all subscription charges will be automatically renewed for the next subscription term unless you cancel in advance.
Refund Policy
This website does not provide any information on refunds, likely because they do not offer any refunds. Service can be cancelled at any time in order to stop continuing charges, but no money will be returned.
Customer Service Contact Info
Customers who wish to contact Customer Service with questions, concerns, or complaints can do so by phone at 866-371-2590 or by email at [email protected].
Reputation
Unfortunately this website receives very mixed reviews, with people saying that they performed background checks on people they knew had been divorced or had criminal records, and the results they received turned up no information on these records at all.
In general, people do report that it seems easy to cancel this service when you are unhappy, but the information you are given is regularly quoted as "not worth the money."
Competitors and Alternatives?
There are many different websites that promote themselves as a beneficial place from which people can provide their own personal background checks, including MyLife, PeopleWhiz, TruthFinder, and others.
For more information on what to consider when evaluating such websites, look at People Search Websites and What You Should Know.
If you have any experience with Persopo or their services, please leave your reviews below.
You may also be interested in
Persopo Customer Reviews

Dissatisfied C
Don't Do It! Buyer Beware!!
Buyer beware. I just got off the phone with a jackhole named Elijah (maybe?) from Persopo that attempted to treat me like a bafoon that has no life experience. Literally screaming at, and talking over me through the entire 40 minute "conversation".
Their practice is to promise that you will get search results within 3 days of an inquiry. This is a lie. I was remiss in that I didn't cancel the membership immediately. They took my $19.97 per month for two years after I tried to cancel after six months. I'm going to attempt to get a Charge Back against this company for what they have fraudulently taken from me.
All I can say is, read reviews, go anywhere but here to seek historical information on anyone that you need REAL info on. This is info from another disconcerting review that I cut and pasted here.
These are serial bad actors here. Using data as a weapon against anyone seeking a private online presence.
Contact your state attorney generals office.

Will
The people behind the site
These are serial bad actors here. Using data as a weapon against anyone seeking a private online presence.
https://globalnews.ca/news/3284240/ms-world-beauty-queen-says-fake-news-site-stole-her-image-to-create-right-wing-persona/
Michael Powell, Stanley Shilov, Chris Khachaturian and Meng Yang Aka Meng Powell
Contact your state attorney generals office.

JS K
Stay away from Persopo.com and Save your $$$
The info at persopo.com was completely worthless in that it didn't provide any info other than addresses and old phone numbers. There were no court records, no marriage or divorce records, no accurate family information. What it provided was not worth $30 monthly fee.
When I tried to cancel the trial membership on the last day of the trial period, the automatic information said that they were closed over the weekend, so I sent email instead. I called Monday and the Rep said they would cancel, gave me cancellation number, and assured me they would not charge beyond the trial membership fee.
Next day I find out that my bank account was charged, so I called in. The Persopo Rep insisted I should have called one day before it expired and refused to refund me. This company is worthless and is out to rip off unknowing customers.

persopo-victim
DEFAMATION! I filed with the BBB, FTC, FBI - so should you
They post lies about me and maybe about you? Or the great person you dropped when you went all creep on them?
Check what they claim to have on you... is this why you didn't get the job? Or that Tinder date dropped you?
The FTC investigators are looking for a pattern to start class action.
Report here (I think BBB doesn't make a lot of sense)
https://www.ic3.gov/complaint/splash.aspx … (FBI)
and here: 18773824357 (FTC)
I'll just copy what I sent to the FBI today.
Provide a description of the incident and how you were victimized. Provide information not captured elsewhere in this complaint form.
I am contacting you because I feel the company I report engages in mass-defamation and shady or illegal practices.
I have a screenshot of the site "deep searching" the web and claiming that they have
- Two marriage/divorce records
- One criminal record
- Four licenses / driving records
on me.
I was never married, I don't have any negative driving record, and I don't have a criminal record.
If they post false information about me, they likely post incorrect information about other citizens as well.
Once people pay, they will probably not get the records because they don't exist. However, most people will not pay and leave the site believing that such records exist.
This is defamation.
I mention this because I feel it's something that might be a matter of public interest.
However, my main concern is that I told them that I am a stalking victim and need them to remove my info soon (how bizarre is it to beg someone to remove lies they post about you?)
I filed a complaint with the BBB on July 20th (BBB CASE#: 9017023) after they refused to remove my data even though I sent them a copy of my ID. They keep referring to an "opt-out process" that isn't working on my browser or so complicated that I'm intellectually not able to follow it.
However, I opted myself out of maybe 20 other sites so that it's safe to say that I can follow a sensible process.
Today, I filed a complaint with the FTC (ID 11019026) who told me to file a complaint with you as well.
Whether I am too stupid, it's an issue with my browser, or it's just not working-any decent company would neither defame people nor refuse to remove data of someone who claims to be a stalking victim after they sent a copy of their ID and filed with the BBB.
Please keep this company from posting false information about me and any other American citizen.

Margie C
i looked up 3 people that i know had records and it showed no record at all don't waste your money you get more info on the inmate search from your local goverment ..