PC Matic Reviews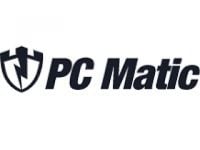 PC Matic Customer Reviews

Karl B
A total scam and will sabotage your computer!
I purchased their service for 1 year @ 9.99. Not great but O-K performance. However I refused the 49.99 renewal price and immediately after the subscription expired my computers went haywire! Windows updates don't work, all of my personal log ins were cut off, can't stream media, can't update active X files, Web browser freezes, can't use windows fix or even system restore. In effect, they SABOTAGED my computer(s) because I did not renew their service. Now I have to relay Windows 7 and Vista to get rid of whatever bugs they left since the program uninstall did not totally remove it. STAY AWAY FROM THEM! They are sneaky and underhanded and will DESTROY your computer if you do not renew their pathetic software.

Jacques
Trust me, is very simple!!!! This is what you really need to do...
Download for free from filehippo CCleaner, SuperAntiSpyware and Avira AntiVirus; all 3 programs are 'really free' and you will not need anything else, better yet, if you use a router you won't even need your firewall on which is a big slowdown for all computers. Religiously run SuperAntiSpyware and CCleaner once or twice a day, both of them only take 1 or 2 minutes, and you will be safe and very happy!!!! trust me, I know what I am doing, I run 4 different businesses on 4 different computers all day long, our actual network actually has about 25 computers, and they all been running smooth for about 8 years, everything else out there is a joke, especially Norton/ McAfee, get rid of it immediately!!!!!

Roger
It does not work and I can't log in now
My password and ID no longer work and I do not get reply's from the company. Are they still in business?

John
On the TV advertisement it say's it's free. But it's not. Only the SCAN is free, most PC "repair" corporations will give a free scan, sometimes it will even say you have a ton of problems even though you don't. If you do actrually have a ton of problems it will show you the stactistics and then will say something such as "FIX NOW" but you will always most likely have to pay a fee such as 30.00 $ or 60.00 Euros. I only know of one program that allows a free scan and repair but it's only a 14 day trial, and you will get extremely annoying ads and pop-ups if you don't delete it PROPERLY after you're done with it. It's TuneUp Utilites 2013. I have to say PC Matic is one of the worst PC "repair" product ever. Well that was my review. Thank you.

Connie
Downloaded the software and it worked fine. The next day, however, I shut my laptop down and took it to the office. It would not allow me to log on, corrupted my profile. I had to send the laptop out to be repaired, have not gotten the bill yet. I called and tried to use their support, they had me do a few things and it just made it worse. Beware!

Tom
The TV ad states that the program is free. But it's NOT!

Bill
The tv add implies that it is free. It will scan your computer but if you want it to fix something you have to buy it,