Patriot Power Generator 1800
Patriot Power Generator 1800 Reviews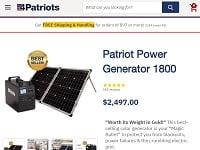 The Patriot Power Generator 1800, found online at 4Patriots.com, is described as an important survival tool necessary for those interested in being able to maintain their home and safety during power outages.
How Does It Work?
According to their website, the United States is in serious danger of a terrorist attack on their power grid that could shut down the entire country.
In fact, they quote someone who claims that if the power grid was destroyed and stayed shut down for more than a year, 90% of Americans would probably die.
Most people understand that having a backup generator is a good way to keep access to power when traditional energy sources go out, but it can take up to 18 gallons of gasoline per day to keep one running and that can add up to $210 per week.
The goal of the Patriot Power Generator is to give people a generator that can't be shut down and isn't cost prohibitive to keep running, which is why they have created a solar generator.
This generator is "whisper quiet," fume free, discrete, and safe to use. It offers up to 1,500 continuous watts of clean, renewable power. It's only 38 pounds and is small enough to easily to transport with you wherever you need to go.
Cost/Price Plans
This website says that the full retail price of their generator is $3997, but because the maker of the generator wants to be able to offer this life saving product to as many people as possible, the website is currently selling it for $2497.
Refund Policy
This company says that there is a 365 Day, 100% Money Back Guarantee for this generator. This gives customers the ability to try this generator for themselves for up to a full year and to "really put it to the test."
If you decide that this generator does not meet the promises the company made, then you can return the generator and get your money back "no questions asked" according to 4Patriots.com.
This website says that in order to take advantage of their Refund Policy, customers will need to have a copy of the order confirmation that was originally emailed to you or know the email address you used when you ordered. In addition, all products must be in saleable condition when they are returned, or your refund will not be issued.
Customer Service Contact Info
Customers who would like to contact Customer Service with any questions, concerns, or complaints can do so by phone at 800-304-4202 or by email at [email protected].
Reputation
This product is marketed by 4Patriots, a company which has been accused of essentially "scaring" their customers into purchasing their products.
Every sales page they offer warns of the impending apocalypse and the products customers will need to make sure they survive the impending dystopic future of the United States.
There are some issues with this company's sales tactics – customers should choose to purchase products because they are better than other competitors and right for a customer's needs, not because a company has filmed a scary video telling you that without this product your whole family will die.
That being said, the products that are made by this company are often be well-liked by their customers. Some websites have reviewed their solar generator and have decided that it is a high quality generator that is likely to meet many of the promises they have given their customers.
Customers who are considering this purchase should know, however, that though their website claims that they are offering their generator for a massive discount (out of the kindness of their hearts and desire to ensure the protection of the American people), the reality is that when compared to similar solar generators on the market, this generator is actually at the highest end of pricing.
In addition, in 2016 the company that manufactures generators for 4Patriots had to issue a recall because they were catching on fire.
The Patriot Power Generator 1800 appears to be a new design, but customers may want to take this into consideration when comparison shopping.
Competitors and Alternatives?
There are many other solar powered generators available on the market that are actually priced lower than this product, though they may not have quite as generous of a Refund Policy, so customers will want to determine what features and brands will best meet their needs.
If you have any experience with the Patriot Power Generator 1800, please leave your reviews below.
You may also be interested in
Patriot Power Generator 1800 Customer Reviews