PatPat.com Reviews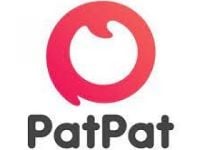 PatPat.com Customer Reviews

Medley M
The cute little dinosaur jumper was suppose to say "FUN TIME" but instead says "TUN TIHE"!!! What the heck is that??? They only offered 50% back. I wouldn't have even bought it at a thrift store for a $1!

Marija N
Delivery of 40 days.. as patpat is selling children's cloths, they grow up until
delivered. On the end we got wrong
size! They did not accept the complain, they said they have 14 days return policy, we could not reply because we were on vacation then.
On top quality is not as good as it looks on pics!

Amy
Took over a month to receive one of the items I ordered. When it came the quality was not what was pictured. The second one never came! Horrible company, horrible costumer service. Also, my order was shipped form China, not California.

Matthew L
SCAM!!! Disgusting lack of professionalism. Its been a month and I just received one of 20 items I purchased. It was for my entire family's Christmas Eve celebration and we had nothing for the first time. I left emails on their website contact and no response. I have called and the phone is apparently "busy" all the time so you cant't speak to anyone and they wont even let you wait on hold.

Shell N
Terrible Customer Service
I ordered 5 pairs of Christmas pjs for the family to wear on Christmas Eve. When we opened the pjs on Christmas Eve one pair had the zipper sewn so it could not be used. The pull for the zipper was only sewn on one side. So the pjs were of no use. I contacted the company the same day and they refuse to refund the money for the product and stand behind their quality. They received pictures of the items with showed it was a defective product, but still refused to refund. This company has terrible customer service and their products do not meet the quality standards they claim to have. Do not buy from this company!

Scott S
Overcharged me £62 and won't reply to comms or refund me. Sizing is a mess and quality is poor. Size labels or on outside of tops!! Don't go near these guys.

Tara S
I've received nothing and they don't respond
I ordered matching PJs Nov 15 and have received nothing. They don't respond to emails inquiring about my order.
The tracking info says my package has been in NY Gateway since Dec 5, but I can't get any information from PatPat or shipper (also horrible, SF Express) about when that package will get to me, if ever. This was supposed to be a Christmas gift for my family. Instead, PatPat essentially stole $65 from us.

Kat H
I recently ordered items from this site and noticing the delay of shipping I planned ahead. Not expecting to receive them for a month or 2...to my surprise they arrived already. Clothes were sent to my daughter who is expecting her 1st baby boy. She says the clothes are adorable and is excited to place her own order.
Thank you PatPat for a great experience from beginning to end. Happy Holidays!!

Stephanie E
Terrible Delivery & Customer Service
I ordered in September. Turns out 3rd party delivery company tried to delivery in October, but needed to verify address. I was never contacted. Then in November, PatPat emailed saying parcel has shipped, here is tracking. TRACKING STILL SAYS ITS ON ITS WAY. IN DECEMBER. I bypasses PatPat and went to the delivery company directly. They have cancelled the delivery, stating unable to deliver. I've given them my complete correct address, and they say they will post it. I contacted PatPAT and they just gave me the speech about things can be slow etc etc Then they told me to contact the 3rd party delivery company. That should be their job no? So still haven't received by package and am appalled by the customer service and lack of any quality from PatPat.

Lina
I have been trying to cancel an order the next day I placed it as I saw it would not arrive on time. No way. After multiple e mails there is no way to cancel the order although it is stated I. Their website states that orders can be canceled as long as they have not been shipped yet. However it is a lie. As long as they got your money no way they will gove them back. I dread to see the pajamas if they ever arrive. Never again obviously!

nancy
No replacement for defective product that is new
I bought two toddler hoodies as a gift. They took four weeks to arrive. I gave one gift two weeks after they arrived. The zipper broke before it was laundered for the first time. When I contacted Pat Pat for a replacement they said I was 30 days past the purchase date so it was not returnable. BUYER BEWARE! There is no phone number for this company and you will be subject to their policy to not replace defective products.