Pado Pure Wave Massager Reviews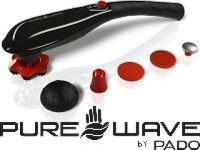 The Pado Pure Wave Massager, found online at PadoUSA.com, is a series of cordless body massagers which promise people the same benefits of professional massage but with the added convenience of being available at home.
How Does It Work?
According to their website, the goal of Pado is to "enhance people's lives by bringing them enjoyment through high quality lifestyle products." Specifically, they are making cordless massagers for at-home use.
These handheld stick massagers are described as being powerful enough to provide their users with a wide variety of different types of massage, depending on the massager itself and the type of head attachment the massager comes with, but these massage styles include Swedish Massage, Sports Massage, Deep Tissue Massage, Acupressure, Reflexology, and even facial massage.
All the massager heads are covered in antibacterial silicone material which is easy to clean and easy to keep clean. These massage heads, paired with the dual motor of some of their models, should be able to provide most of the massage therapy your body needs. &nbsp
&nbsp
Cost/Price Plans
Currently this company is selling two different massager models, the CM-05 and the CM-07. The CM-05 is priced at $99.95 and only uses a Percussion Massage Motor, which limits the types of massages it is able to provide. The CM-07 is priced at $124.95 and has both the Percussion and Vibration Massage Motor, so it is able to provide all their noted massage styles at this time.
Refund Policy
The website says that they offer their customers a 30 Day Satisfaction Guarantee on all products purchased directly from their website. Products must be returned with all parts, original packaging and in re-sellable condition by following the specific, step-by-step process outlined clearly on their website.
Customers can choose to have the company provide them with a pre-paid FedEx return shipping label for a price of $8.00, and the original shipping fees will be subtracted from the refund as well, as shipping fees are the responsibility of the customer.
Once customers go beyond the first 30 days where their product is returnable, the year long Warranty will go immediately into effect and any problems after that time should be checked against their Warranty.
Customer Service Contact Info
Customers who would like to contact their Customer Service team with questions, concerns, or complaints can do so by phone at 866-528-1010 or by submitting them directly to their website through their Contact Us link.
Reputation
At this time, it appears that this brand of cordless massagers appears to get fairly positive reviews from their customers.
There were a few complaints from people who said they used this product only a couple times before it appeared to stop working, but since the product was under both the Refund Policy and the Warranty, customers should have been able to get a refund of their purchase price. Unfortunately none of these complaining reviews mention speaking to their Customer Service team at all.
Competitors and Alternatives?
Certainly there are many other cordless body massagers available on the market, many at local health and wellness retailers and many available on major online retailers like Amazon.com.
If you have experience with the Pado Pure Wave Massager, please leave your reviews below.
You may also be interested in
Pado Pure Wave Massager Customer Reviews

Melissa
I suffer from fibromyalgia and the Pure Wave Massager has really helped with muscle pain. I would give it a 5 star but most of the attachments cause too much pain to use so I use the soft head most of the time. The other heads seem to put it into percussion mode too easily.