Ageless Brain Reviews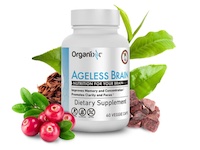 Organixx Ageless Brain is a dietary supplement that's claimed to improve memory and focus.
The seller also states it can be used as a supplement for Alzheimer's Disease, a fatal, degenerative disease for which there is no cure and only limited treatments.
How Does it Work?
Organixx is a wellness company, founded by Jonathan Hunsaker, that states they only provide quality supplements with high levels of bioavailability.
They advertise a variety of formulations through sales pages marketing the treatment of many ailments.
One of the core ideas in the creation of Ageless Brain is that Candida albicans, the fungus that causes yeast infections, builds up in your body and causes symptoms in the brain.
Organixx claim Ageless Brain can offset these negative effects and improve a number of cognitive functions.
The website for Ageless Brain touts the ingredients as part of the natural pharmacy found in the Amazon, and claims they have incredible healing powers.
Below we take a closer look at the ingredients.
Product and Ingredients
Pau d'arco
Pau d'arco is a tree native to the Amazon rainforest. The wood and bark, which resists rotting, are used by indigenous peoples to make medicine.
It has been touted as a treatment for many conditions, from asthma to cancer and even the common cold. In this particular supplement, its reputation in fighting yeast infections is likely the reason it was included, although this is not backed up by scientific evidence.
Sangre De Drago (aka sangre de grado and Dragon's blood)
Sangre De Drago (aka sangre de grado and Dragon's blood) is another tree that grows in the Amazon rainforest. The bark and sap of the tree are used to make medicine.
There is a chemical in Sangre De Drago that was approved as a treatment for diarrhea in patients with HIV and Aids, but aside from this, there is not sufficient scientific evidence to support its treatment for any other condition.
Camu
Camu is also found in the Amazon Rainforest. It is a shrub that grows in swamps or flooded areas.
The fruit, which is also eaten as a food source, and the leaves are used in indigenous medicines.
It is a source of nutrients such as Vitamin C and beta-carotenes, as well as protein and fatty acids. Although it's been identified as a treatment for a variety of conditions, there is no scientific data to back up these claims.
Guayusa
Guayusa is a type of holly tree which is native to the Amazonian rainforest. The leaves have been harvested since ancient times because of the reported health benefits, namely anti-inflammatory properties.
It's traditionally brewed into a caffeinated tea that is enjoyed throughout South America – particularly in Ecuador, where it's used not unlike coffee to increase alertness.
Aside from the temporary effects of the caffeine, there's little scientific evidence that guayusa is effective as a treatment for any illness.
Cat's Claw
Cat's Claw is a vine that grows in the Amazonian rainforest. It gets its name from the thorns, which look like cat's claws.
It was first used two thousand years ago as a health tonic.
Cat's Claw now is regarded as a treatment for a number of diseases, but there has not been enough rigorous scientific testing to prove any of these claims.
Bacopa
Bacopa is an herb that has been linked with improved memory and focus. Very limited research suggests that it may protect the brain from Alzheimer's Disease, but bacopa has not been proven as a treatment for any illness.
Cacao
Cacao has been grown in South America for 5000 years. Cacao beans are used to make cocoa powder, providing us with chocolate, and cacao powder. Cacao has been extremely popular as a supplement for several years.
Research suggests that cacao's antioxidant properties may provide some relief for high blood pressure and inflammation, and it's another supplement that is linked to Alzheimer's Disease, but more scientific data is required to prove these claims.
What is known is that cacao is a good source of fiber, iron, protein, magnesium, and potassium.
Cinnamon
Cinnamon is the most easily recognized ingredient in this supplement. Used for years as a spice, cinnamon comes from the bark of an evergreen tree.
Cinnamon does have antioxidant properties, which may be useful in treating inflammation.
Research suggests that it may help lower blood sugar, and may also lower cholesterol, but more scientific data is needed to back these claims.
Potential Side Effects

Pau d'arco
Pau d'arco can cause nausea, vomiting, diarrhea, and dizziness when taken in high doses. You should avoid taking this supplement if you are pregnant or breastfeeding.
Pau d'arco may slow blood clotting and increase bleeding, so do not take it if you are having surgery.
It should not be taken with any other drug that slows blood clotting, which includes aspirin, NSAIDS, and prescription blood thinners like heparin or Coumadin.
Do not take this supplement if you have any condition which impairs blood clotting.
Sangre de Grado
Do not take Sangre de Grado if you have leukemia as it can make symptoms worse.
Guayusa
Keep in mind that guayusa is naturally caffeinated, so use caution when taking any other supplement with caffeine or drinking any other caffeinated beverages.
Cat's Claw
Do not take cat's claw if you are pregnant or breastfeeding. Do not take cat's claw if you have an auto-immune disease such as Multiple Sclerosis (MS), lupus, or similar conditions.
Those with Parkinson's disease may find symptoms worse when taking cat's claw.
Avoid taking cat's claw if you take medication for high blood pressure, immunosuppressants, lovastatin, Nizoral, Sporanox, Allegra, or Halcion.
Bacopa
Bacopa can cause stomach cramps, nausea, dry mouth, increased bowel movements, and fatigue. It is not recommended if you are pregnant or breast feeding.
Bacopa may slow the heart rate, and may intensify intestinal blockages, as well as exacerbating stomach ulcer symptoms. Bacopa can also interfere with thyroid medications.
Cacao
Cacao contains caffeine and another stimulant called theobromine, so it should not be taken with anything else that contains caffeine.
Pregnant women should not take cacao. Since cacao is a raw ingredient, it can also be contaminated with bacteria that may cause food poisoning.
Cinnamon
Do not take a cinnamon supplement if you are allergic to the spice or if you have liver problems.
You should also avoid cinnamon if you take medicine to lower blood sugar or treat diabetes. Cinnamon should also be avoided if you are taking antibiotics, blood thinners, or heart medication.
As always if you have any concerns, are on medications, or have any health issues you should consult with your doctor before taking any new supplements.
Customer Reviews & Complaints
Although Organixx Ageless Brain is not currently available on Amazon, it had a rating of 4.2 stars out of five, taken from 193 ratings. The company website has a rating of 4.63/5 from 145 customer reviews.
The positive reviews mentioned that the users felt a lift in "brain fog" and could concentrate better. Some stated that they felt that it was working as advertised.
The majority of complaints for Ageless Brain simply reported that users felt no difference when taking the supplement. Others mentioned that it was just another vitamin pill.
One, more serious, negative account mentioned feeling an increase of anxiety and heart racing.
This supplement does contain natural stimulants so be aware if you are sensitive to caffeine. Their website states that it contains 0.630 mg of caffeine in one serving (2 capsules) of Ageless Brain.
Customer Service
You can reach a company representative by email at [email protected] or through their phone number at 1-877-750-6455. You may also submit a ticket on the website.
Organixx backs all their supplements with a one year, 100% satisfaction guarantee. If you are unhappy for whatever reason, they state that you can return the product for a full refund.
Cost & Price Plans
One bottle, which is a one-month supply, costs $54.95.
Three bottles cost $148.38, which is a savings of ten percent and includes free shipping.
Six bottles cost $280.26, a savings of 15 percent and includes free shipping.
How to Use Ageless Brain
The supplement comes in capsule form, with the recommended dose being two capsules by mouth per day.
The Bottom Line
Ageless Brain is crafted with some very interesting, promising ingredients.
However, these ingredients also have little or no scientific backing for their claimed benefits, which is not that unusual in the supplement world .
Many supplements have years of anecdotal (word of mouth) evidence without having sufficient scientific data to back it up.
However, when they market the supplement as a treatment for Alzheimer's is when this product crosses over into scam territory.
If you're suffering from serious symptoms related to degenerative disease or other cognitive failures, consult with a physician for approved therapies and avoid supplements making unrealistic or hyperbolic claims.


You may also be interested in
Ageless Brain Customer Reviews

DJ S
This product uses false and misleading advertising!
This product uses false and misleading advertising by promising to reveal the four warning signs of dementia. Nowhere in their ads or website do they actually reveal them. The product is not FDA approved and says it does not diagnose, treat, or cure any disease. Sounds like another supplement scam to me.

Ginger F
Doesn't work for everyone
I'm sure it may work for other people, but there was no change for me after taking it for 3 months. Very disappointing. If I didn't live in a different country, I would have sent the product back for refund.