Option Millionaires Reviews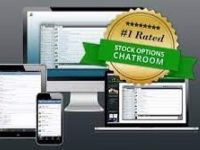 Option Millionaires, found online at OptionMillionaires.com, is a company who says their goal is to help the average daily trader utilize their years of stock trading experience to secure "big gains."
How Does It Work?
Their website says they were created in order to become the "definitive place for stock options traders" who were interested in getting together with other traders to generate and share ideas and strategies for being a better trader.
To that end, today's Option Millionaires are "a tight-knit community of active stock options traders" that have depth of experience that includes great success as well as heartbreaking failures when trading stock options, and they are willing to share all their knowledge and experience with new traders in their friendly, family-like communities, discussions, and forums.
In addition to discussions and forums, they offer "GoToMeeting" educational classes with professional instructors, a video library of stock options educational videos, SMS text alerts, daily blog posts, and watch lists.
Cost/Price Plans
Option Millionaires currently offers four different membership levels, including their Bronze Level membership, which is free and orffers access to some training videos, the OM Forum, and the Bronze Level Blog. The Siver Level costs $19.99 per month, and offers the Daily Watch List, Silver Level training videos, the Silver Level Blog, and access to discussion groups.
The more expensive membership groups are the Gold Level, and the Diamond membership. The Gold Level costs $69.99 per month and offers everything the Silver Level does, plus their Technical Analysis Series, Webinars, and weekly SMS alerts, while the Diamond membership offers everything included in the Gold Level, plus access to a Private Twitter feed, Advanced Options Strategies, "Trading with Lee Malone," Premium Webinars, and the Life Events Archive, for $99.99 per month.
Refund Policy
All the membership plans offered by this company are offered on a month-to-month basis, without the ability for customers to purchase a long term membership up front. This means that Option Millionaires has no need to offer a standard Refund Policy, as customers have the ability to cancel their membership at any time without any penalty.
If you do feel that circumstances have occurred which do justify your request for a refund of any fees paid, you will need to speak directly to a Customer Service representative, who will handle your request on an individual basis.
Customer Service Contact Info
Customers who would like to contact Customer Service with any questions, concerns, or complaints can do so by submitting them directly to their website through the Contact Us link.
Reputation
Unfortunately there are not many customer or user reviews of this website at this time, though the few that are available appear to be very positive regarding what this website offers and the personal experiences people had with their resources.
However, there were a few comments made about Option Millionaires that prospective clients may want to take into consideration when deciding whether or not a membership at this website will work for them.
In general all these comments had to do with the impressive level of experience of the many people working in the chat rooms and forums, and that it is generally at a level that is likely to go over the heads of people who are truly new to day trading. So if you are someone who has very, very little experience, you may want to begin learning at another website that is more affordable – or free – and then work your way up to Options Millionaires at a time when you will be better able to benefit from these advanced discussions.
Competitors and Alternatives?
Companies that offer regular day traders the ability to have access to other people's experience to help them make their own trading choices are not uncommon, and include a variety of websites like Openfolio, OptionsXpress, and many others.
If you have any experience with Option Millionaires or their products, please leave your reviews below.
You may also be interested in
Option Millionaires Customer Reviews

Joseph h
Out of the money weekly options with high volatility and no protection to boot, might as well be the person that puts a chip on every single number on the roulette table. One can develop bad trading habits if this is their first learning service. It's OK for learning speculators/gamblers plays but not the safest way to trade by any means; there are better, more well-rounded services out there. I give em a C- and that's for the occasional big ones that they hook.