One Political Plaza Reviews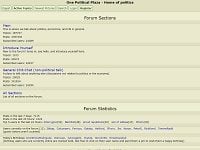 One Political Plaza Customer Reviews

L D
One Political Plaza is showing complete bias in favor of liberal innocuous who manage to stay on OPP but they suspend me and will not let me utilize my First Amendment rights against the foul-mouth liberals on the site!

Michael N
Want to know how much news is being ignored by the media? We find it!
One Political Plaza is a place to read and post news that's hard to find. Many of us have been there since the beginning and know each other and have interaction with each other outside the site. People need a thick skin and good humor to deal with each other and the OPP is a good place to learn it. The general chit chat section tends to make friends of political enemies and admin does not allow too much bad language and personal attacks in the political section...join and ask anyone.

Robert M
If you are not a Trump supporter, you will be abused....
OPP is an extension of the Trump campaign. The few liberals who post that don't buy into the 'stolen election' narrative or that vaccines are an assault on personal 'freedom' are labelled trolls. There are some few right wingers with whom one can have a decent conversation but they are few and far between.

Disappointed
It is now dominated by leftists who do nothing but parrot CNN/MSNBC/etc. And the administrators let these leftists get away with pure profanity while the least little insult from a conservative and you get banished for a few days with a smart alec comment from the administrators. It is NOT a place for conservative ideas any more.
I now only want to discuss there because I have come to know many of the conservative poster's.

Buddy
If you're from the right, it's the place for you. I agree with Jon that it is operated by a Russian. The ratio of right to left is about 20 to one. The right usually gangs up on the one lefty. One has to remember you are to the left if you are not from the far right.
The lack of civility is severe.
Soon enough this site will be an all alt-right forum echo chamber.

pat
I've been going on opp since before the 2016 election I'm not a political person but the people there have been kind enough to explain things give me sites for information and taught me to not be afraid to go looking for information.I enjoy the site it does get a little heated at time but what doesnt in this life have never seen anyone threatened. Did see some one tell another he knew where he lived and he was pulled from the site. Some have had something they posted pulled off.Other than that its fun

Petertimber
http://www.OnePoliticalPlaza.com
It's an open forum allowing any and all opinions to be publicly exposed to thought and rebuttal in full exercise of the First amendment of the Constitution permitting free speech. FOR SOME INEXPLICABLE REASON I CAN'T RECONNECT WITH THE WEBSITE..CAN ANYBODY HELP ME?
[email protected]

Jon
interesting presentations of right wing extemism viewpoints plus a Russian propaganda operation on site
Interesting site for an education in fringe right wing extremism (and rudeness and filthy language both right and left). The Patty persona postings March 4 to present (preceded by Pana, then Capitalist personas in February with same subjects and story lines, same Russian internet propaganda site quotations, same response patterns, and unique 4 a.m. to 4 p.m. time schedules) are an education in present day fascist Russian viewpoint and propaganda intentions comparable to the old international communist Russian twisting and misrepresentation of issues to promote disillusion with America and radical action to disrupt American political and geopolitical decision....except the old prop op was aimed at twisting liberal thinking and the new op is aimed at twisting conservative thinking.
Thus, OPP is a most interesting political internet site. One caution about participating in OPP discussion--many exchanges are characterized by personal attack, rudeness, and even filthy language. My personal experience with the Russian propaganda operation included a posting August 2, 2014, of my wife's name, our street address, supposed church & pastor name, supposed botanical club, with threat to contact them with damaging info if I did not stop targeting the Patty posts. I learned the same day that another poster had had outside-the-forum actiion against his business from the Patty persona after a disagreement in discussion. I was suspended Aug. 3 from OPP "to protect you from harm." However, as of today, August 5, the threatening Patty is still posting the usual 5 or 6 topics per day (hasn't missed a day 150 days straight--836 topics, 9,300+ postings). So think twice before you post disagreeing with the Patty persona on OPP and be careful not to give personal info that might identify you and enable info search or computer hack.

John F
As for the forum itself, the moderators keep an excellent eye on it by preventing spam and trolling. Although many posts consist of typical conservative/liberal bickering there are several informative items presented with (mostly) intelligent discussion. If you're expecting a high-minded philosophical debate in the classical style, this is NOT the place for you. But if you want to share opinions with fellow Americans who have a passionate interest in the affairs of the United States and are not afraid to speak their minds, you will not be disappointed.