OfferUp Reviews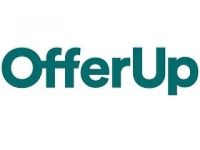 OfferUp is a person-to-person mobile marketplace that promises to provide buyers and sellers with a safe and convenient place to easily buy and sell used goods.
How Does It Work?
Prospective buyers and sellers can easily sign up and create a profile on OfferUp.
Once you've signed up for your account, sellers can quickly and easily upload pictures of the items they would like to sell, and all members will receive a home feed page which will be full of pictures of items which are for sale from independent owners who live near to your residential area.
Both buyers and sellers are encouraged to become "TruYou" customers. This is a feature of their website specific to OfferUp customers which differentiates them from other websites.
TruYou members have their IDs and their email addresses verified by the website, and are asked to link their Facebook account with their OfferUp account, so that buyers and sellers can see when they have any connections.
All of these features are intended to make both buyers and sellers appear more trustworthy, and therefore other members will feel more secure and more motivated to interact with those other members.
In addition, the website allows buyers and sellers to have reviews posted on their profiles, so if a buyer is constantly contacting sellers but never showing up for in person meetings to complete the sales, their profile will reflect that.
Same goes for sellers who use pictures downloaded off the internet to hide the fact that their actual item is beat up and damaged.
Mobile Options
Currently this website does provide a downloadable mobile application for both iOS and Android devices. At this time, there is no information available on whether or not they will expand their mobile offerings in the future.
Cost & Price Plans
Downloading this application and using it to shop is completely free.
At this time, OfferUp does not appear to be charging any fees to sellers or buyers, because they are determined to build up their active market and audience and potentially increase the features of their website.
Refund Policy
As with any other person-to-person marketplace, OfferUp cannot enforce refunds.
Their website provides guidelines for buyers on how they should meet with sellers and inspect the item before they purchase it, and even situations when they should bring a friend or a loved one with them to evaluate large scale items.
Once you do decide to purchase an item and money exchanges hands, there is no real way for OfferUp.com to get you a refund.
Customer Service Contact Info
Customers who would like to contact their Customer Service team with questions, concerns, or complaints can do so by submitting them directly to their website through the Contact Us link.
Reputation
While there are not very many customer reviews of this mobile application at this time, there are a few reviews written by third party independent publications that are very favorable and positive about what OfferUp has to offer their customers.
This seems like a particularly good time to get involved with OfferUp, before they begin charging any fees at all to either buyers or sellers, because this initial growth phase is when both buyers and sellers will have access to a large pool of participants who are more likely to be active on the site since there are absolutely no fees to pay.
But as the website itself says, whenever you are dealing with a person-to-person marketplace, buyers will need to be very diligent about inspecting the item before making their purchase, since there is no real recourse if the item breaks or damage is discovered after the item is sold.
Competitors and Alternatives?
There are other mobile applications that work to provide people with alternative marketplaces for buying and selling used or pre-owned items, including Wallapop, Craigslist, USell.com, Listia, and more.
If you have any experience with OfferUp or their services, please leave your reviews below.
You may also be interested in
OfferUp Customer Reviews