No Days Wasted DHM Detox Reviews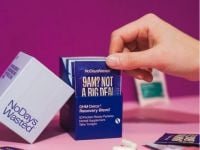 You may have seen the company and its founder, Nishal Kumar, on the popular entrepreneurial T.V. show Dragons Den. On that show, they introduced to the world their new product, DHM Detox.
Created with natural products to help rid your body of toxins, No Days Wasted DHM Detox creators state the product works to restore the body to its pre-drinking state with a recovery blend of natural ingredients, including Prickly Pear and Milk Thistle.
How Does DHM Detox Work?
To combat the effects a night of drinking can bring on; No Days Wasted DHM Detox brings together four different natural ingredients:
Dihydromyricetin (DHM)
N-Acetyl L-Cysteine (NAC)
Milk Thistle
Prickly Pear
All of these ingredients have proven results in helping to overcome the effects of a hangover. Although there is wide speculation that hydration and lack of electrolytes are the most prominent issue after a night of drinking, the toxin Acetaldehyde is the culprit most of the time. Acetaldehyde is a harmful toxin that can account for 80% of the problems you face when hungover.
No Days Wasted DHM Detox reduces the four vital ingredients needed to recuperate and condenses them into two small pills. These are packaged in individual doses to make them easily transportable for the times you are on the go.
To use, you take two pills during your evening out and enjoy your time. It is essential to take them with water and follow it up the following day with additional water or the company's other product - No Days Wasted Hydration Refresher.
Cost and Price Plans
There are three pricing options when purchasing the No Days Wasted DHM Detox product. All options are available through their website.
One-time purchase - $34.00
Subscribe and save - $25.50
Recovery bundle - $55-$75
With the one-time purchase option, you will receive a single shipment to your home. Your purchase will be at the full price and not set up for regular intervals.
Subscribe and save allows you to set up recurring shipments to your home. In doing so, you will be eligible for a 25% discount on your orders, both your initial and subsequent ones.
A recovery bundle contains two or more products in one shipment. No Days Wasted offers three different bundles on their website, two of which include items helpful to hangovers.
Recovery Bundle - DHM Detox (10 individual packages), Hydration Replenisher (15 count box)
Life's Moments Bundle - DHM Detox (10 individual packages), Hydration Replenisher (15 count box), Elderberry Support gummies (30 day supply), Vitamin D gummies (30 day supply).
The bundle packages come at a reduced cost, which can increase with a higher order. The bundles above come with the designated amounts described. However, you can add additional items to your order and receive a more considerable discount.
How Is The Customer Service?
No Days Wasted lists several contact options on their website, with the main option being their email [email protected] They also explicitly state the confines of their 30-day return policy. The detail that they use and the readily available information make it easy to understand the program's parameters. This information eliminates a lot of questions one might have.
With that being said, we could find no evidence of any negative customer service encounters online through third-party sources or on typical social media avenues.
Online Customer Reviews/Complaints
At the time of this review we were unable to find many online reviews on No Days Wasted. Most of what we came across were on the company website itself and were all positive ratings.
Out of the third-party reviews that we could secure, namely from Amazon, the majority rated the product line 4 out of 5 stars. The main complaint spoke to the dislike in taste with the Hydration Refresher. However, the same amount of reviews were in favor of the taste for the same product. Therefore, it seems to be about a 50/50 chance in whether a person will like it or not.
There were no reviews for the DHM Detox product specifically from third-party sources. However, that is likely to change quickly as the product gains in popularity, especially since they started advertising on the Joe Rogan podcast.
Competitors and Alternatives
No Days Wasted DHM Detox has three main competitors in the realm of hangover prevention. These include Cheers, Flyby, and Liquid I.V.
No Days Wasted vs. Cheers - Whereas No Days Wasted speaks a great deal on its natural ingredients, Cheers does not. It is not easy to garner from the Cheers website exactly what ingredients its supplement contains. Another big difference between the two products is the time that they can be taken.
With No Days Wasted, you can ingest the pills at the beginning of your evening. However, Cheers requires you to take it after your last drink - which is the wrong time to remember to take a pill!
No Days Wasted vs. Flyby - What sets Flyby apart from the other companies is the clinical trials they promote throughout their website. You do not see this information in an accessible way with the other hangover prevention companies. However, what is similar is the remedy dosage.
Like Cheers, you have to take pills after your last drink. But you also have to take a dose before the evening starts, similar to No Days Wasted.
No Days Wasted vs. Liquid I.V. - Liquid I.V. Is a well-known hydration supplement sold in many stores. Although many are using it for hangover prevention and cures, it is not directly marketed as such.
Where To Buy?
Although you would expect to find No Days Wasted at stores like GNC and Walgreens, you are not able to at this time. However, you can buy No Days Wasted products through their website and on Amazon.
The Bottom Line
No Days Wasted is a newer company but has a solid foundation. Although other companies make comparable products, none of them tout the natural ingredient method that No Days Wasted does.
It is hard for us to make a sound decision on whether DHM Detox is worth it due to minimal reviews on third-party sources. The lack of feedback is due to the short amount of time that they have been in business, but it makes it difficult to know what people's experiences have been.
In the end, we do think that DHM Detox is worth it based on the absence of negative reviews and the natural ingredients that comprise it.
An additional benefit is the timing of the dosage. Having the ability to take it before drinking increases the chances that the supplement will be taken. Therefore, we think that No Days Wasted DHM Detox may be worth a try.
If you have any experience with No Days Wasted DHM Detox, please leave your reviews below.
You may also be interested in
No Days Wasted DHM Detox Customer Reviews

Paul
Stay away- no contact number - no response
There's something strange about this company. I ordered a 30 day supply and only received half of that. They sent me 15 daytime and 15 nightime tablets. There was no literature explaining anything. I sent several emails but got no response. They have no phone number or customer service so if something's wrong with your order you have no one to talk to. Emails? they don't respond either. I would just stay away unless you're willing to risk your money.