Native Deodorant Reviews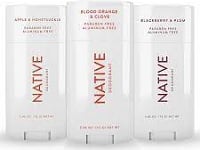 Native Deodorant is an all natural deodorant that the company states is parabens and aluminum free, effective, safe for the user's health, and is produced in a cruelty-free manner.
Native Deodorant Products
The Native Deodorant brand caters to both men and women customers.
The primary difference between the products made for men and women are their scents, with Coconut and Vanilla as the most popular for women, and Eucalyptus and Mint the most popular for men.
Sensitive scents are also available for those who prefer a lighter fragrance.
The deodorant is available in both classic-scented and unscented versions and there are even seasonal scents that you can choose from every now and then.
Sample packs are also available for those who want to try it out before committing and subscribing to their packages.
Native Deodorant is made with ingredients that customers can understand, unlike commercial ones with harmful chemicals in them. Some parabens can cause rash, bumps and burns to your skin if it's sensitive.
Talc, another usual ingredient in most deodorants, can even cause cancer. Fortunately, this brand does not have any of these harmful ingredients.
It was created with this in mind: the underarms are a sensitive part of the body and toxins can get through the skin.
While studies have not yet concretely proven how the aluminum ingredient can cause cancer, Mozi Ali believes that it's still better to be safe than sorry.
This is why the company continues to produce this deodorant from safe and recognizable ingredients.
These understandable ingredients ensure that you know what's in the deodorant you use every day.
For instance, the baking soda component of the deodorant eliminates odors and the arrowroot ingredient absorbs the moisture from your perspiration.
Lastly, the acidophilus can get rid of any fungi, bacteria, or yeast that can further cause odors.
These properties can help you remain active throughout the day without worrying about sweat and odors. Furthermore, Native Deodorant is entirely US-made.
Customer Reviews & Complaints
Most reviews for Native Deodorant are on the positive end, although there are still quite a number of bad reviews for this product.
Many users complement the effectiveness and the great scents of the deodorant and even have favorite ones of their own.
They like how it doesn't cause any white stains on their clothes as well as rashes or bumps on their skin.
However, some people mentioned that the product caused them to have breakouts and darkened their skin after a few days of use.
Some mentioned that it can't keep up with excessive sweating, while others also dislike the harsh scents of some of the classic fragrances available.
There are also warnings against some of the oil ingredients in the deodorant that can be tough to get out of fabrics.
However, a majority of the reviews still attest to this product's effectiveness and safety.
Customer Service
Their satisfaction guarantee assures that if you're not satisfied with what you get, a return or exchange can be done within 30 days of receipt and you will get a full refund without any questions from the company's part.
However, internationally-shipped products are not viable for returns or exchanges. As for the subscription, you can cancel it at any time.
You may reach them at [email protected], or through the Contact page on their website at Nativecos.com/contact/.
Cost & Price Plans
Each stick of Native Deodorant costs $12, but you can save up to 17% if you subscribe.
Once you're on a subscription, you can get regularly-scheduled deliveries for $10 per deodorant.
Unfortunately, the seasonal scents are not part of the subscription packages. However, you can contact support for an unscheduled purchase with your subscriber discount applied to it.
Each purchase is eligible for free shipping to orders within the US, Canada, Australia, France, Germany and the UK.
They also offer expedited shipping to US orders for a price of $10. You can purchase Native Deodorant either individually or on a subscription.
Once you opt in and subscribe, you can control your orders regarding the frequency of delivery, when you want to receive it (skipping shipments is possible) and what scent/s you get in your subscription.
Where to Buy?
Native Deodorant is available for individual purchase or subscription via their website at NativeCos.com or on Amazon.
Their subscription packages will allow you to save up in the long run and sample packs are also available if you want to try them out first.
Competitors and Alternatives
Tom's Of Maine offers natural antiperspirants and deodorants on their range of products.
They also have a variety of scented and unscented, long-lasting deodorants available. If you decide between Native vs Toms, both of them have a wide range of products.
Primal Pit Paste is also made from natural and organic ingredients, is cruelty-free and does not contain any aluminum or harsh chemicals in its formulation.
Its ingredients are very similar to Native's: baking soda, arrowroot and coconut oil being some of them.
That is why when you compare Native vs Primal Pit Paste, they are quite similar. Schmidt's Naturals' top-seller is a charcoal + magnesium deodorant. The mineral enrichments are all-natural and is free from aluminum and parabens as well.
It's a vegan product that's also cruelty-free, which is another similarity when thinking about Native vs Schmidt's.
Young Living offers grooming products for men that are made from naturally-derived ingredients and their trademark essential oils. That being the case, deodorants are also a part of their line of products.
Vs Young Living, Native is more catered to everyone, as they have options for men and women. Also, Native is more focused on deodorants, while Young Living sells essential oils as well.
The Bottom Line
Native Deodorant is a US-made product made from recognizable ingredients.
Unlike other brands and commercial ones, it does not contain any parabens or aluminum, which can pose harm to your body and your health.
While there are many people that commend the product, there are some who claim that it was not as effective for sweating and even caused skin irritations.
If you have any experience with Native Deodorant or their products, please leave your reviews below.
You may also be interested in
Native Deodorant Customer Reviews

£ T
Just off the Vampire: Ghosted commercial alone I will consider buying the products. Who ever is in marketing and media needs a raise and or ownership stake in the company. Keep up the good work!
-The Count Of Monte Crypto

Heather E
Long term use is questionable
My son and I both used Native deodorant for almost two years and we both developed a drug resistant rash that was really bad. We have both used two different doctor prescribed creams and the rashes are still not gone.
We both incidentally have to go to a dermatologist to see what they say and perhaps have a biopsy.

Karen L
Do not purchase from Walmart
I always had funky underarms when wearing tank/sleeveless tops. My friend told me about Native. I have never had a problem with the funk when I ordered the deodorant directly from Native but when I ordered it from Walmart....omg, I don't know if they left it in the warehouse too long or what, but it does not work! I will never purchase this product from Walmart again.

Lauren K
Just bought my second pack!
OK, heading into summer now where the antiperspirant part of this deodorant will get it's true test. However, I've been using this since last fall and I love it. No more itchy armpits! So far, it has kept me dry when other parts of my body have been sweating. I believe it will pass the summer test.

Barbie W
I was reluctant to try Native deodorant due to the price. (Target $12.)
Due to many Positive reviews I decided to splurge.
No regrets. My favorite is Lavender

Michelle C
They made a believer out of me. I tried every brand on the market until I finally saw them on the internet. I admit it costly and the subscription did not set well, but I had no problem cancelling it and returning at a later date to re-subscribe. Now I don't have to worry about raising my arms in fear that someone will pass out!