Nano Towels Reviews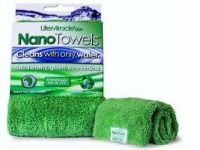 Nano Towels Customer Reviews

Marie W
Best cleaning towels around
Can't get enough of these towels. Have been using them for over two years now and realized that I have not purchased any windex or spray cleaners in those 2 years. They clean up my dishes, stove, microwave, dishwasher and refrigerator without any streaks! I use just hot water and dish liquid when I feel that I need to wash the cloths. I rinse in cold water and let them dry. AMAZING! Buy a package of 4 and roll each one up with a cute ribbon and give as gifts. Tired the pretty pastel colored cloths as my bathing washcloths. Feel wonderful on your face.

Donna S
Yesterday I cleaned my car exterior with one Nano towel and cold water from the hose. The crime mostly hoses off these towels and a light squeeze will remove the rest. I used no soap or wax. Even did the windows. Car was mostly in the sun and it was a hot day. I think it worked very well. I'm beat but the Nano will live to clean again.

Suzanne M
No response to emails sent!!!
I have yet to receive the Nano towels I ordered, so my one star is based on the fact that I have tried 3 times to contact them with a question and have not received any reply. That makes me nervous as you would think that someone would get back to me and answer my one simple question which is not on their web site.

Chris M
Love these so much. They really work and are super absorbent, too! Bought the 48 pack to give to all my friends and family!

Debbie
I got a few and was so impressed. I got a dozen. I never have luck in getting a streak free glass. I used the towel wet with no product on the Storm doors, Stove top and front, on the glass table top. I've used this to sop up a coffee spill from the desk and the towel even pulled the coffee up from the carpet. I put the cloth on a swiffer mop head to do the floors. The towel got the fiberglass show walls steak free and the next best thing to Mr Clean magic sponge.