MyPillow Mattress Topper Reviews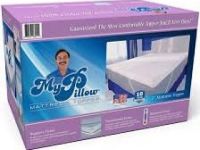 The MyPillow Mattress Topper come from MyPillow who have made a name for themselves with their informercial famous pillow.
After being so successful with their pillow sales, it didn't take long before the company expanded their base of operations and eventually started developing other related products from sheets to pillowcases.
Products
The mattress topper from MyPillow is just the thing that will help you get that good night's sleep that you crave for. A 3-inch mattress topper that is innovatively designed, the MyPillow mattress topper is scientifically developed and designed with three layers.
The first layer is MyPillow's very own patented foam technology that aims to provide support and durability. This first layer ensures the mattress topper will be able to withstand years of use.
The second layer makes use of a transitional foam, a foam that provides the comfort. The material used for the second layer allows optimum weight distribution and overall comfort for a weary body.
The third layer deals with temperature. This layer is made of a phase change material that allows your body to have proper body temperature regulation throughout the night.
All three layers work in conjunction with each other to maximize comfort for the user. Of course, there are other tiny features that make this mattress topper even better.
For both safety and comfort concerns, this mattress topper is simply made of just the three layers as mentioned - no metal wires or any other contraption.
The mattress topper comes with straps on each corner to help hold it in place. It also comes with a cover that is zippered and removable so it is both washable and dryable.
How Does it Work?
Not everyone knows about mattress toppers in general. They think that the only thing you can put on top of a mattress is a bedsheet.
However, instead of replacing your mattress that you are unsatisfied with, you can strap on a mattress topper right on top of it.
While the mattress provides the height you are comfortable with, the mattress topper can be the primary provider of the comfort.
Cost and Price Plans
The mattress topper starts at $239.99 for the Twin and Twin Xtra Long sizes. Understandably, larger sized mattress toppers are more expensive.
The Full size is priced at $279.99, the Queen size is priced at $349.99, and both King and California sizes are $399.99.
Customer Service
There are a number of ways to get in touch with MyPillow. For ordering, give them a call on 1-800-544-8939 or email them at [email protected]
For any enquiries, you can reach them on 1-800-308-1299. After a history of customer-oriented operations, MyPillow offers a warranty and a guarantee for their products.
Unsatisfied customers can return the products within 60 days of purchasing and get a full refund (with customers having to cover the shipping fee). MyPillow also has a 10-year warranty that their pillows can remain soft and fluffed throughout that time period.
If the pillow becomes flat within 10 years, you can have it replaced with a pillow of an equal or greater value with the company covering the shipping fees.
Online Reviews & Complaints
After collecting data from various review sites, the mattress topper of MyPillow is viewed in a positive light from satisfied customers.
Giving them great nights of sleep, customers comment that they can finally sleep straight and uninterrupted after using the mattress topper from MyPillow.
A majority of the customers are people who have had trouble sleeping and now feel grateful for this product solving their sleeping problems. However, there are a few people who think this mattress topper is too hard or too hot.
Competitors and Alternatives
If you are specifically looking for a mattress topper, Mattress Firm has a wide selection of mattress toppers with different features in their catalogue.
Another company that also has numerous mattress toppers in their catalogue is Sleep Innovations.
Offering a similar 3-layer mattress topper, the Body Support Store also has a mattress topper that can provide a night's sleep with proper back support. All of these mattress toppers are different and the decision entirely depends on your preference.
Where to Buy?
While there are retail stores that carry MyPillow products on their shelves, the most reliable place to get their mattress topper is online. While you can order the product through their website, you can also find the same product on Amazon.
The Bottom Line
Whether you're not happy with your mattress or just want that extra comfort, this mattress topper by MyPillow can help improve the quality of your sleep.
Having comfort and back support through the night, this mattress topper will help you feel refreshed every morning after.
If you have any experience with the MyPillow Mattress Topper, please leave your reviews below.
MyPillow Mattress Topper Customer Reviews

Dianne D
Return policy sucks and too soft
Too soft, wake up with a back ache, does not stay on the mattress and forms a dip if you sleep in the same spot. Impossible to send back, no way you will get it to fit into a box. Looking for large enough space bag to suck the air out.
Non profits will not take mattresses so the receipt from a non profit to send to them out of the question. I have a challenge to find a big enough space bag to fit the topper into so I can suck the air out and fit it in the box it came with. It just comes down to they do not want to make a refund on this item.

Letha S
My Pillow Topper Mattress
I bought it thought it may help the mattress on my bed which is a few years old. I have had it about a month and do not like it. It will not stay on the bed. Every morning it has slide off the mattress. I called to send it back and the gave me this washout story about take it to the goodwill or any other charitable organization get a receipt and they will refund me back my money. I just want to know why you do not tell that to the customers when they purchase it.

Norman C
dont know: they charged me but never sent it
Don't know if its a good product. They say they sent it but it was returned because they don't ship to po boxes. So why did they send it to one? Then I said o k so send it to my house. 2 weeks later still not there. I call customer service and they are trained to put you on hold every minute or 2 to piss you off I guess. I thought they were checking on something but no. Every time they put you on hold, when they come back they ask the same question. Now they want to charge me for my refund for a product I never got? Finally they hang up on you because the customer wants answers. If you buy something from mypillow I hope you don't have to deal with customer service.

william w
'MyPillow's Mattress topper
I think it's great I sleep good no pain. I feel refreshed when I get up.
SATISFIED IN SPRINGFIELD IL
THANKS Jerry

Karen P
This mattress topper feels like a soft brick. I really tried to see if I could get use to it, finally I gave up and took it off my bed. This was a gift, do I don't know if and where to return it. I didn't have a back ache until after I slept on it. Now I have a back ache. I would Not recommend this mattress topper to anyone.