MYKA Jewelry Reviews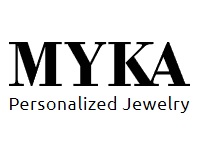 MYKA Jewelry (formerly My Name Necklace) is a company that markets a variety of customized jewelry such as braided leather bracelets and 14 karat gold classic name necklaces.
How Does It Work?
My Name Necklace, now renamed MYKA Jewelry, is a company that helps customers celebrate life's special moments with truly customized jewelry.
Each handmade piece will be made just for you, produced with the perfect metals, birthstones, and designs to capture any memory. The company has been in business since 2007 and served more than 5 million customers in 50 countries.
You'll enjoy affordable prices and free shipping along with gift wrapping and unlimited personalization options. These custom-made products are some of the best if you're trying to make a lasting impact.
Head over to their website, and you'll find a variety of products for sale. You can buy things like name necklaces, layering necklace, earrings, earrings, keychains, and anklets. A bracelet is the perfect way to make your mark, too.
Products are sorted by recipient - you can look for gifts for babies, couples, teens, kids, men, mothers, grandmothers, and new moms - as well as by category (new arrivals, best sellers, birthday gifts, etc).
You can also sort by material - MYKA Jewelry offers products in sterling silver, gold vermeil, 18 karat gold plated, 18 karat rose gold plated, white gold, solid yellow gold, and diamond.
Cost and Price Plans
The cost of products from this company vary depending on what exactly you want to buy.
For example, fine necklaces start at around $69.95 but can be as expensive as $339.95, depending on what you are looking for.
Customer Reviews & Complaints
While the products offered by MYKA Jewelry look gorgeous, you need to exercise a bit of caution when shopping with this retailer.
There are dozens of satisfied customer reviews on the company's own website.
However, it's practically impossible to find positive reviews anywhere else on the Internet. Since no other retailer sells jewelry by MYKA Jewelry (or My Name Necklace), you won't find verified reviews with third-party retailers.
Many third-party ranking and review sites, however, include multiple customer complaints.
Head over to the BBB, for example, and you'll have customer complaints about the company's delivery policies and return policy. The company has numerous complaints and a rating of F.
Therefore, MYKA Jewelry is not necessarily safe or reliable when you're looking for high-quality jewelry.
Customer Service
Where is Myka Jewelry Based?
This company has headquarters in Scottsdale, AZ, but can be surprisingly tricky to get a hold of.
The company has a contact phone number of (408) 786-5881. However, many customers report that reaching someone in the customer service department is a bit of a challenge.
Where to Buy?
You can only buy products from MYKA Jewelry by visiting the manufacturer's website directly. Their products are not for sale anywhere else.
Competitors and Alternatives
When you are looking for suitable alternatives to My Name Necklace, you'll have plenty of options to choose from. You can find personalized jewelry all over the Internet.
In fact, many people turn to Amazon, recognizing the company's excellent customer service, fast shipping, and easy returns policy.
Some of the most common brands you will find on Amazon, when it comes to customized jewelry, are SexyMandala and AJ's Collection. Both of these companies offer affordable customized jewelry for any occasion and any recipient.
SexyMandala offers multiple personalized custom name necklaces. These are usually made out of sterling silver, although other materials are available, too. You will get a gift box with your order, too.
These products are much more affordable than those offered by My Name Necklace, and while the reviews aren't always glowing, you can rely on Amazon to offer the customer service you need to back your purchase.
The same goes for AJ'S Collection. This company offers beautiful customized jewelry like a single-edge hammered personalized charm necklace.
These are usually made out of sterling silver and again, are backed by excellent customer service. These necklaces are also more affordable than those offered by My Name Necklace.
The Bottom Line
While MYKA Jewelry offers inexpensive, customized jewelry for any occasion, you do need to be careful about ordering from companies that don't have the most reliable customer service.
MYKA Jewelry, though seemingly legit, can be a tough company to deal with when it comes to delivery times, customer service, and returns. You may want to stick to one of the other alternatives instead.
If you have any experience with the MYKA Jewelry or their products, please leave your reviews below.
MYKA Jewelry Customer Reviews