My Daily Moment Reviews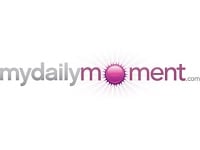 MyDailyMoment.com is a website which tells their members and visitors that "when you only have a moment, MyDailyMoment.com will inform, inspire, and entertain you," on a wide variety of topics.
MyDailyMoment.com says that people's lives are so busy these days, between work and child care and maintaining a home and all their other responsibilities, that it is important for them to make the most of each free moment they have.
This is where they claim their website is a valuable resource. Their website publishes a wide variety of articles on topics that are important to busy women, in categories like Diet & Fitness, Food & Recipes, Style & Beauty, Horoscopes, Mom Stuff, Quizzes, and Entertainment.
Visitors can simply go to their website and browse categories and articles at their leisure, or they can sign up for email updates and communications which will be sent to them on a regular basis.
Unfortunately, MyDailyMoment.com is not really a website whose ultimate goal is to give their members information - instead, they are really a website that puts a lot of emphasis on the advertisements they host.
Within each article they post, there are embedded links to products or services they are "affiliated" with, which means that if you choose to purchase a good or service they are advertising, they will earn money.
In addition, since they are partnered with so many different marketing and advertising partners, some members may be overwhelmed with the number and type of email communications they are receiving, and some may feel that they are receiving "spam."
If this is your feeling, you can always choose to unsubscribe from their email list either by clicking the link that is included in the individual emails you are being sent, or you can go to their website choose the "Unsubscribe" link at the bottom of the webpage.
If you have any experience with My Daily Moment or their services, please leave reviews below.
You may also be interested in
My Daily Moment Customer Reviews

Hiroshi N
They keep sending e-mails and Thunderbird doesn't block them. Very frustrating.

Russell M
dis-honest as the day is long
started out to fill out a survey to get paid for it. ended up that you would get paid in form of a gift card (in my case to Walmart). required to purchase and on final level was no way to comply, had to accept 8 offers on a screen that only had 6. I will be contacting these manufactures with a boycott of their products for being involved, will also take to facebook telling this story. I will also contact both groups I purchase and demand a refund.

Vince M
Emails do not have an unsubscribe link
These days, most responsible advertisers (and that is exactly what mydailymement is) have an unsubscribe button at the bottom of all emails. Not these guys; they point you to their privacy page, which states that you have to send them a letter (a letter!) to unsubscribe.
This is actually false; a Google search reveals that you can supposedly go to http://www.mydailymoment.com/unsubscribe.php and unsubscribe there. We will see if it works; in the mean time, I created a filter in Gmail to automatically delete anything they send me in the future. You can go here https://support.google.com/mail/answer/6579?hl=en to learn how to do this.

Junk F
I've been getting an infinite number of emails from them and their partners, even after unsubscribing and passing the "takes up to 72 hours" period. I have no idea how I got on the list -- hopefully I wasn't stupid enough to fall for "win $10,000."

Frank
After entering their sweepstakes to "win $10,000", I started getting emails saying I had won but then somehow being directed to another website filled with ads where I had to fill out the same entry form with the same personal info I had ALREADY provided them. It's obviously spam and I doubt anybody wins the 10K.