Musiczum.com Reviews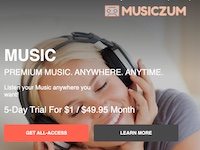 Musiczum.com is a new website and streaming service which says their goal is to simply bring their customers in the best of entertainment in the music industry, regularly updated.
How Does It Work?
According to their website, Musiczum.com offers their customers the latest offerings in streaming music. Their website says that their staff works hard to keep their catalog of options updated so that their customers are always able to listen to whatever they want, whatever their mood or situation.
Other than this, their website provides very little information about how their service operates or how their customers can use it. It appears that customers will have to become Musiczum.com members before further information is available.
Cost/Price Plans
This company provides their members with many different ways to pay for service through this website. First, this website also offers customers the ability to pay-as-they-go, which means they will pay a specific fee for each game they want to play each time they wish to play it. These fees will vary.&nbsp
&nbsp
They also appear to offer monthly premium memberships on either a month-to-month basis or a three months' basis, either of which membership may be offered in conjunction with a short free trial. Unfortunately this website does not offer any details to the specific pricing of those memberships at this time, as the cost of these memberships will apparently vary throughout the year depending on promotions or other specials.
Refund Policy
Their website says that members who have either one month or three month premium memberships are welcome to cancel their subscription at any time during the first 30 days of their membership in order to receive a complete refund of their membership price.
The website is clear, however, that no refunds will be issued after the first 30 days of service have gone by, and customers who chose to take advantage of the five day free trial and were then charged for monthly service will not be eligible for refunds at any time.
In addition all purchases that are made as a part of a non-subscription membership are considered non-refundable at all times.
Customer Service Contact Info
Customers who would like to contact Customer Service with any questions, concerns, or complaints can do so by phone at 888-906-3585 or by email at [email protected]
Reputation
Unfortunately this company does not have many customer reviews available at this time, and this – combined with the significant lack of information provided by this website – makes it incredibly difficult for prospective customers to know whether or not this service is the right one for their needs.
The reality of Musiczum.com, however, is that it is linked to a variety of other websites, all of which do have poor reviews and a history of very unhappy customers. Complaints include many issues with unethical billing practices and quality of products. Musiczum itself may be one of the worst iterations of this company, as they don't even attempt to give their customers any reasonable information about their service before asking them to provide their credit card number.
Another issue with this company is that all their websites are registered in Cyprus, which is a notoriously common tactic of companies that are hoping to avoid any kind of prosecution by US law enforcement, as the Cyprus government doesn't generally comply with foreign investigations.
For all these reasons, customers will be much better off avoiding this service and going with a well-known, better established music streaming service instead.
Competitors and Alternatives?
There are many, many other streaming services available for games, music, and movies that customers looking for alternatives to this company will have no trouble finding an option that best meets their needs.
If you have any experience with this company or their products, please leave your Musiczum.com reviews below.
Musiczum.com Customer Reviews

Wally S
They are a rip-off, one of the lowest forms of scum on this earth...

Stewart B
Put the 50 pound you took back into my account. I am going to the fruad department at my bank, I did not give you my details it was to popcorn scammers.

Eric R
They took money out of my bank
I want them to put the money back into my bank account.