Mott and Bow Reviews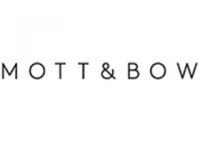 Mott and Bow, found online at MottAndBow.com, is an online clothing store which promises to help men and women find premium, high quality jeans at affordable prices.
How Does It Work?
According to their website, Mott and Bow was created in order to solve a basic problem: how can people get premium jeans at a reasonable price? Mott and Bow decided to answer this question by finding the finest denim fabrics from around the world and using intensive artistic processing to make the denim look "effortless."
The also use a family owned facility and control the entire manufacturing process from beginning to end, which means that they can eliminate waste, create jeans of better quality, and do it all at lower prices than other retailers.
They currently offer jeans for both women and men. Women's Denim Styles include the Mid-Rise Skinny, High-Rise Skinny, and Slim Boyfriend, while the Men's Denim Styles include Skinny, Slim, and Straight. Both the Women's and Men's pages offer an opportunity for you to examine "Which Fit am I?" by comparing the three styles side-by-side to see which best fits your needs, shape, or style.&nbsp
&nbsp
This company also offers all their customers the option for "Home Try On." This service allow new customers to purchase a pair of jeans and choose a second waist size for free. Mott and Bow will send you both pairs so you can see which fits you the best. The pair that doesn't work for you can be sent back completely for free using their pre-paid FedEx label.
Unfortunately if a style is in high demand and is currently experiencing limited stock, this option may not be available for you, but this will be explained at the time you order.
Cost/Price Plans
This website sells a variety of styles in both men's and women's jeans, they do not offer a single price for all their products at this time, and of course all pricing is subject to different sales and promotions throughout the year. Because of this, customers will need to check the individual product page at the time of purchase in order to find the most accurate pricing.
Refund Policy
Their website does say that they offer their customers a Return Policy, for which they are full instructions included on the invoice that comes with every Matt and Bow order. Though this company does offer their Home Try On program, if you are a new customer and you decide that their jeans simply don't fit you well or aren't your style and you choose to return every item in your order, the website says that the $5.00 cost of return shipping will be taken from your refund before it is issued.
Customer Service Contact Info
Customers who wish to contact their Customer Service team with any questions, concerns, or complaints can do so by phone at 855-798-9009, or by email at [email protected]
Reputation
This company and their jeans appear to still be fairly new and don't have very many customer reviews available at this time. However, the few which are available from fashion bloggers appears to be very positive and enthusiastic about this company's products, their quality, and their value.
When you consider that this company also allows customers the opportunity for Home Try On, as well as a full Refund and Exchange Policy if you are unhappy with what you have received, it seems as though customers should feel comfortable trying this company's clothing for themselves.
Competitors and Alternatives?
Certainly there are many different online clothing company that work hard to reach meet different needs in both men's and women's fashion, especially when it comes to denim in the United States, like Buck Mason Jeans, Gustin, DSTLD Jeans, and more.
If you have any experience with this company or their products, please leave your Mott and Bow reviews below.
You may also be interested in
Mott and Bow Customer Reviews

harold m
They ship to 22 countries outside of the United States but they won't ship to Alaska and Hawaii, which happen to be the 49th and 50th states, but they can send catalogs to people in Alaska and Hawaii.

Gi D
Fit is great and at $118 I'm very satisfied with the look, feel and style. No issues returning or with sizing.

Steven M
The one star reviews are clearly fake and paid by Mott % Bow's competitors. This is a great company with great products.

JenW
I paid them $200 and never got jeans
As far as I am concerned Mott & Bow outright stole money from me. I am not in the habit of giving companies money for nothing but a really hard time, but that's what happened. Their customer service department had zero interest in resolving the situation and flat out failed to respond to most of my emails and phone calls. When I did get a hold of a living person all they could say is that it was out of their hands. Do NOT order from this company.

Stephanie
I have also been accused of returning dirty jeans, which a total fabrication. I tried them on, they fit poorly, and I put them in the package for the return. They said they came back dirty.
I'm prepared to go to FB as well as my cc to get my money back.

Tyler T
They have refused to issue a refund based on them claiming my jeans have a strong smell. I have read other reviews where they have claimed the same thing. this is a scam. do NOT buy from them. as far as i am concerned, they have stolen $200 from me.

Charles
Horrible Customer Service, Inconsistent Fit
Unlike the other reviewer, I had to exchange several pairs of jeans in attempt to find the right fit. On top of that at a certain point they start to charge you for the shipping on returns.
Their jeans are NOT true to tag size. For example, the 29 x 30 I ordered measured out to a 31 x 29. When confronted about this the sales rep was neither apologetic nor helpful about finding the right size. Plus he claimed there are "shrinkage tolerances". WTF like I'm supposed to know about this or like that makes it excusable for them to send you an inaccurately described product.
Mott & Bow, more like Mott & Blows!!

Thomas
Best jeans you can buy. I love my jeans! The real deal
Best jeans you can buy. I love my jeans! The real deal. If you don't like them or something is wrong you can use the included return postage label to return in the same box! These fit like no other had had and have a nice easy breathable stretch (not too much) and the stitching is superb as well as every detail in the jean. These are the most comfortable jeans I have ever worn and a superbly crafted. Use you exact size, as unlike other jeans, Mott and Bow are exact on size and built in stretch ensures a fit everywhere.