Molly's Suds Reviews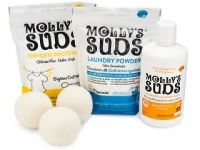 Molly's Suds is a company that came about from a tragic and unexpected circumstance in the life of its founders. The stillbirth of their daughter, Molly, in 2005 came as a surprise to them, especially since all three of their other children were previously born without issue.
As a pediatric nurse, Molly's mother began to look into the possible causes of stillbirth and found that many chemicals in everyday household products remained untested for human safety. In addition, such toxins can be transmitted to babies via pregnancy.
It was then that they decided to create household products that are made from safe ingredients, even for the youngest member of a family.
Molly's Suds Products
The products from Molly's Suds are all non-toxic, made from organic and safe ingredients and largely safe for medicinal and food formulations. The brand is trusted by people who are against toxins in everyday household items.
They seek to make a difference by offering laundry powder and antibacterial soap that are not only safe, but effective as well. For one thing, Molly's Suds sells a laundry powder made from pure ingredients that pose no harm to its users.
Even their suppliers are guaranteed cruelty-free and certified vegan. All ingredients used in their laundry powder are food grade, even their sodium carbonate component. Although of course, it's still not safe to eat nor is it edible.
The soap also makes use of sea salt and Epsom salts as well as baking soda, all of which are contaminant-safe. This detergent is largely free from any artificial components like phthalate and fragrances, but organic peppermint oil is used to give the soap a certain smell.
That said, the oil can also be skipped for your own purchase, if you prefer. Their other product is the All Sport, a powerful antibacterial soap that's made from FDA Generally Recognized as Safe (G.R.A.S) ingredients.
It's non-toxic and works against stink and stains for clothing, linens and shoes. Formulated by a chemist who also suffers from chemical sensitivity disease, it is guaranteed safe and effective.
How Does Molly's Suds Work?
The All Sport is non-toxic and can be used in addition to their laundry detergent when washing clothes, but it is also safe to be used as a dish soap for your dishwasher or hand soap. Not only that, it can also be used as a dog shampoo.
Suds may be visible for the first few washes with Molly's Suds detergent soap, but not because it has ingredients that causes it, rather the soap is removing the build up from the past washings that used another kind of detergent.
This is particularly helpful for baby clothes as well as a cloth diaper detergent, as babies are more sensitive to these harsh chemicals. Their soap is also safe for people with sensitive skin, as there are no leeching nor harsh chemicals in their formulation.
Cost and Price Plans
Both the unscented and scented Starter Packs of Molly's Suds costs $64 each. It includes one Laundry Powder good for 120 loads, an All Sport good for 32 loads and two packs of their Wool Dryer Balls to help decrease drying time in the dryer.
A Mini-Starter Pack is also available and has Laundry Powder good for 70 loads and one pack of Wool Dryer Balls, which costs $28.
Each item retails separately at $20.99 (unscented) to $21.99 (scented) for the laundry powder, $12.99 for the All Sport and $16.00 for each pack of 3 Wool Dryer Balls. Other items are also available at their shop, like clothespins, sweater stones and even a mermaid clutch.
A flat rate of $9 is charged for all shipping orders, except for the Travel Size laundry powder and Travel Size cloth diaper powder, both of which are shipped for free. That said, for orders over $99, free shipping is available.
Customer Service
For any damages that require exchanges or returns, they can be contacted through their email at [email protected] They can also be called on 727-350-5913 or on 1-844-234-SUDS (7837) any time during their business hours.
Online Reviews/Complaints
Many people with sensitive skin and eczema commend Molly's Suds products because they are free from irritants. People also love the fact that they are very transparent about the ingredients in the formulas, which helps people who are trying to avoid particular ingredients.
However, there are still several complaints that the detergent doesn't do well in cleaning clothes as well as some allergic reactions to the detergent, which puts the product in mid-range effectivity.
Competitors and Alternatives
If you compare Charlie's Soap vs Molly's Suds, they are both family-owned businesses that sell laundry powder and liquid detergent formulas that are made from natural ingredients. Similarly, their products are available online.
Grab Green's laundry products are under EPA (Environmental Protection Agency) Green Chemistry standards. They also offer unscented formulas, one for more delicate laundry and another for everyday laundry loads.
Lastly, Babyganics is another product line of laundry and cleaning products that are safe for baby items as well as for the whole family. They also have a fragrance-free formulation.
Where to Buy?
Molly's Suds has retailers all over the US and are currently shipping within the US as well. Their products are also available on Amazon, Target, iHerb, Walmart and other similar retailers. To find the nearest retailer to you, visit the "Retailers" page on their website.
The Bottom Line
Molly's Suds is an inspired product line that takes people's health into consideration.
With the amount of toxic chemicals that are lurking in everyday household products like detergent powders or soaps, it's refreshing to know that there are companies like Molly's Suds that put safety and non-toxicity above all else. They even have safe bleach alternatives.
If you have any experience with Molly's Suds or their products, please leave your reviews below.
Molly's Suds Customer Reviews