Minted Reviews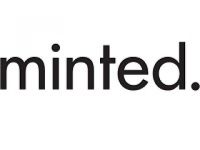 Minted is a company who describes themselves as a marketplace of independent artists and provides customers with access to unique stationary, art, fabric, décor, and more.
How Does Minted Work?
Customers are welcome to go to their website and search for a specific item they are interested in purchasing, or search through their current inventory by category, including Weddings, Baby & Kids, Seasonal, Paperie, Gifts, and Party Decor.
But unlike other online stores, Minted.com says their goal is use technology to "source creative content from a global community or independent artists," creating a place where artists can learn, share, gain exposure, and establish a business.
Ever since April 2008, Minted has offered monthly challenges, which are open to the public for both submissions and voting. The winning designs will be produced and sold, with the designer receiving a commission from every sale.
Winning artists are also welcome to start their own store on Minted.com, using the websites manufacturing, fulfillment, and customer service to effectively get their new business off the ground.
Cost/Price Plans
This company sells such a broad category of products that is difficult to pinpoint a specific, or static, range of prices for items sold here. However, like with most similar online retailers, there is often a choice to narrow down your search results by using a Price Filter, which can help customers better find products which fit into their personal budget.
Refund Policy
Minted.com provides different Refund Policies depending on what you have ordered. For example, customers who have order non-personalized items like art, party decor, holiday decor, and fabrics are welcome to be returned for a refund if customers receive their product and are unhappy with what they've received.
Customers who have ordered a product as a gift but are unhappy with what they have received for any reason are welcome to return it either for another item of equal or lesser value, or for a store credit which can be used in the future.
Finally, customers who order any item that is delivered either damaged or flawed should contact their Customer Service team right away so that your item can either be replaced or refunded. Customers will need to be prepared to offer photographic evidence of the damage.
Customer Service Contact Info
Customers who would like to contact their Customer Service team with questions, concerns, or complaints can do so by phone at 888-828-6468, or by submitting them directly to their website through their Contact Us link.
Reputation
Minted.com is perhaps best known for its high quality stationary for events like weddings, and as far as this market is concerned, Minted seems very well liked, not only for their designs and their quality but also for their Customer Service.
In addition, their open approach to the artist community and support of independent artists seems to be appreciated and well regarded by people working on the design and production side of this business.
All-in-all, it appears that this is a respected company that produces high quality products.
Competitors and Alternatives?
There are many other online stores which provide artist designed stationary products, like Paper Culture, and other online stores which provide designers with their own stores, like Etsy.com, TouchOfModern.com, and many others.
If you have any experience with Minted.com or their products, please leave your reviews below.
You may also be interested in
Minted Customer Reviews

Brigitte B
Customer service is disappointing
The products I ordered were beautiful and delivered promptly. Unfortunately 2 months after the order was completed they charged my credit card with a new charge but were unable to explain this and didn't offer a refund either. As this was a site recommended to me by my daughter this was very disappointing.