microWorkers Reviews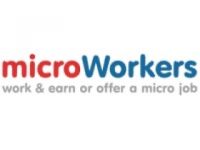 microWorkers.com is a website which promises to connect employers who need help with simple tasks with the home-workers who are interested in completing such tasks to earn extra money.
This company claims to give employers the ability to quickly and efficiently establish a place where they can post their microjobs opportunities and find the workers they need for their work.
microWorkers.com states that they understand how frustrating it can be for a company that's looking to hire microworkers to create a campaign each and every time they have a new project they need with.
What is Microtasking?
The reality is that computers have improved businesses' ability to do almost every aspect of their work, but there are still some tasks that simply need to be done by humans in order to be done well.
These types of tasks include data mining, categorization, tagging, labeling, matching, sentiment analysis, event sequencing, transcription, content comparison, content evaluation, surveys, research studies, and much more.
The microtasks posted on microWorkers.com should take no more than a minute or two to complete, and each task will have a clear monetary payment next to it so that workers know exactly what they will get when they accurately complete their task.
What Does Microworkers.com Do?
Microworkers.com provides employers with the templates they need to begin hosting their own websites for microtasking and then help connect them with the workers who are looking for this kind of money earning opportunity.
Microworkers is an international platform, which means both companies and workers from all around the world can use their website to find or host microtasking opportunities.
This website also gives employers and employees the ability to rate the work that is being offered and being done, so others looking to work with these members will have a better understanding of what to expect.
Also, microWorkers.com states that when workers find microtasking opportunities on personal websites they may not know whether they can trust getting their promised payments, but when they work with Microworkers.com they know their payments will be honored.
There are many similar websites that offer microjobs opportunities, including 123 Worker, Clickworker, Minuteworkers, and many others if you are looking for additional opportunities.
If you have any experience with microWorkers.com or their services, please leave your reviews below.
You may also be interested in
microWorkers Customer Reviews

Jack B
I got scammed by microworkers. I deposited 18$ via skrill to test out and didn't get the funds even after weeks of waiting and skrill doesn't refund too. Means they just kept it!
I contacted support a few times but they were very unfriendly and harsh. They didn't try to help at all. Good I didn't invest more, I did just load that incase I get scammed which unfortunately happened...

Rahman
Used to pay fairly before 2015
Microworkers.com is an online crowdsourcing marketplace. They have been running their business for more than 10 years. The present situation is that they are not paying workers now. If a site does not pay to a large number of members for a long period of time without any reason then we can not say that this site is paying and legit.
This site used to pay fairly before 2015 or 2016 but they started the scamming and fraudulent activities from 2015 in a row.
We noticed lots of negative reviews and comments on different reviews platforms about this site. Everyone is blaming that this site does not pay even after fulfilling the withdrawal requirements. They will hang you out month after months and even year after years by the name of address verification PIN. If you reach more than $20 and request to cash out by Payoneer or Transpay, they don't respond. If you intend to start a campaign then you must pay them minimum $ 10 to maximum &100 or $1000 !
They will reject campaign requests if anyone does not pay them first. And if you send more messages to this fraud admin then your account might be suspended by him.
Please read reviews on microworkers fb page where you will notice expression of the members or workers who are disappointed and victimized by this site, https://www.facebook.com/microworkerscom
Please visit and read https://www.trustpilot.com/review/www.microworkers.com
and on https://www.sitejabber.com/search?q=Microworkers.com
https://www.mouthshut.com/websites/Microworkers-com-reviews-925769258
https://www.bbb.org/us/tx/frisco/profile/employment-services/weblabcenter-inc-0875-90399727/complaints
There are lots of people who used to work on this site and gave their hardest effort to earn some money but when they make a request for payment, admin of this site does not respond to them and even they delete their account and seize their hard-earned money illegally.
If you read their FAQ page on microworkers.com then you will notice that they mentioned some rules sentences but the truth is that they don't follow these written rules.
There are lots of people who are victimized by this site. They used to work here, they gave their hardest effort but they are not getting paid! How can a site do scamming activities year after year being in the USA?
Regards
On behalf of my friends and workers