Michael Todd Beauty Sonicsmooth
Michael Todd Beauty Sonicsmooth Reviews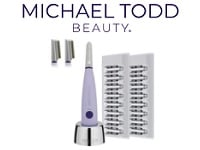 Sonicsmooth from Michael Todd Beauty is a dermaplaning system that promises users a spa-like experience from the comfort of home.
This beauty tool is claimed to use new technology to help women achieve smooth and radiant skin free from unwanted hair and with a reduction in fine lines and wrinkles.
The product has favorable reviews from beauty magazines and the support of hundreds of industry influencers.
Below we take a closer look to see if it lives up to the hype and can deliver on its smooth skin promises.
How Does Sonicsmooth Work?
Michael Todd Beauty focuses on devices intended to automate skincare and bring professional level dermatology tools to the home.
With the Sonicsmooth they focus on dermaplaning, the process of removing a thin dead layer of skin from the face. This procedure is supposed to leave people with refreshed and smoother looking skin.
Since this top layer of skin can often carry excessive oils, dirt, old skin cells, and unwanted hairs, removing it can leave the skin looking and feeling fresher.
Some of the other claimed benefits of dermaplaning include:
Exfoliation
Hair removal
Increase of collagen
Tightening pores
Better skin absorption
Providing a clean slate for makeup application
Unlike using a regular razor for this procedure, the Sonicsmooth Dermaplaning System uses sonic-wave technology to exfoliate, trim, and remove dead skin cells operating at 258 beats per second.
Does Dermaplaning Work?
Dermaplaning has been around for many years in some form or another, whether done by a professional esthetician, dermatologist, or at home with a razor.
While it does have some limitations and may not live up to all the claims, such as boosting collagen production, for the most part this procedure has remained popular because it does provide results.
However, there are some precautions to be aware of.
For example, dermaplaning can lead to:
Dry skin
Irritation
Sensitivity to sunlight
Cuts or scaring
Bacterial spread and potential acne breakouts
For this reason you should avoid dermaplaning procedures at home or by professional if you:
Have an active acne breakout
Have been recently sunburned
Have sensitive skin
Are taking Accutane or Tretinoin
Undergoing cancer treatment
Have an eczema flare up
Furthermore, post dermaplaning you should also be taking extra care with your skin. Many experts recommend avoiding:
Retinoids before and after the procedure
Physical scrubs for 2-3 days
Makeup for 24 hours
Unprotected sun exposure immediately after dermaplaning
Sonicsmooth Safety and Concerns
One common concern that many women have regarding dermaplaning is whether the removed hair will grow back darker or thicker.
This is a legitimate concern and can be one of the side effects of improper dermaplaning. However, many experts agree that this shouldn't be an issue if dermaplaning is done correctly.
The FAQ for Sonicsmooth states that if you are using it to remove vellus hair (peach fuzz) it will not cause the hair to grow back thicker, coarser, darker, or faster.
This is because since the Sonicsmooth removes hair at the surface level it does not mess with the root of the hair follicle.
While other methods such as tweezing or waxing may remove the papilla( located beneath your hair follicles) which, if damaged, can change the way your hair will grow back. [1]
To avoid the spread of bacteria, ingrown hairs, or other negative effects, it's important to change out the safety tip after each use.
Furthermore, Michael Todd Beauty recommends spacing out treatments 5-7 days apart to avoid over exfoliating the skin. This includes any additional exfoliating procedures that you may want to do.
The company also assures users that using the Sonicsmooth will not force you to dermaplane more frequently, stating that vellus hair will continue to grow at the same rate and thickness as before treatment.
Finally, for safety reasons, if you have any facial moles or other prominent protrusions that you carefully work around them with the Sonicsmooth tool.
Contact info
If you have any questions about the product or issues with your order you can reach out to representatives via email at [email protected] or through their online contact form.
Michael Todd Beauty offers a 30-day 100% Money Back Guarantee on the Sonicsmooth.
If you are unhappy with the product contact them to initiate the refund process. The device is also backed by a 3-year warranty.
Customer Reviews & Complaints
The Sonicsmooth Dermaplaning System garners a large number of of positive reviews from beauty influencers and fashion websites.
We took a look at the online feedback from actual customers and found those reviews to be mostly positive as well.
Below we take a look at the common pros and cons cited by customer reviews.

Pros
Many reviewers had good things to say about Michael Todd Beauty products. Some of the highlights were:
Skin felt softer and had a glow
Face felt very smooth to the touch
Other skincare products work much better after using Sonicsmooth
"Fuzz" hair came right off
Convenient and easy to use
Blades felt scratchy but not harmful

Cons
We also found some customers complaints online. Customers who did not enjoy the device cited the following issues:
Device must be fully charged before use
Issues with the charging base
Felt price was too high
Have to be gentle when using or may get tiny cuts
Didn't feel it was removing enough dead skin or hair

On Amazon, the Sonicsmooth Dermaplaning System has a rating of 4/5 from 1200+ customer reviews.
With the BBB Michael Todd Beauty has an A+ rating. There, customer service representatives regularly reply to cusotmer complaints and make sure customers receive refunds or other resolutions to their issues.
Competitors and Alternatives
In addition to booking an appointment with a professional dermaplaning office there are other techniques and products to try for unwanted hair removal.
Some other popular options include:
Threading
Depilatory creams
Laser hair removal
Waxing
Tweezing
Each of these have their own pros and cons so always research any procedure before trying it on your face.
The device most similar to the Sonicsmooth would be the Dermaflash Luxe Anti-Aging Exfoliation Device. It has slightly better customer reviews but also is more expensive.
Final Thoughts
If you are familiar with dermaplaning and feel that you are a good candidate for it then investing in an at home treatment system may be worth it.
When done correctly the majority of users claim that it has the desired effects of providing a more glowing and youthful appearance while also getting rid of unwanted hairs.
However, these treatments have their limitations and if you have more serious issues with unwanted facial hair then consulting with a dermatologist may be a better option.
If you have any experience with the Michael Todd Sonicsmooth Dermaplaning System, please leave your reviews below.
You may also be interested in
Michael Todd Beauty Sonicsmooth Customer Reviews