MetaBank Reviews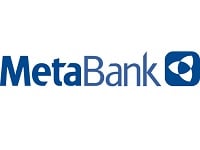 MetaBank is a financial services institution founded in Sioux Falls, South Dakota that states they have been named among the top community banks and top performing mid sized banks in the nation.
How Does It Work?
MetaBank offers a wide variety of financial offerings, including credit cards, mortgages, online banking options, Mastercard Gift Cards, the Metablue Visa Reloadable Prepaid Card, Mastercard Travel Cards, Youth Cards, and more.
Depending on what service you are interested in, you may need to apply or register, while some services can simply be purchased outright.
Cost & Price Plans
The costs of their services will vary depending on your personal needs. Obviously the fees of a mortgage or credit card will be more than simply purchasing a one time gift card or registering for an online bank account.
Refund Policy
The website does not detail any general Refund or Cancelation Policies, because they offer such a wide range of services.
If you're worried about what recourse may be available to you if you are unhappy with what you receive, you may want to contact their Customer Service team.
Customer Service Contact Info
Customers who would like to contact their Customer Service team can submit any questions, concerns, or complaints directly to their website through their Contact Us link, by phone at 866-559-5037, or by email at [email protected].
Reputation
Unfortunately MetaBank has received some negative complaints from customers, particularly regarding the fees associated with their credit cards and problems customers have had using their PrePaid Debit Card at major retailers.
Competitors and Alternatives?
There are many other financial companies out there that offer access to loans, bank accounts, and credit cards. There are also many companies that offer prepaid debit cards, such as the Bluebird Card, My Vanilla Debit Card, Klarna, and many others.
If you have any experience with MetaBank or their services, please leave your reviews below.
You may also be interested in
MetaBank Customer Reviews

Susan L
I got a reward card through Marlboro, the first card - Meta Bank kept telling me ( by a foreign country) that it will take 3-5 days to clear, so after 5 days I called back and they said something went wrong so call back in 3-5 days. So again I waited called back and they said the card was corrupt and they couldn't do anything. Contacted Marlboro and they sent me a new card. It expires in 9/24. So I tried to get it activated again and they told me it was expired! I'll be getting ahold of my attorney general for my state and theirs. I'd never do any kind of business with this scam company

Rachel
Giftcard system is a scam to profit their company
Their giftcard system is a scam. The cards have a short expiration window and then the funds are "forfeited." In my case the expiration was less than 1 year, which is insane, considering the world was pretty much shut down at the time.

J M
Having used Metabank for over 15 years the Scamming that began on Christmas morning 2021 was just the beginning.
This company is BS 100% of the time now.
Get out while you can, they are thieves!

Card S
Total scam, can not reach a human on any number. Received card...how did they get ahold of all my information??? Never inquired or asked for card I received in mail. Be CAREFUL! Can't reach a human to ask why/how they sent to me...nor to shut down, or what other accounts possibly linked to!

Randy
Scammers send unsolicited cards
Unsolicited debit card sent to my residence. Sounds like a scam to me to get my money.