Meaningful Beauty Reviews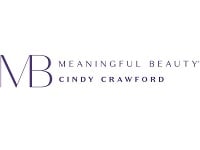 Meaningful Beauty is a skin care brand, represented by supermodel Cindy Crawford, whose products were formulated by, well-renown Anti-Aging Specialist, Dr. Jean-Lous Sebagh, and are produced by Guthy-Renker Corporation.
How Does it Work?
This skin care line addresses the issues that women encounter as their skin ages. Collagen, the key element to keeping the skin healthy and resilient, breaks down over time due to the natural aging process and free radicals that stem from pollution and UV rays.
Meaningful Beauty was designed for women of all ages. Young women can use it to prevent any further damage to their skin and keep it hydrated.
Older women can use the products to rejuvenate their skin and diminish the noticeable signs of aging which includes find lines and wrinkles.
Unlike typical anti-aging products on the market containing secondary antioxidants which can often trap free radicals, Meaningful Beauty products contain primary antioxidants.
Primary antioxidants are those which fight off the formation of new damage from free radicals that penetrate the skin.
Meaningful beauty has a number of products in the skin care line; the product sets are the best options to experience the complete skin care regimen.
The Advance Anti-Aging System 5 piece kit includes: Crème de Sérum, Skin Softening Cleanser, Antioxidant Day Crème, Brightening Décolleté/Neck Treatment, and Lifting Eye Crème, costs $49.95.
There is also a Deluxe 7 piece kit which includes all the products in the 5 piece set as well as a Glowing Serum and an Eye Enhancing Serum, this option costs $69.95.
They also offer a 60 day money back guarantee on all of their products.
For maximum results, they recommend using their products daily, both in the morning and at night. While small changes may appear after a month of use, it is at the two month point when people begin to notice greater results.
Online reviews and complaints indicate that Meaningful Beauty customers are mainly unsatisfied with their products and the customer service.
After signing up for a 30-day supply on their site, you are automatically enrolled in their recurring shipment program; in lieu of being enrolled for the month supply, they change it to a 90-day supply.
Furthermore, the charge for a three month supply triples from the cost of their original order.
When customers attempted to cancel their account and stop the recurring 90-day supply shipments, they found it impossible to do.
Customer service agents hung up the phone on them, claimed that they were never sent products and also failed to remove them from the program all together.
The focus on women's looks has been sparking the development of tons of aging products, each with its own formulated mixture of ingredients.
Conduct further research on the ingredients within these products; if you experience any negative reaction to a particular product discontinue using it right away.
Consider paying a visit to your dermatologist, they may be able to recommend a safer product geared specially to your skin type.
If you have any experience with Meaningful Beauty or their products, please leave your reviews below.
You may also be interested in
Meaningful Beauty Customer Reviews

Keith
RATED ZERO. One of the Biggest Scam Companies in the US, they ship orders without your approval and when you don't pay them even after sending the product back they send you to a collection agency. SCAM can something be done to Shut them down.

BM
Product seems to be less effective than it used to be. Very overpriced. I returned my last shipment and they continued to charge me for it and then sent me to collections!!! Don't waste your money. It's not worth it….

nonya
Anyone can tell Cindy Crawford has had facelifts, botox and fillers. This product does not work. My dermatologist rolled her eyes when i mentioned it to her. Save your money!

Joy E
Rip off. Continues to bill after cancelled.
I bought the introductory package and decided it was not worth the money to continue so I cancelled after 2 weeks as per the promise to cancel at any time.
After I cancelled I was billed again, I called My credit card company and told them that I had cancelled and had it removed.
Then they send me a bill for 2 more months.
I called and told them that I had cancelled but continued to receive bills for $108+, I wrote them on the bill that I had cancelled and sent it back.
Yesterday I received a collection agency letter saying I owed$108+, I sent it back saying that I had cancelled and never received any further merchandise.
I don't know if that will work but I wish I never ordered the stuff in the first place.

Rich K
DON'T buy this from Meaningful beauty!
Great product. Total scam. I bought a package for 64.00 3 weeks later i received it. Then a week later i was billed another 64.00 I thought they were sending more. The 3rd month charged another 64.00. 3 month deal although you only receive the product first order.
I noticed today that I was hit for 92.53 starting another ripoff round of in house financing I was unaware of. I quickly called and they stopped the order. I now have to put account # on the back of the overpriced product and mail it back to them with tracking. They say they will refund the 92.53 once received. That takes about 3 weeks! She was nice.
Go to Amazon and get it. Even Ebay is a better deal. Crawford's team is a bunch of crooks!