MDM Exclusives Reviews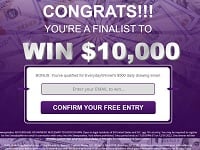 MDM Exclusives, found online at MDMExclusives.com, is a daily email service and sweepstakes entry program available from the MyDailyMoment.com website.
How Does MDM Exclusives Work?
MDM Exclusives is a promotional series offered to people who are not yet MyDailyMoment.com members, but are interested in what that website has to offer as well as having the ability to register for their $10,000 Sweepstakes.
In order to qualify for their Sweepstakes, you must not have been a MyDailyMoment.com member at the time the registration period begins, you must live within the United States, and you must be at least 18 years of age.
After you register, you will be provided with a promotional offer from one of their partners, and you must review this offer before you will able to officially enter their Grand Prize Drawing.
MyDailyMoment.com is a lifestyle and entertainment website that states they encourage members and visitors to search for information, inspiration, and entertainment on their website.
Reputation
While it seems as though MDM Exclusives and their Sweepstakes appears to be a totally normal and legitimate Sweepstakes opportunity that's similar to most other Sweepstakes opportunities, customers who sign up for this program should be aware of a few important factors.
Even though the MyDailyMoment.com promotes themselves as a place for "information and inspiration" the reality is that this is a company that spends most of their time and effort promoting paid products and services,
This is exemplified by the fact that you are unable to sign up for the MDM Exclusives Sweepstakes without going through partner offers first.
In addition, because MyDailyMoment is partnered with and promoting so many different services, many of their members complain about the overwhelming amount of email spam they receive.
MyDailyMoment does say that their members are allowed to opt-out of communication from them, which may be an important feature for new customers to take advantage of when they begin working with this website.
Customer Service
Customers who would like to contact Customer Service with any questions, concerns, or complaints can do so by submitting them directly to the MyDailyMoment.com website through the Contact Us link located at the bottom of their home page.
Cost & Price Plans
Signing up for the MDM Daily Email and the MDM Exclusives Sweepstakes are both completely free, as is a membership to the MyDailyMoment.com website and access to all of their information at this time.
Refund Policy
Because this website doesn't actually charge their members anything and provides all their information and registration for free, they don't provide a Refund Policy at this time.
Though they regularly provide their members with opportunities to purchase products, these products are all actually purchased through third party websites, and not MyDailyMoment.com themselves.
Because of this, you will have to contact the website where you actually made your purchase if you are interested in a refund.
Competitors and Alternatives?
There are many other websites that offer chances to win money, especially if you are willing to purchase products or sign up for trial offers from their partner companies, for which they earn a commission.
If you have any experience with MDM Exclusives, please leave your reviews below.
You may also be interested in
MDM Exclusives Customer Reviews

Energy A

Gary M
Don't join this because there is no way to unsubscribe.
Don't join this because there is no way to unsubscribe. You get tons of messages and can not stop them from coming in. Their web site does not have an unsubscribe and there is no e-mail address to tell them to stop.
They are terrible !!!!!!!!!!!!!!!!!!!!!!!!!!!!!!!

Mary
Too many repeats of survey questions

KennethM
partner offers, partner offers, partner offers, partner offers...........
Seems like a legit sweepstakes, but holy crap you have to click through over 40 offers before your entry is complete. In the corner it says there are 20 and it counts down. So I figured I could make it through that many (even though it's a lot). But after that 20, the counter went away and there were then at least 20 more. I thought they were never going to end. I can only imagine how many emails I'm going to get from them now even though I indicated I was not interested in any of the partner offers.