Man Crates Reviews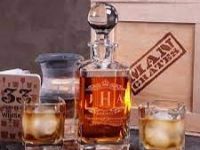 Man Crates, found online at ManCrates.com, says they ship "bragworthy" gifts for men, promising that every gift they offer on their website is something the guys in your life will love.
How Does Man Crates Work?
According to their website, the goal of this company is to make sure that the men in your life really and truly love the gifts that you give them.
Man Crates wants to make sure that gift giving isn't an awkward, stressful process filled with second-guesses and doubt, but rather something so enjoyable for both the gift giver and gift receiver that you will want to begin giving gifts whenever you can, not just for birthdays or holidays.
To do this, they have designed specialty crates designed around specific themes, including crates full of barbecue products and accessories, video game boxes filled with candy and games, or filled with specialty cocktail ingredients and glassware.
One of the best parts of their approach is that they actually pack all of their gifts into a real crate and ship it along with a crowbar, so that the guy in your life can break into the crate with it. Though it is perhaps a little gimmicky, they promise that their customers love it.
Cost/Price Plans
Because this website sells such a broad range of products, there isn't really any one price for their items at this time, however they do let their customers search through their products by price range, including items that are priced from $0 to $50, $50 to $100, and $100 or more.
Customers are also welcome to search through their products by category, and the price of each Crate will be prominently displayed while you search.
Refund Policy
The Man Crates website says that they stand behind their crates so strongly that they offer a full 100% Satisfaction Guarantee, and that if your loved one does not absolutely love your gift, you can contact their Customer Service team by phone and explain the problem, and they will do their very best to make it right.
Customer Service Contact Info
Customers who would like to contact their Customer Service team with questions, concerns, or complaints can do so by phone at 866-902-7260, by email at [email protected], or by submitting them directly to their website through their Contact Us link.
Reputation
This company is still pretty new and doesn't have a lot of customer reviews at this time, but the few that are available appear to be very enthusiastic about this company, their products, and their entire gift giving approach.
In fact, it seems as though this company and their products are being promoted as an excellent idea for upcoming Father's Day, and since they do seem to try and provide a customer focused satisfaction guarantee, customers should feel comfortable trying this company for themselves.
Competitors and Alternatives?
Certainly there are many different companies out there that specialize in products created specifically for men, whether it is men's clothing, men's personal care products, video game products and accessories, barbecue grill products and accessories, and much more. Customers simply need to consider what type of gift their loved one may like the best, and they will find a wide range of alternatives available.
If you have any experience with Man Crates or their products, please leave your reviews below.
You may also be interested in
Man Crates Customer Reviews

Thomas A
Horrible Customer Service
You want to scare your friends? Send them a man crate. Package arrives; no return address, unmarked in a plain brown box. No help inside telling you who they are. Good luck finding any contact info on their web site. Customer Service refuses not only to tell you who they are but also who sent you this suspicious package. Returning the man crate is just as secretive and protects everyone but you. This is more of joke than a pleasant gift.