Madison Reed Reviews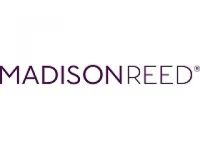 Madison Reed is a hair care company specializing in hair coloring that states they are partnered with manufacturers based in Italy, meaning their operations are under strict EU regulations, ensuring the best quality.
In fact, their hair color products boast the title of being the first ever Smart 6-Free permanent hair color.
This means that their hair color products do not contain ammonia, parabens, resorcinol, PPD, phthalates, or gluten in their ingredients. Instead, the formula is boosted with nutrients such as keratin, argan oil and ginseng root extract to keep your hair shiny and healthy.
Their service also includes color-matching, guides for taking care of your hair color and step-by-step help with coloring your own hair at home.
Products
Madison Reed has a huge variety of hair products and accessories, though their focus is, of course, on their permanent hair color. This includes their own shampoo and conditioner, styling creams and frizz-reducing concoctions - among others.
If you're looking to hide your gray hairs at the roots, they have a product called the Root Reboot. This product comes in seven different colors and has an easy-to-use sponge applicator. The innovative design makes it easy for touch ups to be done quickly with as little fuss as possible.
The Root Touch Up is similar to the Root Reboot. But instead of a sponge applicator, it uses brushes. It seems a lot like what you use for your face and can be nicknamed makeup for hair. Root Touch Up comes in many colors, so that you are able to choose the best shade for your hair.
On the other hand, their Color Reviving Gloss is designed to maximize the time between hair colorings. It ensures that your colored hair maintains its healthy shine in the bright shade that you want.
How Does it Work?
Rather than making you go through an extensive range of dyes to narrow down and pick from, clicking on the Permanent Hair Color button on their website leads you to a short questionnaire. These questions help to figure what shade your hair is currently and what you want it to be.
From there, they do most of the picking and choosing for you, providing you with a number of finalists that match your requirements and would best work for you.
Their products come with detailed instructions to guide you through dyeing your hair at home. If you need more help, the Madison Reed website has tutorials and videos to give you better guidance.
If you really don't feel confident enough to work on your own hair, don't worry about it. Madison Reed has you covered with their Color Bars. These salons are designed to make sure your hair gets the treatment it deserves in the shortest time period possible.
Cost and Price Plans
Services at the Madison Reed Color Bars only start from $35. At the lowest price point of $35, you are able to easily deal with your roots using their Root Reboot, or add a bright new shine to your already tinted hair with their Color Reviving Gloss.
To better handle any of your showing roots, just upgrade to the $60 Roots Only service. For both roots and gloss, get a $10 discount when you do them together at only $85. You are also able to have a blowout added to any of the listed serviced for only $35.
Moreover, you are able to have a Madison Reed membership as well, which auto-delivers their products to you. You are able to customize your experience by changing the frequency of delivery and the color too.
This membership gives you free samples with every box you get, a birthday gift and a $5 rebate with every Radiant Cream Color Kit, or Root Reboot Kit.
There is also a membership available for their Color Bars. Depending on which services you prefer, you are able to get four sessions of the service chosen, along with a complimentary blow out each time you visit for a session.
The membership also affords you 20% off any in-store or online purchase of their products, excluding whatever you may have auto-delivered to you. This membership only lasts six months from the date of purchase.
Customer Service
If you have any issues or just need some extra help, Madison Reed has got you covered. You are able to contact them with any questions or concerns, or even for allergy advice by sending them an inquiry at www.Madison-Reed.com/support.
Otherwise, you may also email them directly at [email protected] The website promises that a response will be given to you within 24 hours.
If you need more personal help, you are also able to call them at +1.855.742.5916. This number can also be called if you have any problems with your order or shipping. Their Color Crew will gladly help you with anything you may need.
Online Reviews & Complaints
The general consensus from the users of Madison Reed Hair Color products are glowingly good. The products give you quality color and the customer service takes excellent and close care of their customers.
Competitors and Alternatives
However, Madison Reed isn't the only hair color company that provides high-quality dyes and the like. Here, we will provide you with three more, so that you will have other choices and alternatives.
Madison Reed vs. eSalon - eSalon provides award-winning hair color products and boasts a completely customized experience by letting you choose exactly what kind of color you want to dye your hair.
Moreover, Natalique hair color products use all organic ingredients to give your hair a natural look. They have a wide range of products that will surely meet all of your home hair dyeing needs.
Lastly, there's Simply Organic Beauty. As you are able to tell from its name, it is another company that uses organic ingredients in their products. They aim to give you an easy experience that is safe as can be.
Where to Buy?
You are able to buy the products directly from www.Madison-Reed.com. Alternatively, you will also find their hair dyes and such at both the Ulta and Sephora websites.
Their Color Bar locations, on the other hand, are available on the website and can be found in both California and New York.
If you have any experience with Madison Reed or their products, please leave your reviews below.
You may also be interested in
Madison Reed Customer Reviews

Elaine
Horrible service. You can't call a salon to order or make an appointment. when you call you get someone in a foreign country. I picked up color and they forgot to give me the developer. Untrained incompetent people at the salons.

Kathleen
excellent customer service
The company treated me very well when I expressed that I was unhappy with how the color turned out. They were very helpful and provided free services to get it right. I was very happy with the end result. Excellent customer service. I would definitely recommend the color bar services.

Nancy Z
Not the best customer service
I signed up for the roots club membership, $50 a month for unlimited roots touch-up visits.
Nine days after I joined, they closed the color bars because of COVID-19, which is totally understandable. I would have had my second appointment during the time they were closed, and so I called and asked if they would send me the color to do it myself.
They expected me to pay for the color, even though I had paid for a membership and only used it once. I cancelled my membership on the spot. Too bad, because the color is nice, but if I'm doing it myself I can get equally lovely color for less.

Marti B
Love the hair dye, but wanted to reorder the powder root touchup in sienna. found out they now have now paired it half and half with sabia dull brown. that means I will pay twice as much because I will not use the sabia.
they also raised the price. I am going to try another root touch up and may switch hair dye if i find another one without ammonia, etc