LumiGuard Reviews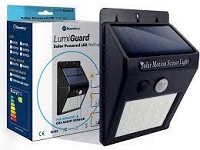 LumiGuard is part of the company Boundery, which is based in California. The creators of the product focus on making items that will last and which will exceed your expectations.
The company has also developed things like the EBULB, an emergency power LED light bulb, and the roadside LED emergency flare.
Where Are LumiGuard Lights Made?
Although the website boasts that the developer's headquarters is in California, the lights are made in China.
How Does It Work?
According to the company website, LumiGuard has a simple installation when you screw it in place at your desired location, the technology inside charges by the sunlight.
Solar lights work because of the solar cell inside the device. The cell converts sunlight into an electrical current. When sunlight filters through the solar cell, the negatively charged electrons activate and push them into positively charged spaces.
The positively charged spaces then transfer through wires embedded in the solar cell to a battery to store the electricity until it's needed. Sunlight converts to electricity throughout the day to charge the battery.
The solar cell stops converting sunlight as the sun goes down and the sky becomes darker. Photoreceptors turn on the light once it becomes dark. The receptors contain light-emitting diodes (LEDs). Electricity from the battery pushes through to the light overnight.
Cost and Price Plans
Boundery sells their LumiGuard™ Solar LED Motion Sensing Floodlight in different size packages. If you purchase them in higher quantities, you get a more significant discount.
1 Light - $24.95
4 Lights - $79.95
8 Lights - $119.95
There are also other LumiGuard products, such as
Pro Floodlight ($34.95 each)
Pro XL Solar Powered LED Floodlight & Security Light with Rechargeable Battery ($34.95 each)
These lights will run a bit higher in price due to their additional features. However, they do also come in multi-packs that reduce the cost.
All lights come with a 30-day guarantee. You can also purchase a lifetime warranty for an additional fee.
How Is The Customer Service?
Through their website, Boundery offers many avenues for communication. Not only can you live chat, but there is also a phone number, email, and a contact form.
However, online reviews of their customer service do not paint a pretty picture. There are several reviews that state the customer received the incorrect product.
Boundery only offered a discounted amount as a return, which did not equate to the amount paid.
The company also did not offer to send the correct items that customers initially ordered. Instead, they informed the customer that there would be a restocking fee to send the incorrect items back.
Unfortunately, this was not just a once-off occurrence. There are numerous reports of this happening to customers.
Online Customer Reviews & Complaints
The Better Business Bureau (BBB) gives the company a F rating. However, it is necessary to note that the BBB does not accredit them. They have eight complaints within the past year.
Amazon customers rate the LumiGuard products at 4.1 stars. Although the lights worked for many customers, others had non-working devices delivered to them.
Unfortunately, many big box stores like Home Depot and Walmart do not carry this brand. Therefore, it is difficult to get a wide variety of reviews.
Competitors and Alternatives
There are many brands of solar lighting on the market.
LumiGuard vs. Defiant: Defiant is one of the most popular brands of solar lighting. These products are more easily accessible, and you can buy them at popular stores like Home Depot. Although the price is a bit higher, the reviews are excellent.
Vs. Honeywell - Honeywell is a famous brand for various products for your household, including smoke detectors. Their reputation makes them a common choice among customers.
Vs. Hyper Tough - The Hyper Tough brand is primarily available at Walmart. It is less expensive than LumiGuard, with fewer features. However, it has very high reviews.
Where To Buy?
LumiGuard is available on their website, as well as on Amazon. LumiGuard is not available in physical retail stores like Home Depot or Walmart.
The Bottom Line
We appreciate having positive reviews of the product we are hoping to purchase and the service affiliated with it.
At times, the product is new to the market, and finding an appropriate amount of reviews is difficult. The lack of feedback makes it hard to make an informed decision on your purchase.
Additionally, there are times where we have an appropriate amount of reviews, but some of them are bad, and others are acceptable.
It is during those times that we struggle to decide which is the best route. Do we take a chance on the product and the service? Or do we continue our search and try to find something we feel more confident in purchasing?
In the case of LumiGuard, the website looks promising. All of the needed information is right there for you to reference and several opportunities to communicate directly with the company. On top of that, the price is acceptable for what the features promised.
However, that's where it ends. It is tough to put your full faith, and money, behind a product when the customer service reports are so negative. We have never heard of an instance where a company only offers you a percentage off discount when they send you the wrong items to begin with.
When we go through a drive-thru restaurant, and they give us the wrong food, we show our receipt and get the correct items.
That should be standard practice across the board. When we pay for a floodlight and receive boundary lights and fence lights, the company should provide us with the correct items with no repercussions.
This issue would be overlooked if not for the many times that it is documented across several different channels online. We don't believe this to be sound business practice; therefore, we don't recommend the LumiGuard product.
If you have any experience with LumiGuard Lights, please leave your reviews below.
You may also be interested in
LumiGuard Customer Reviews