Lulu.com Reviews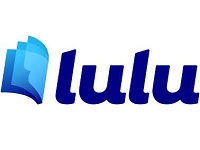 Lulu.com is a website which states they bring the world of online book publishing and printing to customers with their host of easy to use tools and access to a print on demand system.
How does Lulu.com Work?
Like many other popular online printing websites, Lulu does allow their users to create popular items like photo books and calendars. They promise a high quality product which can be available to you in minutes.
However, unlike many other similar websites which specialize in these types of scrapbook or photo projects, Lulu.com promises to help the average person easily navigate the world of self publishing.
Self published books have become extremely popular and accessible with today's internet. Websites like Createspace.com, which is operated by Amazon.com, cater to people who would like an opportunity to print their books themselves and avoid the route of dealing with a traditional publisher.
Lulu.com says their website lets people publish their own book quickly and easily. You can upload your book and format it "within minutes."
If you have a book which requires more time to correctly set up – perhaps a book with illustrations or other interesting formatting challenges – you can save the project as you are working on it and be assured that it will be there whenever you sign in to your Lulu account.
When you are happy with your completed project, you can "publish it" with the click of a mouse. With print-on-demand, this ultimately means that your book will be assigned an identifying ISBN number and will be printed whenever a copy is purchased. This is a much cheaper publishing option than ordering a large scale printing at one time.
This website also allows users to convert their books into eBooks in the EPUB format, so that it is compatible with the iPad, Sony Read, and other popular e-readers.
Lulu.com is not only an online printing company however – it is also an online retailer of these same materials. People can come to this website and browse whatever new items are out there that people are publishing and distributing and then buy directly from them.
If you have any experience with Lulu.com or their services, please leave your reviews below.
Lulu.com Customer Reviews

Paul D
Don't waste your money paying for your book to be published. LULU printing will let you self publish for $0.00. They have a free ISBN number that is registered to you for each book. You can publish (they are a printer NOT a publisher) your book as an Ebook, Paperback, and Hardbound book. There is a cover tool so you can design your own covers.
They also offer, but don't require, help on writing, professional cover design, live editors, live assistance, your own webpage (free on their site) advertising your books. You can set up your own price for each book, and profit margin. Their calculators can tell you how much a book will cost the public, how much you would pay if you order them for yourself, and your profit based on the book price you've chosen.
They also have distribution through a world catalogue of ISBN numbers. My books can be ordered from Great Britain! They are available through Amazon, Kobo, Barnes and Noble, and several other book sellers. Since they are a print on demand service, people ordering from these outlets have to wait for the book to be printed and sent to the recipient. This means you don't pay for books to be printed until they are printed.
That means The store and LULU get their cut before you get your profit. The book is paid for by the person ordering it. Using their calculator, you can adjust your profit per book and it automatically adjusts the cost to your customers. Your readers can also order direct from LULU. Shipping is always paid by the buyer of your book.
If you want to buy your book there is a calculator that gives you your price per print that lowers your price as your quantity goes up.
E-books when accepted by Amazon, etc., are available immediately . LULU supplies free templates, a free converter, and it's up yo you to get the word out unless you hire LULU to teach you how to publicise. By the way, Your book is copyrighted by you and is entirely yours. You wrote it and you own it, so you can still find an agent if you want.