LostMyDoggie.com Reviews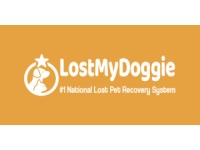 LostMyDoggie.com states that they are the "#1 national dog recovery system" which gives animal owners the ability to issue an Animal Alert for their lost pet and to recover them with an 85% success rate.
How Does It Work?
There are three different available plans. The first provides pet flyers both faxed and emailed to 25 shelters and vets, as well as a free lost & found pet posting in your local newspaper.
The second plan telephones an animal alert to your neighbors homes as well including free animal alerts to shelters and vets by fax and email.
Finally, the third plan includes both phone alerts and mailing packages to neighbors and pet businesses, as well as the animal alerts to shelters and vets.
Cost & Price Plans
The first plan, which alerts vets and shelters, is actually completely free. The second plan, which includes alerting your neighbors, costs $54.95, and the third plan which includes all options costs $94.95.
Refund Policy
Unfortunately LostMyDoggie.com says that they are unable to provide their customers with a general Guarantee or Refund Policy. If your pet has not been located within 30 days of being listed, you can request a refund of any add on services you had ordered.
Customer Service Contact Info
Customers who would like to contact their Customer Service team with any questions, concerns, or complaints can do so by phone at 877-818-0060, by email at [email protected], or by submitting them directly to the website.
Reputation
It appears that LostMyDoggie.com has positive reviews from their users online, with most people vocalizing an appreciation of their services.
Competitors and Alternatives?
There are many other services out there intended to help you prevent the loss of your pet, products like the Tagg Pet Tracker.

If you have any experience with LostMyDoggie.com or their products, please leave your reviews below.
You may also be interested in
LostMyDoggie.com Customer Reviews

I l
I'm glad Lost My Doggie exists
When I got home last night there was a message on my landline phone that a family in my town was missing their dog. I went to LostMyDoggie.com and my town's Facebook page to get more information about the lost dog. I'm assuming Lost
My Doggie notified the town face book page and made the phone calls to our residents, The town's Facebook page had numerous responses to the post noting they would go out and help look for the dog and forward the lost dog information to their friends and family.
At this moment, the dog is still missing but it's so good to know there are many people who care and are out there searching. It seems to me Lost My Doggie is trying to reunite beloved pets with their families the best they can,