Lively Hearing Aids Reviews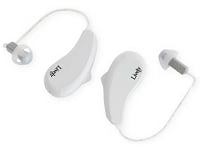 Lively Hearing Aids are a type of digital, app controlled hearing aid marketed by Lively, a company who state their team is made up of professionals in the field, including audiologists and advisors.
The hearing aids created by the company are considered by many customers to be high quality, and there are plenty of reviews that agree.
The hearing aids are manufactured by ReSound, a Denmark-based hearing technology company. Let's take a closer look at the hearing aids to see if they are worth your money or if they are a scam.
How Does It Work?
Lively Hearing Aids use high-quality digital technology for great results. Lively hearing aids make use of leading sound quality and noise-canceling technology and have been designed to meet FDA requirements.
The hearing aids are about the size of a quarter and they are nearly invisible. They are sleek and can be hidden behind your ear. Most of the time, people will not know that you are wearing a hearing aid at all.
You can choose from one of two Lively bundles. The first is the rechargeable option, which comes with a portable case. This option is $2,400. The battery-powered option is $1,850.
The kits include:
Pair of hearing aids
3 years of remote care with an audiologist
Support available 7 days a week
Free app
Cleaning kit and wax filter
3-year manufacturer warranty
3-year loss-and-damage protection
Recharging case if applicable
Another one of the benefits of the Lively hearing aids is the Bluetooth connection. You can pair it with your phone, tablet, etc., and make adjustments through the app.
This helps to make the hearing add far more flexible and beneficial than hearing aids of the past. The Lively audiologists can create a custom program for your hearing aid based on the results of your test. This will ensure that you have premium, personalized sound. You can then make easy adjustments with the app.
You can choose from a range of colors for the hearing aid, as well. Try to choose a color that closely matches your hair color. This will help to disguise the appearance of the hearing aid.
Are Lively hearing aids covered by insurance? Even though a large number of people have trouble hearing, most of the time, hearing aids are not covered through insurance. Still, you will find that the Lively hearing aid can be affordable.
Rather than buying it all at once, you might want to see if you can qualify for a payment plan. This can drop the cost to less than $100 a month in many cases for either the rechargeable or the battery-powered option.
In addition to hearing aids, the company also offers a range of accessories. The TV Streamer, which is $299, will stream TV and other audio right to your device, which can provide clear sound from up to 22ft away.
The MultiMic is a portable, discreet microphone that can stream speech and other sounds to improve your hearing in difficult listening situations. It is $275. There are also charging cases and clips available.
What's the Rechargeability of Lively Hearing Aids?
As mentioned, you have the option of choosing a battery-powered hearing aid, which is cheaper, or a rechargeable option. The hearing aid can work for 30 hours on a 3-hour charge.
A one-hour charge will provide 16 hours of power, and a half-hour charge will provide 8 hours of power. If you choose to get the sleek charging case, it will hold three full charges before needing to be plugged in.
Customer Service
You can contact Lively in several ways. You could call the phone number (800) 854-2772, or you could email them at [email protected]
You could connect with them on Facebook or Twitter, as well. There is a form on their site where you can send a message if you have any questions or concerns, as well.
What's the Return Policy?
If you are on the fence about Lively hearing aids, you will be happy to know that you can try the hearing aid for 100 days risk-free.
Use it in your everyday life and check out all of the features that it offers. If you aren't entirely satisfied with the product, you can return it and get your money back.
Competitors and Alternatives
Lively Hearing Aids vs. Eargo - You will find that the starting price for the hearing aids is the same for Eargo as it is for Lively. While Eargo offers personalization. It doesn't have the on-demand assistance or the rechargeable option that Lively has.
Lively Hearing Aids vs. Oticon - Oticon has a larger number of models (10), and they have options that are programmed by an audiologist. The biggest difference is in the price. The cost of Oticon is higher, starting at around $2,600 and reaching $8,000 or more.
Lively Hearing Aids vs. ReSound - ReSound has even more models (11), but they only offer in-office adjustments rather than remote adjustments. Again, the cost of ReSound is higher. It's between $2,300 and $6,000.
The Bottom Line
Lively is a reputable business with an A rating with the BBB. The accredited business has good customer reviews and could be a nice solution for those who have hearing problems.
They have an excellent battery life, and there is a generous return program.
There's no information regarding whether they are waterproof or not, but most of the time, you will want to keep hearing aids out of the water because there is a risk that the battery could corrode.
If you have any experience with Lively Hearing Aids, please leave your reviews below.
You may also be interested in
Lively Hearing Aids Customer Reviews

John
I LOVE these hearing aids
Purchased these last week and honestly I am blown away! Out of the box they are preprogrammed to my hearing problem. Easy to use, great results. The app is awesome too.
I Had my zoom session with an audiologist who was super knowledgeable and caring. She told me that after two weeks, she will load a new profile for me VIRTUALLY!! No trips to the doctor and ZERO cost.