Lint Cleaner Pro Reviews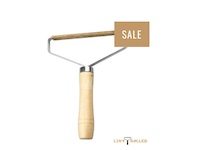 About Lint Cleaner Pro
Pet owners know the pain all too well. You put on your clothes for the day, get completely ready, look in the mirror. Only to discover that your outfit is completely covered in pet hair! And if you happen to pit a dark-colored theme for the day, it's even worse!
Maybe you have the lint rollers around that you can find in check-out lanes. The ones that have the sticky paper? Those are great for certain situations, but they don't always get everything.
And it doesn't just pertain to pet hair. What about all those sweaters you've donated or thrown out because the pilling got to be too much?
It's hard to find an easy-to-use tool that can accommodate these needs. However, the Lint Cleaner Pro can do all of that and more. But is Lint Cleaner Pro legit? Read on to find out.&nbsp
&nbsp
Products
Lint Rolled is the company that sells the Lint Cleaner Pro. Not only do they sell that, but they have developed several other products that help a variety of things in your life:
Carpets
Furniture Fabrics
Rugs
Bedding
Pillows
Blankets
Clothes
Car Seats & Floor
Home Floor / Bathroom / Car Mats
Any non-knitted fabrics
They do this in a variety of forms. Outside of the Lint Cleaner Pro, they also offer:
Pet Hair Destroyer
Bobble Buster
Portable Clothing Comb
Reusable Pet Hair Buster
You can also purchase these items in bundles, which have several items in one package.
What Does Lint Cleaner Pro Do?
The Lint Cleaner Pro acts as a lint remover and fine-tooth comb in one. It effectively removes hair and fluff from household items by affixing to the material and gently pulling it out. The comb technology allows it to get underneath the surface level and remove more than just what you see at the top.
Whereas the sticky lint rollers grab onto the materials on the surface, this gets that and more. The product performs without any damage to the materials you are using it on as well. The small pieces of the comb grab what it needs and nothing more.
How Does It Work?
Once you locate the area you want to use your Lint Cleaner Pro on, you gently run the comb over the surface. After the first go, you will see a build-up on lint, fur, fluff, and pilling. After removing what is already on there, you will continue to go over the same area until you can do it without anything coming into the comb's teeth.
This process can take place on carpet, clothing, pets, furniture, curtains, among many others. The use of the Lint Cleaner Pro will allow you to get a deeper clean that even a vacuum can't accomplish.
Cost and Price Plans
To purchase a Lint Cleaner Pro through the company Lint Rolled, you will pay $14.95. However, the price goes down as you are buying several of the same items.
One Lint Cleaner Pro - $14.95
Two Lint Cleaner Pro's - $26.95
Three Lint Cleaner Pro's - $35.95
The company states that they provide fast shipping, 24/7 customer support, and a 30-day refund guarantee.
How Is The Customer Service?
Lint Rolled only offers one form of contact for customers. However, they are available 24/7 and claim that they will respond to your email within just a few hours.
Email: [email protected]
If you prefer, you can use their contact form to email them on their company website.
There have been some complaints that although the website states, the 24/7 customer service is not automated and is run by human beings, that the emails come back that do not pertain to the issue at hand. For example, a customer emailed after placing an accidental order, and the email that came back asked if she would like to keep the product for a 50% refund. However, the product hadn't even arrived.
Online Customer Reviews/Complaints
Although Lint Rolled claims to be safe on various products, many customers complain that the teeth can pull the yarn out of sweaters. Additionally, some buyers have found the device cheaply made and have had it easily break after only a few uses.
One independent review source gives the company a rating of 3.2 stars. Some of the key complaints are that the company claims to be in the United States, with their products made in New Jersey. However, customers have been receiving their packages from China with prolonged shipping times.
Lint Rolled is not listed with the BBB and is not available for retail sale on Amazon on Google.
Competitors and Alternatives
Several products are similar to the Lint Cleaner Pro on the market, most of which look identical to the Lint Rolled product.
Lint Cleaner Pro vs. Ruri Lint Remover: The Ruri is available on Amazon with high reviews. It also has a lower price point and qualifies for Prime shipping. The design is very similar to Lint Rolled.
Vs. Anrui: Anrui is also identical in design and is one of the highest-rated lint cleaner options online. The cost of the Anrui is several dollars below the Lint Rolled option.
Vs. Eogail: The Eogail product comes with two cleaners for lower than one Lint Cleaner Pro price.
Where To Buy?
At this time, you can only purchase the Lint Rolled product on the company website. This avenue is also where you can utilize the 30-day refund guarantee that the company offers.
Lint Rolled does not offer their products for purchase through typical online outlets and in stores like Amazon, Walmart, or Walgreens.
Is It Worth It?
In the end, does the Lint Cleaner Pro work? To some extent, yes. It appears to do an adequate job on some forms of carpet and furniture. Several pet owners have been able to get a large amount of excess hair off of their animals with the product.
However, customers have experienced issues with certain types of clothing. Sweaters, in particular, will often have yarn pulled out of them when the Lint Cleaner Pro is used.
Additionally, there have been issues with the product breaking shortly after being received. This problem is in addition to the customer service, manufacturing location, and slow shipping issues.
We think that with the nearly identical items on the market that cost less and do the same job, the Lint Cleaner Pro is not worth it. It does not appear that the Lint Rolled company has created a product that is any more superior to what is already available through other companies and outlets.
0 'Lint Cleaner Pro ' Reviews