LifeSafer Ignition Interlock
LifeSafer Ignition Interlock Reviews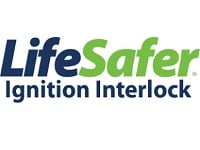 The LifeSafer Ignition Interlock, found online at LifeSafer.com, is a company that states they provide their customers with state mandated ignition interlock devices, as well as installation and maintenance of these devices as long as you need them.
How Does it Work?
According to their website, an ignition interlock device is a device that has the ability to prevent your vehicle from starting if the driver of the car has been drinking.
This device works like a breathalyzer and is able to measure the alcohol in a person's system, determining if it is above a pre-set level before the car is able to start.
LifeSafer Ignition Interlock says that a majority of US states and Canadian provinces are now using these devices as an alternative to simply revoking a driver's privileges outright, because they prevent drunk driving while still giving people the opportunity to work, go to school, and perform other important tasks.
The website does say that most states require random re-tests throughout the time a driver is behind the wheel to ensure that their BAC does not rise after they have been driving.
If it does, the device has the ability to blow the horn and flash the lights until the driver pulls over and turns off the car.
The data received from the ignition interlock devices are sent to the authority that requested the device be installed.
Depending on the state, your information will be sent instantly or once a month when it is downloaded during your service appointment.
Cost & Price Plans
Unfortunately this company is not able to provide clear pricing for their customers directly on their website, because there are many different factors that affect the ultimate price of this device and its installation.
However they promise that their customers will be able to contact them by phone and receive a fast and free price quote.
Their website stresses that they work hard to provide their customers with the lowest possible price, including free installation if free installation is an option allowed in your state of residence.
In addition they promise that the price they tell you is the price you will pay, period.
Customers may be familiar with many complaints of other interlock ignition companies charging hidden or surprise fees, but this company promises that they never charge their customers hidden fees.
They also say that they understand that not every customer will be able to pay out of pocket for their device, and if this is the case, the website says that their "expert agents" will tell you if your state offers any funds or programs to help you offset your costs.
Refund Policy
This company does not appear to provide their customers with a blanket Refund or Return Policy at this time, which isn't surprising given the very specific kind of work they do.
The assumption is that a customer who needs one of these devices won't necessarily have an option to simply return the product for a refund because they want to.
If you do have an issue that you feel justifies some kind of a return or refund, you should contact their Customer Service team as soon as possible.
Customer Service Contact Info
Customers who would like to contact Customer Service with any questions, concerns, or complaints can do so by phone at 877-902-4895 or by submitting them directly to their website through their Contact Us link.
Reputation
First customers must realize that the operations of this company are significantly affected by your state of residence, because there are so many different regulations and factors that go into their operation that are dictated by the state.
That being said, it does appear that this company has generally positive reviews and that most customers report this company being very helpful.
Competitors and Alternatives?
The LifeSafer website acknowledges that there are other companies in each state which provide these kinds of devices and who also work with state agencies, so customers who are looking for an alternative to this company for any reason should be able to find other options which may work for them.
If you have any experience with the LifeSafer Ignition Interlock, please leave your reviews below.
You may also be interested in
LifeSafer Ignition Interlock Customer Reviews

RS
At my initial installation I was charged $356.98 then I found out I was way over charged.
I did my monthly calibration.
After the installation showed that I had a pending balance of $202.43
After the first month calibration it shows that I owe $262.43 when my account must show 000 balance.
I've paid everything, I've never done anything without paying the full amount.
I call and I have to wait 1 hr to communicate.

Danny
Horrible Company! Save yourself the trouble look elsewhere
Horrible temperamental equipment extremally low quality ( gone thru two in 9 months) Customer service is a joke and will treat you worse than the courts do after you agree to install because they know your roped in for the duration. I will steer everyone I come across away for this company

Rich
Time to uninstall, they WILL NOT ANSWER their
phone. On hold for 1 hour at a time, then they HANG UP
They call back then HANG UP.

Rob H
Only 3 weeks into my 2 years and its already a nightmare! 3 machines in the first 3 days, and my first week back to work driving 70 miles one way in Colorado with mag chloride all over the highway! 2 windshield washer fails in my first 4 days of the week! 53$ a pop! Pissed and worried!