LegalContracts.com Reviews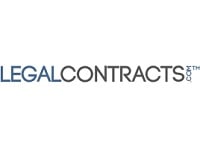 LegalContracts.com Customer Reviews

Charlie C
Lease may not hold up in court
leases are not written write and do not hold up according to my attorney.
When I questioned them on this this is what they wrote.
I was instructed to forward this information to you from our Legal Team.
Our Disclaimer and Terms of Use clearly state that it is the user's responsibility to ensure that the documents created on our website are suitable for their purposes, and to consult external legal counsel when they feel it is required, as well as to protect themselves against any possible consequential damages.
Please find our Disclaimer and Terms of Use at the following links:
https://www.lawdepot.ca/disclaimer.php?loc=US
https://www.lawdepot.com/terms.php?loc=US

EAI
I needed a simple form, could have created it myself but when I found this form that said it was free, I decided to use it. I should have stopped when it asked for a credit card number. I have charged $33 twice on my credit card. LegalContracts.com advertising is very deceptive.

Brenda W
Do NOT use legalcontracts.com!!!!! They will scam you out of money!!! And when you try to resolve the issue you are just told--too bad. This is how the business is run.

Mike S
Don't use they hung up on me when asking why they kept charging for a service I did not use.

PABLO
Just paid $35.00 one time charge for a Bill of sale When I tried to Print my document, the stupid site went blank and it did not allow me to print my bill of sale which I needed today. What a hell is wrong with those people?
Pablo

SIM
NEVER EVER USING THEIR FCKING SERVICE !!!!!!!!!!!!!!!!!!!!!!!!!!!!!!!!!!!!!!!
I signed up for free trail using one time only
they auto-charge me $36.75 per month
I never signed any agreement for this monthly service
When I calling their customer service for refund
the customer service's attitude is the worst I have never see before. like I own her thousands dollars
I don't want to being rude or talking dirty words
but for this fcuking LEGALCONTRACTS.COM
I REALLY DO WANT TO SAY : YOU SUCKS !!!

Neff L
Charged My Card Even When I Cancelled My Subscription
I signed up, and cancelled the subscription on the same day. They still went and charged my card five day later. Not happy.

Kathy C
Nothing free about free trial
we just quick printed a bill of sale that was to be free but our credit card info was on there and we were not able to contact and our card was charged 5 monthly fees. for a total over 183 . before we got it canceled. they take advantage of you not canceling this so called free trial and charge you for not using any of their services... It is partly our fault for not following up and checking up on what these charges were.. but This is an internet scam once they have your card info.. you will be charged.

Sella
I called customer service and they treat you like they are smarter than you are and we are all ignorant customers that owe them everything. They insult customers by telling them to write down everything that they are told and ask them to write it down over and over again. Then they tell us that we need to read the fine print and are very condescending and insulting. Don't waste your money with them, use a competitor that has better customer service and does not down talk customers!