Legacy Food Storage Reviews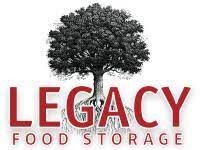 Legacy Food Storage is a company that aims to provide their customers with high quality, affordable freeze dried and dehydrated food stores, perfect for camping or for emergency preparation.
How Does Legacy Food Storage Work?
Most people understand that there are unfortunate but very real life events which result in circumstances where people may need to have access to long term emergency food stores.
Legacy Food Storage offers their customers freeze dried and dehydrated food which can be prepared in minutes simply by adding water, making them a safe solution for people who wish to be prepared for any eventuality.
If you are someone who is new to long term food storage, Legacy will provide you with the option of ordering their sample packs, so customers will have a good understanding of how to prepare these foods and of which foods best meet their needs before they ever invest in a large scale food storage purchase.
Customers can look through their current inventory by category, including Emergency Food, Survival Gear, Water, Fuel & Energy, and more.
Cost/Price Plans
Because this company provides such a wide range of products, in significantly varying volumes, it is impossible to provide a specific and static range of prices that customers can expect from this company. That being said, they offer products as affordable as around $30, while also offering long term food stores worth upwards of $8,000, depending on your needs.
In addition, their website says that any products shipped within the lower 48 states will automatically be provided with free shipping. Customers who live in Alaska, Hawaii, and Puerto Rico will be charged an additional shipping fee, due to the added shipping expense.
Refund Policy
Their website says that they want all of their customers to be happy with their purchase, so they do ask you to inspect it right away upon arrival. If you are dissatisfied with their products for any reason, their policy says that "most unused items" can be returned within 30 days of the date of delivery.
Before returning any product you will need to contact their Customer Service team by email or phone in order to receive a Return Authorization Number. Products shipped back without this number will not be accepted.
All products will need be returned in their original packaging and in new condition unless they were damaged upon delivery, and all returned orders are subject to a 5% restocking fee. Unfortunately Custom Buckets are non-refundable.
Customer Service Contact Info
Customers who wish to contact their Customer Service team with any questions, concerns, or complaints can do so by phone at 888-543-7345, by email at [email protected], or by submitting them directly to their website through their Contact Us link.
Reputation
Unfortunately there simply aren't that many reviews of the Legacy Food Storage company and their products at this time, making it difficult for prospective customers to know whether this is a company they would like to work with.
There does appear to be some sale of their products through the Amazon marketplace, and these products do get positive reviews for the most part, so this may be a good sign for prospective customers who are considering making a purchase here.
Competitors and Alternatives?
There are many different companies that provide people with access to long term food stores, either for emergency preparedness or for outdoor trips, depending on your needs, including Wise Food Storage, My Patriot Supply, and many others.
If you have any experience with Legacy Food Storage or their products, please leave your reviews below.
Legacy Food Storage Customer Reviews