LeatherUp Reviews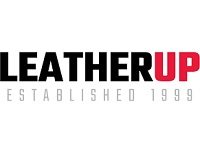 LeatherUp is a company that states they are the #1 Online Leather Store, and that no one sells more jackets, helmets, or motorcycle boots than they do, guaranteeing that they have the most experience to meet your needs.
How Does LeatherUp Work?
Customers can go to their website and search for a specific item they may be looking for by using their website's search feature, or you can do a more general search by category.
Their categories include Motorcycle Jackets, Boots, Helmets, Parts, Pants & Chaps, Vests, Gloves, Luggage, Accessories, and more. Once you've chosen your general category, you'll be able to search through and filter your results using more specific search criteria that best suits your needs.
Cost/Price Plans
LeatherUp.com carries such a wide variety of products that there is no way of providing a set price range. Their website does state, however, that they work to provide the most affordable prices by "cutting out the middle man" and purchasing their products directly from the provider.
In addition, their website frequently refers to a "Low Price Guarantee" but there is no actual information detailing this Guarantee on their website or in their Terms & Conditions, so it appears to be more of a slogan than an actual Guarantee.
Refund Policy
LeatherUp.com says that customers can return any items within 30 days of receiving their order, and as long as they are in new, unused condition and returned in the original packaging with all storage boxes, containers, manuals, accessories and hand tags included and intact, you will receive a full refund of your purchase price.
Customer Service Contact Info
Customers who wish to speak with Customer Service about their questions, concerns, or complaints can do so by phone at 800-846-6010, or by submitting them directly to the website.
Reputation
Unfortunately this website seems to have generally mixed reviews, with some happy customers and some not so happy customers. A complaint that was voiced regularly was that people thought their sizes were often smaller or larger than expected, and when trying to return an item due to a size issue, they had trouble with their Customer Service.
Competitors and Alternatives?
There are other online retailers that specialize in this type of gear and equipment, like RevZilla.com, but some items may be found at your local auto supply and sporting goods stores as well, depending on what you are looking for.
If you have any experience with LeatherUp or their products, please leave your reviews below.
You may also be interested in
LeatherUp Customer Reviews

Bob H
LeatherUp not a Canadian company as depicted
LeatherUp is not Canadian or North American, worst internet shopping experience I have ever had. Will not buy from them again. When I placed order I received a call within half hour to confirm my address, this call was from overseas...
After order it was 2 weeks before the tracking number became valid, many calls and automated email replies trying to sort this out... The jacket finally arrived and it was way to big, still trying to return.
Complete radio silence from LeatherUp, once they have your money they don't give a sh.t. I ordered from Canada as the website looks Canadian, not so. Their hassle free return is anything but! I will never see a refund.
Stay away from LeatherUp, This is $450 loss I will have to right off as a huge mistake. A complete waste of time and money.

Johnnyred1
Terrible customer service
Bought boots and a riding jacket. Unfortunately hospitalized for 6 weeks with unexpected surgeries and missed the 30 exchange window. Asked to exchange with a smaller size, offered to pay the 11.99 fee PLUS the return shipping.
After three emails my reply was a resounding no. Definitely not a way to find a new lifelong customer "Tyler" had to follow the no with request denied in caps like I am trying to get something for nothing. See below. Wonderful customer service.
Hey John,
I am sorry but the jacket cannot be exchanged now.
====REQUEST DENIED=====
Best,
Tyler

Vanessa V
Orders never fulfilled/worst experience
I ordered from them 2 weeks ago received an email that order was shipped, then i received another email saying order canceled because apparently it was out of stock, I then received store credit, once I placed another order with my store credit and I also paid the 3 day expedited shipping, 3 days passed as of today and never received a shipping email or update so I went with my gut and decided to call.
Apparently my order was canceled once again and PARTIALLY REFUNDED, but I never received any email stating that, I'm literally in tears and frustrated because this was supposed to be a Christmas gift now I have to wait around for them to see what's going on, worst experience ever!!

Damon K
I had an excellent experience. Period.
i have ordered one Jacket and it fits amazing. Yes, its leather and it is not a fake. I am ordering from them again. It is legit.

Nick
Been shopping on LeatherUp.com for over 10 years. What I like most is the fast shipping and amazing prices. You can't get the items or brands on other websites, in many cases it's items they make themselves. They always have 10% Coupons just look for them online.The Xelement Boots are some of the best boots you will own, I am on my 3rd pair. Outlaw Helmets and Hustler gear stuff are also a must try and big bang for the price.

Kristen P
Horrible customer service!
Horrible customer service! Ordered my helmet one size bigger than their size chart told me to and it's still too small! Their customer service was no help and I sent helmet back at my own expense ($60)! Now their customer service is telling me that I should have told them before so they could send me a shipping label, yet I did and they were no help!!! Don't buy from them unless you want to get screwed over!

Rosemary A
I ordered a leather jacket. They sent me a POLYVINYL Fake!
Smelled like plastic felt like plastic looked like textured plastic and stretched like plastic. I am a science teacher of textiles and trust me, I really wanted to do a burn test and see the jacket melt. There was zero cowhide in it. NOT LEATHER. I was really polite and asked for a refund after sending the item back to them. I gave them the benefit of the doubt saying they should go back to their Pakistan manufacturer and get the real product instead of this fake. But they refused to refund me the $50 shipping loss I incurred and continued with the lie that they are selling cowhide jackets.
I was CHEATED and every next person who buys "leather" from them will also be cheated.