Leaf Filter Reviews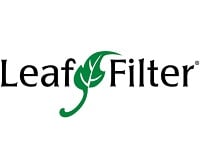 Leaf Filter is a gutter protection device manufacturer and installer that uses a patented 3 layer micromesh system the company states can manage water without collecting and being clogged with debris.
How Does Leaf Filter Work?
According to their website, LeafFilter Gutter Protection promises their customers they once their product is installed onto their existing gutters, they will never have to climb a ladder to clean their gutters again.
To do this, they designed a special gutter cover using medical grade stainless steel micro mesh filters which are supported by a patented rigid vinyl body that creates a siphoning action of water into the gutter system.
This system is installed directly onto your existing gutters and the website claims that it has been proven to block all debris, leaves and muck from entering the gutters.
Cost/Price Plans
This company's website actually does not provide customers with any pricing information at this time.
Instead, they ask their prospective customers to submit their residential zip code to their website to see whether or not this service is currently available in their area.
If the service is available, they ask that you provide them with your contact information so that you can be contacted by one of their representatives who will discuss the whole process with you.
Refund Policy
Unfortunately this company does not provide their customers any information whatsoever regarding a refund or cancellation policy at this time.
When customers speak to the company representative regarding the installation process of this product, they will also want to question them about any policies which cover customer satisfaction or product performance.
Customer Service Contact Info
Customers who would like to contact Customer Service with any questions, concerns, or complaints can do so by submitting them directly to their website through their Contact Us link.
Reputation
This company appears to get really mixed reviews at this time and that appears to be a result of the fact that each residential area has a different home location they deal with.
Apparently some locations and employees just provide better experiences for their customers than others do, which is understandable and is often the case when dealing with a company that has different stores across the nation.
There are a few concerns which have been mentioned regarding this company's product, however, with a few of their customers pointing out that this company does have a policy of free repair or replacement if they install their product onto your gutters and your gutters clog afterward.
Customers have pointed out that this policy truly only applies to your actual gutters clogging – if the screens protecting your gutters become clogged and result in serious water runoff onto your home, the company considers that the customers responsibility and they will not assist you in solving this problem.
This is something prospective customers will want to consider or at least address with their representative.
Competitors and Alternatives?
Products that promise to help people protect and care for their gutters without the need to actually get on a ladder and manually clean the gutters are actually very popular and there are a variety of other companies that offer these solutions, like Gutter Helmet.
If you have any experience with Leaf Filter or their services, please leave your reviews below.
You may also be interested in
Leaf Filter Customer Reviews