Laundry Masher Reviews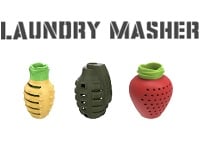 Doing your laundry is a requirement for daily living. However, the cost can quickly add up. Even just the cost of laundry detergent can be a strain on the budget. The Laundry Masher is a new concept that claims you can skip detergent altogether.
Instead of liquid or powder, the Laundry Masher utilizes HyperWash beads that supposedly last up to 200 washes.
Coming in various scents and functions, the company states you can incorporate it into every wash and never have to worry about using anything else.
How Does Laundry Masher Really Work?
In place of detergent or cleaning powder, the Laundry Masher uses anti-bacterial Nano Silver Infused Ceramic Beads. The company refers to them as HyperWash beads and claims that they are beneficial for all soil levels.
They claim the Laundry Masher can eliminate the following from all types of clothing:
Blood
Wine
Grass
Pasta Sauce
Mud
Vomit
Coffee
Grease
Oil
Chocolate
Rust
Ink
Sweat
While the company focuses mainly on their Laundry Masher, which comes in a pineapple scent, they also offer the following additional products for other laundry needs:
Dryer Masher Morning Star
Oxygen Cleaning Tablets
Masher Stain Remover Pen
Laundry Masher Grenade
Dryer Masher Strawberry
While the dryer masher can be refilled with separately purchased softener refills, the other items must be re-purchased once they run out or start to lose their effectiveness.
Cost and Price Plans
The cost of a Laundry Masher is $79. There is no discount per item when you purchase in bulk.
Laundry Masher offers a 30-day return policy on all products purchased through their website.
Customer Service
If you want to get more information on Laundry Masher, you can try contacting the company via their phone number at (866) 206 1533 or through their email address at [email protected]
Is Laundry Masher Legit?
While the science behind the HyperWash beads is legitimate, there is limited information available on whether it is more effective than conventional laundry detergent, pods, and powder.
The use of antibacterial Nano Silver Infused Ceramic Beads has been studied for years, and it has been used as a source of medication in the 19th century. Because of its antibacterial, antifungal, and microbial qualities, it can perform various tasks and be incorporated into other materials for added value.
There are other options available for laundry hygiene that doesn't involve Nano Silver, some of which include:
Vinegar and Baking Soda
Using this option requires paying attention and listening for the rinse cycle. The use of both vinegar and baking soda combats stains and odors. Therefore, this option is excellent for workout clothes or sports uniforms.
Add half of a cup of baking soda to the wash cycle.
Once you hit the rinse cycle, add half of a cup of vinegar.
If you are concerned about the vinegar smell, run an additional rinse cycle.
Dish Soap
You can use dish soap for colored clothes that don't have any specific detergent needs. Dawn dish soap brand is the most recommended due to its grease-fighting capabilities. If you use a high-efficiency washer, do not resort to dish soap as an alternative to laundry detergent. It is also wise to rinse an additional time or add vinegar to the rinse cycle to eliminate all suds.
Bar Soap
This method is standard in many Asian countries. Instead of laundry detergent, using a grater and a bar of soap to have shavings for the washer is a good alternative. It is imperative to use only a few shavings so as not to overwhelm your washer with an overabundance of bubbles.
Borax
While not everybody has Borax in their home, it is a cheap alternative to laundry detergent and can be kept on hand for use in a pinch. While it does have the capacity to clean your clothes and sanitize them, a build-up of Borax on clothing can cause issues with itching. Therefore, it is essential not to use it frequently.
In addition to the above, you can utilize lemon juice to brighten laundry, as well as hydrogen peroxide. Some people even use vodka to clean delicate clothing items.
Online Customer Reviews & Complaints
There is minimal information regarding the Laundry Masher and its efficacy. Additionally, there are no independent reviews to be found online. Because the product is not sold on Amazon, you don't see any information on customer experience on that platform.
There isn't any information available regarding common feedback platforms like Reddit and Consumer Reports. The lack of information leads us to believe that the product may not be legitimate, since there isn't anything available to determine otherwise.
The company is not listed on or accredited with the Better Business Bureau (BBB).
Competitors and Alternatives
Many different products fulfill the same purpose as the Laundry Masher. Some of the most common options that are similar in design and style include the Eco Egg, Beron washer Ball, and Grateful House.
FAQ
Where to Buy?
You can buy the Laundry Masher from their official website.
Does it Work?
Due to the limited feedback given on the product, it is unknown whether the Laundry Masher actually works or not.
Does the Laundry Masher come in different scents?
The different scents that the company offers are specific to other laundry needs. Therefore, the strawberry scent option is for static cling and wrinkles.
Is Laundry Masher worth it?
Laundry is a life task that you can't get away from. The extra cost of the necessary elements can also be a strain on a household budget.
Many alternatives are available, and some turn to antibacterial Nano Silver Infused Ceramic Beads instead of traditional detergent. The Laundry Masher is one of those options.
There are plenty of studies on the efficacy of Nano Silver. However, there isn't anything available that speaks to its capabilities as a laundry detergent alternative.
Because of that, the lack of reviews, and the high price tag, we do not recommend the Laundry Masher. There are many other options available that are more highly rated and affordable.
If you have any experience with the Laundry Masher, please leave your reviews below.
Laundry Masher Customer Reviews

Linda
Gets clothes clean and odor-free
I have used the same pineapple Laundry Masher for a year now. I have not noticed it losing balls. Clothes are clean and odor-free. Old stains have come out as well. Partner has treatment for skin cancer on face which causes excessive bleeding, getting on the sheets and pillowcases repeatedly. It all comes out using only the Laundry Masher.
11/28/22

Trudi
I got mine at the end of May and as I've been away a lot I'd say I've used it 20 times. I am now picking up all the little ceramic balls which have fallen out. Not happy...

Lt
Is there a less than 1? Bought this and used about a month...came apart in my machine...hundreds of little ceramic balls at the bottom of my washer. Try picking these little balls out of a washer bottom. You can't fix this mess so I wasted all that money for nothing...buy one on Amazon it's cheaper and doesn't fall apart.

Christian
Ordered products to try. Got the products for washer and dryer. Have questions about dryer masher and have attempted numerous calls and emails. No return calls or emails. There's clearly no concerned coming customer service. Will be returning

Sue E
I had decided to give it at least a month of biweekly tries and felt it was doing moderately well and continued using. At 4 months, I've become a fan. Softer and more wrinkle free clothing are becoming my way of life!

Jerry
Did Not work as advertised
My wife used the product through two separate washings, each was washed two times and the clothes were still not clean afterwards. We contacted the company and they told us the 30 day return policy had expired. I offered IF it was a quality product, it should have a 60 day money back guarantee. We tried the product and it didn't work, period! They offered 30% refund solution! I turned that down for a 100% refund because the product did NOT work as advertised!! I would not recommend this product.

Deb V
They claim they have excellent customer service. I've written 3 emails to them and no replies yet. I've waited three weeks. By now they'll claim it's too late to return the item (I received a second one for Mother's Day.) Now I have to re-gift it or try to resell it.
NO Customer Service is more like it!! They don't even deserve 1 star but zero stars isn't offered.