Latched Mama Reviews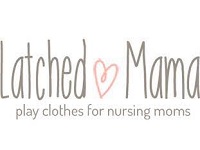 Latched Mama is a company which says that their goal is to support new mothers by providing them with "normal" and affordable nursing wear.
How Does It Work?
According to their website, the creator of Latched Mama had two infant sons close together in age and was unbelievably frustrated by how difficult it was to find clothing that was appropriate for both running after a toddler and comfortably nursing an infant. When she was able to find this appropriate clothing, it was often very expensive.
Latched Mama was created to offer women clothing that was stylish, comfortable, and affordable and all designed to make nursing easy for the mother and the baby.
Customers who would like to see what this company has to offer can look through their categories, including Shirts & Tops, Dresses, Plus Size, Pajamas, and more.
Cost/Price Plans
This company offers so many different types and kinds of clothing, that there really isn't any way to quote a single or static price range for what you will find on this website.
However, they do emphasize that one of the most important goals of this company was to provide clothing at affordable price points, and it appears that their dresses are priced between $25 and $40, if customers are looking for an example of the pricing they will find.
Refund Policy
This company does provide their customers with a Refund Policy, saying that orders which are returned within 30 days of the date of purchase will be eligible for a full refund, and any returns made after 30 days will only be eligible for a gift card of the purchase amount.
In order to successfully return your items, you will need to ensure that they are all in new, original condition that is packed and returned carefully, as they say they are a "small, low inventory company" and your purchase will likely end up with another mom.
Finally, they do ask that all their customers be willing to give them another try.
When you begin the return process, they ask that you email them at [email protected] so they can discuss with you what problems you had with your current purchase and how those styles may have been improved so that you would have been satisfied with them.
They say that this feedback process is crucial to their development and to meeting their customer satisfaction goals.
Customer Service Contact Info
Customers who wish to contact Customer Service with questions, concerns, or complaints can do so by phone at 844-500-1325 or by email at [email protected]
Reputation
There are not that many reviews of this company and their products at this time, but the few reviews which are available from customers on blogs and websites all appear to be very positive.
Women are very happy about the beneficial design of these clothes and how well they adapt to an active lifestyle with nursing.
Competitors and Alternatives?
As mentioned above, there are many other retailers which provide their customers with specialty nursing clothing, but they can often be limited in scope or they can be prohibitively expensive depending on your own personal budget.
If you have any experience with Latched Mama or their products, please leave your reviews below.
You may also be interested in
Latched Mama Customer Reviews

Prissy
Thin, cheap and not worth price
Back when I had my first several years ago the quality and price were reasonable but the prices have gone way up which is fine but qualify has gone down a lot which to me is unacceptable and they don't seem to take accountability

Nana B
I have so many Latched Mama items from when I was nursing my first but they don't hold up well at all. Walmart's clothes last longer. The quality is terrible, the clothes are made in China so poor quality is expected...