LARQ Bottle PureVis Reviews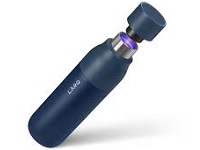 The LARQ Bottle PureVis is a self-cleaning and sanitizing water bottle that's claimed to kill up to 99.99% of germs in your water bottle.
As seen on the TV show Shark Tank, the LARQ aims to utilize a UV light to provide safe water for consumption while on the go.
About
LARQ was founded on the idea of having an innovative way to reduce the use of plastic water bottles while simultaneously providing safe and clean water for consumption.
The result of this idea was a self-cleaning water bottle that gives filtered water to individuals.
The inventors of the product took their idea mainstream when they were featured on an episode of Shark Tank.
LARQ offers four different products to achieve its mission of clean and safe reusable water bottles:
LARQ PureVis - this option is useful for camping and backpacking as it keeps drinks cold for up to 24 hours.
LARQ Movement PureVis - the Movement is helpful for travel and sports. Its lightweight allows you to take it on an airplane or take it on a jog.
LARQ Bottle - this water bottle does not come with self-cleaning technology or a UV filter. This product will require cleaning and is safe to put in dishwater.
LARQ Pitcher PureVis - as an at-home option, this pitcher allows you to filter tap water from your kitchen and store it in the refrigerator.
How Does LARQ Bottle PureVis Work?
The LARQ bottle uses UV-C light to kill germs and bacteria in water. To operate the LARQ, you do the following:
Fill up the water bottle with any type of water
Place cap on the bottle
Press down on the lid to start the sanitization (once for normal mode, twice for adventure mode)
Shake the bottle to disperse UV light
Drink
It is crucial not to microwave your bottle or place it in the dishwasher.
This action can reduce its effectiveness and prove dangerous to the sanitization process. Additionally, it will void the warranty offered by the company.
As you'll see in the bottle's instructions, various lights signify an issue with the device. The purpose of the lights meaning is:
Green light - charging
Steady green light - battery fully charged
Sky blue light - normal Mode
Pulsing blue light - adventure Mode
Pulsing orange light - safety Mode
Constant yellow light - low on battery
Red/Purple light - product is broken, bottle not working. This issue could be due to a fall where the bottle incurred a dent or a technology malfunction.
The LARQ has a fast charging time and recharges by USB. It does not require an app to operate.
Cost and Price Plans
The cost of the LARQ Bottle depends on which size you choose.
17-ounce bottle - $95
25-ounce bottle - $118
LARQ offers a warranty on their products, as well as custom personalization.
Customer Service
LARQ offers several contact methods to get in touch with customer service with any questions or issues.
Email: [email protected]
Address:
950 Tower Ln, Suite 2100
Foster City, California 94404
Online Customer Reviews & Complaints
LARQ is not accredited with the Better Business Bureau (BBB) but does have a B+ rating on the website.
There are several complaints about the cap of the bottle breaking over time and the challenges customers have getting in touch with the service department at LARQ.
While there are many complaints, many customers love their bottles and have purchased them as gifts for friends and family.
Frequently Asked Questions
How long does a LARQ bottle last?
The battery charge for the LARQ varies depending on use but in general, using in normal mode one charge should last up to 4 weeks. If used in adventure mode (3 min run time vs 60 seconds) the charge should last around 10-12 days.
The company estimates the full lifetime of the bottle to be around 100,000 cycles.
How much does a LARQ bottle weigh?
The smaller bottle weighs 13.5 ounces, while the larger option is 17 ounces.
Is the LARQ bottle safe?
UV light technology is an effective method for disabling bacteria and viruses in water. The CDC states that UV-C, the type used by LARQ, provides the most germicidal effect of all UV wavelengths.
Another safety feature of the design is that it only activates once the cap is tightened, this will prevent your eyes from any UV exposure.
Does the LARQ bottle actually work?
Yes, many customer reviews attest to the performance of the bottle and the technology has been shown to be effective.
Research has shown that UV-C wavelengths inhibit the growth of germs and viruses at a molecular level by disrupting the chemical bonds in their DNA, essentially destroying them.
LARQ states that their bottle can kill up to 99.9999% of bacteria and 99.99% of viruses when the product is used on its highest setting.
Keep in mind that the LARQ does not act as a physical filter for your water source, meaning it's still susceptible to sediments and particles in your water.
Is LARQ bottle waterproof?
Yes, the LARQ is waterproof. However, it is not to be used in the dishwasher.
Where To Buy?
LARQ bottles are available for purchase on their company website and in high-end retail stores like Williams Sonoma, Neiman Marcus, and Bloomingdales.
Competitors and Alternatives
Some of the other similar options available include:
LARQ vs. Crazy Cap: While Crazy Cap looks nearly identical to the LARQ, it has a lower price tag and is tested by authoritative agencies for its effectiveness.
LARQ vs. Brita: The main difference between LARQ and Brita is that the latter does not use UV technology and only comes in pitcher size.
LARQ vs. Go Bottle: While Go Bottle is similar in design to the LARQ, it is over 50% cheaper and is made without BPA.
Is LARQ Worth It?
With so many water issues taking place worldwide, it can be stressful to wonder if you have safe and clean water for you and your family to drink.
However, it isn't always feasible to buy bottled water to drink, especially when disposable plastic is so bad for the environment.
LARQ allows you to have safe and clean water wherever you go with their UV technology while also saving the world from unnecessary plastic in landfills.
The LARQ does come with a significant price tag, which is difficult for people to grasp.
It's a large sum of money to part ways with for a water bottle. Even for a self-cleaning and UV filtering water bottle and thus should be viewed as a long term investment.
Given the positive online reviews, if you're comfortable with the price and feel like you would benefit from the features, we think the LARQ can be a good purchase. It's a versatile solution for a variety of water purification needs.
If you have any experience with the LARQ water bottle, please leave your reviews below.
You may also be interested in
LARQ Bottle PureVis Customer Reviews