Lanta Flat Belly Shake Reviews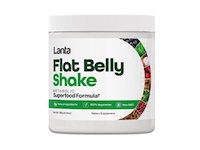 The Lanta Flat Belly Shake was created to help men and women restore appropriate levels of the GLP-1 hormone.
The creators believe that as a result of having optimal levels of this potent hormone, individuals will naturally begin to lose unwanted weight.
They go on to state that using their product will help your body in a variety of additional ways. Those benefits include:
Boosting Metabolism
Increasing Energy
Cutting Cravings
Increasing Fat Oxidation
Burning Fat
Product and Ingredients
Lanta claims that all the ingredients in the Flat Belly Shake are healthy and naturally occurring nutrients. Those included in the shake mixture are:
Cinnamon Bark - They cite sources from the University of Michigan that suggest Cinnamon may trigger thermogenesis, a metabolic process that burns calories to produce heat.
Mangosteen - Mangosteen contains powerful antioxidants called xanthones that support your metabolism.
Panax Ginseng - Panax Ginseng has been used in traditional medicine to support energy levels.
Ashwagandha - Ashwagandha's been used for over 3,000 years in Asia to help soothe stress and anxiety while increasing energy levels and supporting brain health and is considered to be an adaptogen. Ashwagandha has also been studied for potential effects on insulin levels.
How To Use Flat Belly Shake
When incorporating Lanta Flat Belly Shake into your weight loss routine, you add one scoop of the shake powder into a glass of water and consume once per day.
It is recommended to drink this first thing in the morning and to continue using it for up to 12 months.
Cost and Price Plans
Flat Belly Shake is sold individually and in bulk. When purchasing in bulk, you can get a reduced rate on each item.
1 Canister - $69 and shipping
3 Canisters - $59 each ($177 total) and free shipping
6 Canisters - $49 each ($294 total) and free shipping
Customer Service
There is minimal contact information available for Lanta, the company that manufactures Flat Belly Shake.
While there is no physical address or phone number, they provide an email address for product assistance.
Email: [email protected]
Their website states that Flat Belly Shake is backed by a 365 day money back guarantee. The product is sold through the third party retailer, ClickBank, so if you are having any issues reaching customer support you can contact them directly.
Online Customer Reviews & Complaints
As a company, Lanta has very little public information and is not registered with the Better Business Bureau (BBB). While there are customer testimonials on their website, it is not for sure if they are a result of verified purchases or not.
Additionally, with the product only being sold through the manufacturer, there is a lack of independent reviews on other platforms.
FAQ
Who Can Use Flat Belly Shake?
Anyone of adult age can use Flat Belly Shake, although it is recommended to consult with your physician before consuming.
Does Flat Belly Shake have side effects?
The company website states that Flat Belly Shake has no known side effects. However, there are minimal independent reviews on the product to be able to verify that statement.
While the ingredients are generally considered safe, Ashwagandha can cause negative reactions in some people. One study found that large doses can cause adverse reactions such as gastrointestinal upset, diarrhea, nausea and vomiting.
Further if you have thyroid issues, are pregnant or breastfeeding, or have an autoimmune disorder you should consult with your physician before taking Ashwagandha supplements.
Does Flat Belly Shake Work?
There are many positive testimonials on Flat Belly Shake on their company website. However, it isn't known whether those reviews are verified. There also isn't enough clinical evidence to show that Flat Belly Shake will result in weight loss.
Where To Buy?
Flat Belly Shake is only available for purchase on the company website.
Competitors and Alternatives
In addition to Flat Belly Shake, there are other similar options available, including:
Flat Belly Shake vs. Flat Tummy Replacement Shake: Sold on Amazon, Flat Tummy Replacement Shake comes in a variety of flavors and aids people in losing weight.
Flat Belly Shake vs. Slimmy Tabs: Although it does not come in shake form, Slimmy Tabs have similar ingredients to Flat Belly Shakes. Sold on Amazon, you take one tablet right before breakfast and several more throughout the day.
Flat Belly Shake vs. Skinny Fit Detox Tea: Skinny Fit Detox Tea has several ingredients in common with Flat Belly Shake. However, it is consumed as tea and helps to relieve bloating.
Is Lanta Flat Belly Shake Worth It?
People of all shapes and sizes are always on the hunt for a simple weight loss remedy that will give quick and noticeable results. While there are many options available, not all of them are effective.
Flat Belly Shakes, created by Lanta, state that by consuming one scoop of powder mixed with water each day, that hormones in your body will rise to appropriate levels, and you will begin to lose weight immediately.
While this approach sounds good in theory, it doesn't consider any medical issues that may be stalling weight loss or that will interact with the ingredients in Flat Belly Shake.
Additionally, there are no independent reviews or appropriate research provided for the product.
With little to no reviews on Flat Belly Shakes, and a lack of quality research on the benefits of the product, we are hesitant to recommend using this product to aid in weight loss. With other options available, we believe it would be more beneficial to go a route that your physician recommends.
If you have any experience with Lanta Flat Belly Shakes, please leave your reviews below.
You may also be interested in
Lanta Flat Belly Shake Customer Reviews