KnetBooks Reviews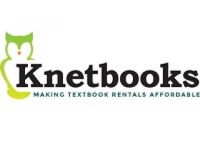 KnetBooks is a website established in 2009 with the goal of helping college kids rent their extremely expensive textbooks at fraction of the price so that they can save money while still being prepared for their classes.
How Does KnetBooks Work?
Most people are aware that college textbooks can be extremely expensive, but it may be less well known that textbooks can lose their value by the end of the college course itself, making books a serious college expense that can't really be recouped by the "buyback" programs offered by most college campuses.
KnetBooks.com wanted to provide college students with an alternative, giving them a website to rent textbooks that is easy to use. They have since become one of the primary sources available for affordable textbooks for students all across the country.
Customers who are searching for books can go to their website and type in the book you are looking for using the Title, Author, Keyword, or ISBN number.
Once they have located the specific book you are interested in finding, you will select the specific version of the text to verify that's the copy you need to rent, and then either continue shopping or check out.
Though the rental period is designed to specifically follow popular college course schedules – semester rentals, quarterly rentals, or summer rentals – they do allow their customers 15 or 30 day extension period if they choose to order one for a small, additional fee, allowing extra time for students who need to rent the book early or return it later than normal.
Cost & Price Plans
Using this website and their features is completely free for visitors.
Visitors will have all pricing information of the books they are looking for available before they choose to finalize their purchase, and the website promises that their customers will be provided with free shipping both ways.
Refund Policy
This company does provide their customers with a small window in which to return their rented textbooks for a full refund of the rental price, less the cost of shipping and a 10% restocking fee.
In order for a book to be eligible for a refund of rental fees, the book must be returned within 25 days of the original shipping date and it must be in the condition in which it was shipped.
This means that shrink-wrapped items cannot be returned if the wrapping is broken, and any items that contain diskette packages, CD-ROM's, DVD's, and CD's that have opened will also not be eligible for refund.
In addition, their website states that the final determination on providing a refund is up to the company, and the reserve the right to not accept any rental return which does not meet their expectations.
Customer Service Contact Info
Customers who wish to speak with Customer Service about their questions, concerns, or complaints can do so by phone at 866-870-9186 or by submitting them directly to their website using their Email Form link.
Reputation
Unfortunately this company has many, many unhappy customers that have detailed their poor experiences with KnetBooks.com online. These experiences are also very similar to each other, indicating a pattern of problems and poor service.
These negative reviews are generally about the prices this company charges when a book is returned late. These charges are quoted as being equivalent to the full retail cost of the textbook.
When the company does finally receive the book, they only refund a small part of the late charge, resulting in huge fines that essentially mean the customer has paid the full price for the textbook with no book to show for it.
Other customers claimed that since the book can only be returned with the company's pre-paid label, customers were not able to use a trackable shipping method, meaning that they could not argue when the company claimed that books were late, even when they should not have been.
Competitors and Alternatives?
College textbooks can be extremely expensive, and because of this there is a market for websites that help students buy or rent books at cheaper than retail prices, including ECampus.com and others.
If you have any experience with KnetBooks or their products, please leave your reviews below.
KnetBooks Customer Reviews

James D
The books arrived in "used" condition, acceptable. I never used a hardcover textbook after deciding to use another source. Two months after return, I was notified the book was returned in condition unacceptable for renting, and I was being charged for the purchase price. Renter beware. They are used books; if you are the unfortunate person who is in possession when it "fails", you bought it. On the bright side, after you buy it they will send it back for $12.

M. R
Whatever you save up front YOU PAY FOR LATER. Knetbooks requires UPS store and they charge $13.52 for a BOX!!!! USE ANOTHER COMPANY.

Kandrick B
Knetbooks.com is a trash company
Knetbooks.com is a rip off and its not right that this site has predatory practices. They charged me $269.91 for a statistics book that was used because it was late and on top of the rental price. This company will never get my business again and I would ask that whomever reads this review do not spend your money with this company.

Alexander L
I rented the book without a problem. When I printed the return label, UPS said that it was not prepaid and that I would have to pay. I was charged $90 for not returning the book even after confirmation from UPS that it was delivered. Knetbooks has refused to respond to my emails about this problem

Ana
Horrible horrible horrible.
""Absolutely horrible experience with this company. They are extremely deceiving and dishonest. I placed an order with them and requested to cancel my order hours later. I made sure that the book had not been shipped yet. They went ahead and shipped my order anyways. They emailed me saying it was too late to cancel the order. I am absolutely certain that they did this purposely so that I would have to pay to send the book back. When I received the book, I immediately shipped it back and asked for a full refund. The online system was offering me $3 out of the $17.50 that I paid. Absolutely ridiculous. I emailed them immediately asking for a FULL refund. They agreed to issue me a FULL refund, however, my account showed I was only going to be refunded $12.20 out of the $17.20. I emailed them once again asking them to fix this. They agreed to change the amount to $17.20. However, once I checked my bank statement, I discovered that they only refunded me the $12.20. This is absolutely unacceptable! They continuously lied to me! Did they think I would forget to check my bank statement and blindly believe that they'd refund me the full amount? I have all my emails as proof. Don't waste your time with this dishonest and TERRIBLE company. I am still waiting to receive my entire refund from these scammers. "
UPDATE: I originally posted this review on another website. I received an email from that website saying KNETBOOKS flagged my review, accusing me of not being an actual customer. Lmao are you kidding me! Nice attempt to hide your fraudulent ways, knetbooks. I replied with a screenshot of my purchase order as well as the multiple emails between myself and knetbooks.
KNETBOOKS replied after I reviewed them stating that they didn't issue me a full refund because the book was delivered on time...but that they would make an exception. I CANCELLED MY ORDER BEFORE THEY SHIPPED THE BOOK, HOW DOES THEIR JUSTIFICATION FOR CHARGING ME ANYTHING MAKE SENSE!? They will lie to you in order to shut you up, but not actually refund you your money unless you fight for it.
Check out trust pilot before ordering from knetbooks. They have an endless amount of honest and horrifying reviews.
Please don't be a victim of knetbooks. Do your research on this company

brittany
I recently rented a textbook with this company. The textbook was 6 days late, which I was not aware of. The only email I received was one telling me my card was charged $147 for the full amount of the book. I returned the book immediately. When I called customer service, I was told that they sent three emails advising of when it was due/late, which was not true. The only option is a 50% refund which is ridiculous. I am not awaiting a supervisor to call me.