Kindlepreneur Reviews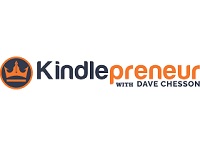 Kindlepreneur.com is the online home of the Kindlepreneur, by Dave Chesson, who says that he knows how to help people sell large amounts of ebooks without experience or name recognition.
How Does Kindlepreneur Work?
Dave Chesson says that after working for many years in the self-publishing industry he realized that the main problem that self-publishing authors have actually has nothing to do with writing books and everything to do with how to promote these books so that people could find them and read them.
Chesson, on the other hand, says that he has created multiple consistent bestselling books that he has published under a variety of different names with the goal of ensuring that his marketing strategies and not his name would be the one factor that brought all of his customers to his books.
Now his goal is to provide all other self-publishing authors with the lessons he has learned about successfully marketing his ebooks so that they can take advantage of all the same strategies and tools to boost their own success. &nbsp
&nbsp
To do this, he started the Kindlepreneur blog and podcast so that his visitors have a place to go to get the information they need.
Cost/Price Plans
At this time, Kindlepreneur visitors who are interested in reading the blog articles and listening to the Podcast which is available will be able to do so completely for free. However, this website does provide their visitors with links to different products and services that they recommend to them, and many of these will need to be purchased. Customers will want to make sure to read the fine print of any product they are considering buying.
Refund Policy
Because this website provides their customers with a free blog and podcast for the information they provide, they do not appear to offer any kind of a Refund Policy to their visitors at this time. And though Kindlepreneur does recommend some paid-for services and products, it appears that customers will be taken to outside websites in order to complete these purchases.
This means that customers will have to look at these websites and marketplaces to see what kinds of Refund and Return Policies are hosted on these outside websites to ensure they know what policy to adhere to if they decide they need to cancel an order or return a product.
Customer Service Contact Info
Customers who wish to contact their Customer Service team with any questions, concerns, or complaints can do so by submitting them directly to their website through their Contact Us link or by using their social media platforms like Facebook or Twitter.
Reputation
Unfortunately there does not appear to be many customer reviews for the Kindlepreneur blog at this time, which is not surprising because as a free resource there is not a lot of motivation for people to leave online reviews for this website unless they felt they had been wronged or taken advantage of in some way.
That being said, this website does promote certain products, courses, tools, and services which do require people to pay one-time purchase or recurring membership fees. If you are considering investing in one of these paid-for items, it is important that you take the time to do your own due diligence to see what others have to say about these products and whether or not these products have a beneficial cancellation or refund policy.
Competitors and Alternatives?
There are many different websites and guides promising to help people learn how to best market and sell ebooks through the Amazon.com marketplace and on the web in general, so customers looking for alternatives to this company will have a variety of options that may suit their needs.
If you have any experience with Kindlepreneur or their products, please leave your reviews below.
You may also be interested in
Kindlepreneur Customer Reviews