Kin Custom Reviews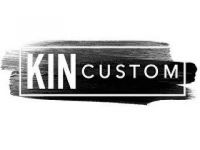 If you're an artist trying to sell your products online, creating art is likely the easiest part of what you do.
However, when it comes to packaging, printing, or selling your products, you may have a more difficult time. If you're ready to hand off some of the more stressful aspects of your process, you may want to give Kin Custom a try.
How Does Kin Custom Work
Kin Custom is an online platform that allows creators to customize, design, and sell their merchandise. You don't have to actually create the products - Kin Custom will do that for you.
Their curated selection includes home goods, accessories, shoes, and apparel - as an artist, all the legwork is taken out of the process for you. You just craft the designs!
If you are an established business that wants to expand your merchandise selection - or if you are new to drop shipping and want to create your own free Kin Custom shop, the company can offer you that, too.
Their merchandise is crafted carefully, using a multistep process of print, cut, and hand-sewn. Free shipping is included, and there's no minimum order required.
White Label services are offered at just $1.99 per product - this is a rate that you can't beat. Whether you are a brand, shop owner, or entrepreneur, Kin Custom is the best fulfillment partner you can find.
It offers an evolutionary platform with all the tools you need to expand or build your creative retail business.
Kin Custom does it all - they take care of shipping and logistics, manufacturing, and product fulfillment. And best yet, there's no upfront cost to you.
You are in charge of your profits and you can start selling immediately once you are approved. As orders are placed you import them into the creator studio to be fulfilled.
As a creator, you can choose from a niche selection of high-quality products. The creators pay the wholesale base fee and can control their own profit margins. The company uses the most advanced printing technology to provide maximum control over customization and printing.
Orders are shipped in just seven to ten business days, and most orders take only three days to be printed and shipped. You don't have to have any inventory to minimum order, and there's a 100% print guarantee. All materials are ethically sourced, too.
Cost and Price Plans
When you sell your products through Kin Custom, you can do so either by creating your products and selling them in your store, integrating the store you already have, or selling directly through Kin Custom.
Individual clothing prices vary. On average, to have Kin Custom produce and ship your product, it will cost anywhere between $10 and $50.
This depends on the product type, but you can find a full list of the product styles offered (along with their prices) on the Kin Custom website. You can design everything from jogger pants to shoes to backpacks and more.
A size chart is also published on the website so you can pass that information on to your customers.
If you want your customers to remember your products, you can even add a white label branding set for just $1.99. These can be attached to your product and come in the form of hang tags, poly bags, boxes, and more.
Is Kin Custom Legit?
Kin Custom is a relatively new start-up, but the company is already making waves when it comes to dropshipping and product production.
Customers love how transparent the company is, as well as how they have committed themselves to sustainable suppliers. Their made-to-order business model ensures high-quality materials and ethical business practices. Each product that is manufactured has a minimal environmental impact.
All products are cut and created by in-house experts and then packed in 100% recycled packaging. The company uses Standard 100 OEKO-TEX Certified Materials and is even SMETA Compliant for Labor, Health and Safety, Environment and Business Ethics.
In addition, there are multiple integration options. If you have a Shopify store, you can easily download the free app.
This will allow you to upload your products to be available on your Shopify store. The company also has integration options with Squarespace, Weebly, Etsy, Amazon, and others.
Customer Service
Do you have questions about Kin Custom or the service that the company offers? If so, you can submit a contact request on the company's website.
No phone number or email address is currently available, and a mailing address is not published on the company's website. However, the company does list a main location in Columbus, OH.
You can also sign up for the Kin Custom email newsletter. By submitting your email, you will have access to exclusive giveaways, special offers, news, and more. The company also has an active social media channels on YouTube, Pinterest, Twitter, Instagram, Facebook, and more.
Where to Sign Up?
To get started, all you need to do is visit the Kin Custom website. There, you can create a free account in the Creator Studio and upload your designs to create custom products.
Then, you can integrate these tore you already have or create a new store. You sell your products in your store as you create them - no inventory needed. Whenever a customer places an order, it is sent directly to Kin Custom for printing, shipping, and delivery.
Kin Custom Competitors
Kin Custom offers a unique service to creators all over the country. However, they are not the only name when it comes to printing and producing high-quality goods. Another option you might want to consider for your business needs is Printful.
When comparing Kin Custom vs Printful, the main thing you need to know is that Printful has been around for quite some time. It first started printing in 2013 and allows entrepreneurs to advertise their products on other e-commerce sites.
When an order is received, the business owners communicates with Printful to print and deliver the product. As with Kin Custom, the company offers a free signup without monthly fees - you only have to pay when an order is submitted. There's also an app for iOS and Android users.
Printify is another common alternative. This company works in a similar manner to Printful and Kin Custom. You will be able to choose from hundreds of styles and you can customize them with photos, designs, art, or logos.
What's different about Printify is that it has three different pricing packages - as the store owner, you can choose from a free, premium, or enterprise plan, each of which offers a different amount of stores and product designs.
The Bottom Line
At Kin Custom, all products are designed by independent creators. You, as the creator, will have a competitive advantage because you have access to a full range of printing services- without all the overhead.
With no minimum order requirements, manufacturing demands, or other hassles to deal with, you can spend more time focusing on how to create the most beautiful, marketable products for your customers.
If you have any experience with the Kin Custom or their products, please leave your reviews below.
Kin Custom Customer Reviews

CommentsOMine
Polyester products are larger than their size chart
I had no problem with the cotton shirt I ordered, but the polyester one is larger that their size chart indicates. And their return policy excludes returns due to sizing mistakes.