Keto Chow Reviews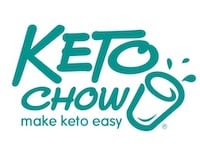 Keto Chow is a powdered meal replacement shake designed to help people maintain ketosis and beat the keto flu.
Each serving is customizable to your daily calorie requirements and is designed to meet a complete 1/3 of your daily needs for vitamins, protein, electrolytes, and more.
While technically you could live off of Keto Chow alone with no ill effects, it is primarily designed to replace 1 or 2 meals per day, those times where you are purely needing to fuel your body.
Products
Keto Chow is currently rolling out their latest formula, Keto Chow 2.1. In addition to their original 8 flavors (Chocolate, Chocolate Peanut Butter, Vanilla, Salted Caramel, Cookies and Cream, Strawberry, Mocha, and Banana)
Keto Chow will be introducing 10 new flavors including Pumpkin Spice Caramel, Eggnog, Snickerdoodle, Chocolate Mint, Chocolate Toffee, Orange Cream, Raspberry Cheesecake, Rootbeer Float, Natural Strawberry, and even Savory Chicken Soup.
Each "Week" Bulk Pack contains roughly 2 pounds of powdered Keto Chow, making 21 complete meal replacement shakes. Sample bundles with smaller packets of a variety of flavors will also become available later in 2018.
For international customers and those who would prefer to add their own specific protein powder, Keto Chow Base Powder contains the Keto Chow formula vitamins and minerals, without the flavor, sweetener, or protein. Simply add your own choice of low-carb protein powder.
Keto Chow also sells Hydro Flasks, Blender Bottles, and fish oil capsules (which can be taken by themselves or mixed into Keto Chow to provide the DHA and EPA Omega 3 fatty acids necessary to maximize nutrient absorption.)
How Does It Work?
Bags of Keto Chow, along with other products, are available on the Keto Chow website and delivered by USPS to customers around the world.
Keto Chow is customizable to the individual's caloric intake, depending on the amount of heavy cream added to the powder; for example 1/3 cup of cream will yield a 433 calorie meal.
To help users find their ideal individual calorie intake and generate a clear recipe for preparing their shakes, Keto Chow has included a calorie calculator on their website.
Keto Chow requires the addition of a heavy cream, avocado oil, and water or ice, and tastes best after being refrigerated 2-3 hours or even overnight.
Each serving of Keto Chow contains 26 grams of protein, 6.53 grams of total carbs, and just 0.6 grams of net carbs, as well as potassium, magnesium, sodium, and "optimum" amounts of a long list of vitamins and minerals including vitamins K2, D3, and B2.
Keto Chow does not contain added sugar, gluten, aspartame, or soy. For complete nutrition facts and ingredients for each flavor of Keto Chow, see the website.
Cost and Price Plans
Prices for a 21 Meal "Week" Bulk Pack of Keto Chow will range between $57.60 and $70, depending on the flavor.
Currently available flavors are priced at $64 for Banana, Chocolate, Cookies and Cream, Mocha, Salted Caramel, and Strawberry, or $70 for Chocolate Peanut Butter.
Purchase exactly 4 or exactly 8 packs of any combination of flavors and automatically save 5%.
Customer Service
Contact Keto Chow by phone on 385-645-5386, email at [email protected], or on social media.
The Keto Chow website also contains a detailed FAQ section which contains information about ingredients and nutrition, preparation, and ordering, as well as more general information about ketosis and the ketogenic diet.
The company lists its physical address as:
12577 S. 265 W St. Draper UT, 84020
They also offer a 30 day refund policy, if you are unhappy with your order contact a representative and they will work with you on processing your return.
Online Reviews & Complaints
The Keto Chow website includes a forum for flavor reviews, where customers rate the Chocolate Peanut Butter flavor at 4.9 out of 5 stars, have a mixed response to Mocha and Banana, and discuss the finer points of various blends such as Chocolate and Salted Caramel.
Testimonials on the nutrition page of the website attest that Keto Chow keeps you full, tastes great, and has helped people attain significant weight loss.
Customers are equally as involved and satisfied on the company's Facebook page, comparing triglycerides and begging for re-stock of Cookies and Cream.
To completely lose yourself down the Keto Chow rabbit hole, just find a thread discussing "keto-lent" meal replacements on Reddit.
The FAQ's on the website directly address many specific questions that customers might have, and are refreshingly direct. For example they explain that some people find Keto Chow salty due to the electrolyte content, and how to best minimize this effect.
Some people find that the protein levels of Keto Chow are too low for the amount of exercise they do, which the website explains can easily be remedied by adding more of any low-carb protein powder.
Keto Chow does not contain MCT oils or exogenous ketones, and the FAQ's discuss recommendations for if and how to use MCT oil with Keto Chow.
Best flavor? Based on popularity, that would have to be Chocolate.
Competitors and Alternatives
As the term "keto-lent" implies, there is a growing market of meal replacement products modeled off the popular Soylent line, but targeted to a ketogenic diet.
When compared to Keto Fuel and Ketosoy (now named KetoOne), Keto Chow does well in terms of flavor and texture, with customers comparing the shake to a creamy milkshake.
While KetoOne can be gritty in texture, some customers prefer it to the sweeter flavors of both Keto Fuel and Keto Chow. All three are nutritionally engineered to replace a complete meal and keep you in ketosis.
Where to Buy?
You can order Keto Chow from store.KetoChow.xyz
Is Keto Chow Worth It?
As many people have noticed, attempting to follow a Ketogenic diet can be daunting.
For many people, keeping carbs below 20-30 grams per day, finding good sources of quality fat and proteins, and getting all the necessary macronutrients to fuel their body seems complicated, restricting, and difficult.
If you're committed to following the Keto Diet and looking for an easy way to fill some meals for your week, this may be worth a try.
There are lots of positive reviews, a refund option, and lots of flavors to choose from.
If you have any experience with Keto Chow, please leave your reviews below.
You may also be interested in
Keto Chow Customer Reviews