Keep It Anchored Reviews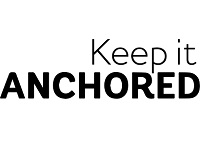 Keep It Anchored is a daily use hair-loss reduction regimen that the company states is clinically tested and proven to slow hair loss and retain natural hair.
At the center of the product is a proprietary technology known as the HairAnchor blend, created especially for both men and women separately, catering to their hair and scalp needs.
How Does It Work?
The founders of Keep It Anchored created the treatment regimen on the premise of routine care.
In comparing it to the use of sunscreen, they state that the manner in which you use it (to prevent sunburn) is the same way that you should incorporate Keep It Anchored into your daily life (to prevent hair loss).
Just as you protect your skin from damage and work to preserve its health, you should exercise daily maintenance on your scalp to retain its beauty and create an optimal condition for further growth.
After completing the testing of the HairAnchor blend and seeing positive results, the company went on to create additional products and packaged them together in a treatment kit.
There are four different options for those looking to implement Keep It Anchored into their hair care routine.
Hair Anchoring Essence
Hair Anchoring Essence with Pre-Cleanser and Shampoo
Hair Anchoring Essence with Shampoo
Hair Anchoring Essence with Shampoo and Conditioner
By incorporating these products into your everyday care routine, the company states that you will notice less hair loss and will retain more of the new growth that comes in.
How To Use
When using the different components included in KeepItAnchored, there are several steps.
Step 1 - The Pre-Cleanser purifies the scalp and unclogs pores.
Step 2 - The Shampoo with HairAnchor blend nourishes the scalp to reinforce hair roots.
Step 3 - The Conditioner perfects each strand to help you get the look you want each day.
Step 4 - Once out of the shower, apply the Hair Anchoring Essence to the scalp, then continue styling as usual. Be sure not to rinse it off!
When you do not wash your hair, apply 8-10 drops of the Hair Anchoring Essence to dry hair. Massage it in and style as usual.
When purchasing a kit that includes a different makeup, apply those steps to your daily routine. For example, if you only buy the Hair Anchoring Essence, you would only utilize that step.
What Ingredients Are In Keep It Anchored?
At the base of the treatment is the Hair Anchoring Essence, which contains the HairAnchor blend. Within that formula are the following ingredients:
Alcohol Denat
Water
Niacinamide
Dehydroxanthan Gum
Fragrance
Piroctone Olamine
Polyacrylamide
C13-14 Isoparaffin
Zinc Carbonate
Zinc Pyrithione
Panthenol
Caffeine
Laureth-7
Sodium Chloride
The other components of the treatment solutions have similar ingredients with some variations. Some of the more notable additions are:
Hydrochloric Acid
Methylchloroisothiazolinone
Citric Acid
Behentrimonium Methosulfate
Zingiber Officinale (Ginger) Root Extract
Cost and Price Plans
To purchase the complete kit, which includes three bottles of Hair Anchoring Essences, one Pre-Cleanser, one bottle of Shampoo, and one bottle of Conditioner, costs $79.00 per month.
If you choose the option without the Pre-Cleanser, your cost lowers to $69.00 per month. Purchasing the Hair Anchoring Essences and a bottle of shampoo will cost $59.00 per month.
Lastly, if you choose to purchase the Hair Anchoring Essences only package, you will pay $49.00 each month.
Customer Service
Proctor and Gamble, owners of Gain, Tide, Pampers, Charmin, Bounty, Puffs, Dawn, Old Spice, and Pantene, also own KeepItAnchored. You find this out by clicking the Keep It Anchored Terms and Conditions link.
However, they do not list Keep It Anchored as a brand on the P&G website.
Keep It Anchored provides a 60-day money-back guarantee for those not happy with the product. However, there are no third-party reviews that verify the consistency in receiving that refund if the product did not work.
If you have any questions you can reach someone at their phone number 1-844-483-4357 or by email at [email protected]
Online Customer Reviews & Complaints
As with the customer service reviews, there is no third-party feedback about the company Keep It Anchored.
Due to the sale of the products being routed through the company's website exclusively, there are no avenues to see buyer feedback or reviews through channels such as Amazon, Walmart, or Walgreens.
Additionally, popular review sites like Google and TrustPilot have no record of the brand, and the Better Business Bureau doesn't have the company listed in their directory.
Competitors and Alternatives
There are many hair growth options out there, with various price points and ingredients. Some competitors similar to Keep It Anchored are:
Keep It Anchored vs. Nioxin - Nioxin is widely sold through different outlets and has been on the market for a lengthier time than KeepItAnchored. They have high reviews on Amazon and Google.
Keep It Anchored Vs. Vegamour - Vegamour recently announced a partnership with beauty giant Sephora, which gives clout to its reputation and effectiveness. The product line has a high rating on many different platforms.
Where To Buy?
You can only buy Keep It Anchored on their official company website. Unlike many of their competitors, their products are not available for purchase in retail stores or websites.
The Bottom Line
Hair loss is a real problem for many people. More and more individuals find themselves faced with the situation and look to find a solution that will help them re-grow their hair or retain what they currently have.
Although we appreciate that the Keep It Anchored founders went through an extensive clinical trial, we place a lot of stock in independent, third-party reviews.
It's difficult to get a complete picture of a product's results when the only feedback you can obtain is through regulated testimonials on the company's website.
The brand's affiliation with P&G is promising, but the lack of distribution is disheartening.
With many other products on the market at similar or lower price points and many third-party reviews, it is difficult to pour your trust into a product that you don't know will for sure work.
Therefore, we do not deem Keep It Anchored worth it. With other, more reputable options available, we feel our money would be better spent elsewhere.
If you have any experience with Keep It Anchored or their products, please leave your reviews below.
Keep It Anchored Customer Reviews