IWantU.com Reviews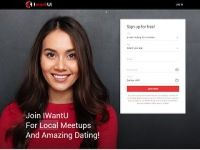 IWantU is an online dating site which describes themselves as an online "adult introduction" website for men, women, and even couples seeking casual sexual encounters, and not serious relationships.
While many online dating site focus on helping single people find compatible matches through the completion and analysis of personality tests, IWantU is intended more for people who are looking to fulfill sexual and erotic fantasies without the promise of commitment.
They specifically say that on their site, there are no commitments, obligations, or moral taboos. You are free to do whatever you want, with whoever you want, and your desires will not be offensive on their site. In fact, they say that if your ultimate goal is not to hook with someone than you should be using their adult dating service.
They also promise that your membership on their site and the "dates" you set up will be kept completely confidential; the website says there won't be any way that a significant other could find out.
For interested customers, the site states that all their features and options are free for a Standard membership, but if at any point you would like to upgrade to a paid membership to get further benefits you can. The cost of the subscription is based on the length of membership you are willing to pay for.
Like similar websites that promote casual relationships over committed partnerships, IWantU.com does employ people to create profiles and interact with their members. They say they do this to encourage interaction between members.
If you are someone who is not interested in interacting with employees, you can actually use a setting in your Account to stop that feature. According to their site, they still have over 100,000 "verified" male and female profiles.
If you have any experience with IWantU or their services, please leave your reviews below
You may also be interested in
IWantU.com Customer Reviews

Russ W