ItsWorthMore Reviews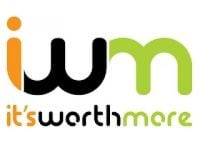 ItsWorthMore is a company that describes themselves as a 'reCommerce' service that is out to revolutionize the way customers buy and sell used electronics online.
How Does ItsWorthMore Work?
According to their website, the goal of ItsWorthMore.com was to give individuals and businesses a way to trade in their used electronics for the most value in a way that was both simple and convenient, and didn't have any of the risks associated with online auctions.
To do this, they ask their customers to find the used electronic device you are hoping to sell on their website, and then use their pricing calculator to get an instant quote based on the condition of that device. Customers will then print out a free shipping label and then pack and ship the item directly to them.
Once you have accepted their offer, you will have 14 days to ship out your item in order to qualify for their price guarantee.
Cost/Price Plans
Customers should do their best to select the most accurate description of their device's condition, and if the company evaluates the item as being in a condition other than what you had chosen, they will adjust their offer accordingly.
If there are no adjustments to your offer, your payment will automatically be initiated within 48 hours of the company receiving it. You will need to choose to be paid through either Check or PayPal.
In addition, any customer that refers their friends to use ItsWorthMore.com will be able to collect a $10 credit when they successfully sell their electronics through a link the company sends you for making referrals.
Refund Policy
This company doesn't have any published Refund Policy because their customers don't pay money to use their website, to ship their product, or to take advantage of their service in any way.
This website does not provide specific instructions for cancelling an offer or sale, but customers who have sent their device in and then change their mind should contact their Customer Service team as soon as possible.
Customer Service Contact Info
Customers who would like to speak to their Customer Service team about their questions, concerns, or complaints can do so by phone at (855) 487-9678, by email at [email protected], or by submitting them directly to their website through their Contact Us link.
Reputation
This company does appear to have a good reputation within the electronic resale industry and there are many positive reviews of their service, and how quickly and efficiently people are able to resell their devices through this website.
Competitors and Alternatives?
As mentioned above, many people choose to sell their old electronics through auction websites, like eBay, or there are other resale websites that customers are able to use if they are unhappy with the quote they get from ItsWorthMore.com, including NextWorth.com, and even companies like Amazon will allow you to trade in your old electronics for gift cards.
If you have any experience with ItsWorthMore or their products, please leave your reviews below.
You may also be interested in
ItsWorthMore Customer Reviews

Scott M
I purchased an iPhone from this company and it quit working after the 12 month warranty expired. When I took it to get repaired, the Apple store informed me that the phone I had been sold is a fake. When I contacted the company, they said that because it was outside of their warranty period, they will not help with the fake phone they sold me.
1 star is too many!

DelynXD
Ordered a Galaxy S 20 Plus off their site May 17 and requested expedited shipping but one month later never got it!! I called for my money back but they said they can't because it's "still in transit" and has to return to their warehouse 1st. Thieves, never ordering off this site ever again!!! Stay far away if I were you!!

John J
Legit Company, Thrilled to have done business with them!
I tried selling my phone to buybackworld.com and they tried really screwing me and ripping me off. They initially offered $140 and in the end wanted to give me $20. I had them return the phone to me and contacted Itsworthmore.com to see what they had to say. I sent in the phone, they had made an initial offer of $115 and honored that price and agreed with me on the condition of the phone. I should be receiving the money tomorrow. I AM THRILLED to have found them, when the first people were so horrible. I highly recommend not wasting time with the others and know you will be treated fairly at itsworthmore.com!!!

Vickie B
I sent them a 'flawless' 6s phone when they offered me $90 for it. It was about $25 more than Gazelle was offering so I went ItsWorthMore. I had 2 people look at my phone before I submitted my form to ensure I was accurate. My phone had been encased from day 1 as well as had a glass screen protector. The phone was in perfect condition

Victor L
Dont Trust them- Seller/ buyer beware!!!
I send them iPhone X in flawless condition and they first offer was high. That's when the games started they turned around and stated, "your device was found to have significant't burn in. Screen burn-in, or ghost image, is a permanent discoloration of areas on an electronic display. Prolonged display of non-moving images can create a permanent ghost-like image of these objects or otherwise degrade image quality. The best solution to this specific issue is to replace the screen assembly."
Let see if they return my phone and not someone else phone. I have my iPhone X serial number and the IMEI number.

Ron H
Sold 2 iphones and they were prompt.
I sold them an iPhone 6s and an SE. The first was valued at $90 and the SE at $60. Upon arrival they downgraded one to $60 and one to $40. They did a thorough checking of the phone and gave me a lower offer because of what they found. I agreed and they sent my check out right away. The whole process took about 10 days and they did fine. However, I think it is their business model to offer you a high figure and then find something to down grade the offer. Knowing that, go ahead and send it to them with the provided label. All in all I am pleased.

Cheryl c
These people are who they say they are! I sent them some electronics, they evaluated it and gave me a good price... and did it in a very professional, respectful manner. They took a couple days to evaluate the device and then "Bam" they sent money to my account with no question. I have already recommended them to some of my friends and I would recommend them to anyone else that is contemplating selling something.

Jim M
SCAM Company! possible theft!
I sent in my phone and waited and waited! No check, called company, left 3 voice mails and sent 3 -4 emails and still got no response. So I have no check and they have my phone!
Jim

Lash J
I got the exact price quoted you have to read the description of what they consider excellent, good ,and fair READ READ READ only reason why I'm giving it 3 stars is because I opted for a check to get paid and they said it through regular mail so no tracking number and you have to pay for packaging the item to be sent to them

Carol D
Had my almost new Galaxy S8 in excellent condition checked out by 3 places and Itsworthmore.com offered the highest price, then reduced the offer to $5 when they got the phone, claiming it had a camera problem (later confirmed with a major carrier there was no such issue). Additionally, kept the charger and leather case, and scratched the front glass surface. Filed a complaint with the BBB and they never responded.

Julie H
Offers are good then they lowball you once they have the phones
Sent in four phones due to my cancellation with Verizon - all Galaxy S9 plus - all nearly brand new. The offers were good so I sent the phones in. Just got the "updated adjusted bid" and what a joke. One was NEVER used, has all the original packaging and yet it was downgraded over $100 on the bid for no reason other than they said it wasn't brand new in the box - ummm, what else do you want it to be other than BRAND NEW IN THE BOX because it was! The second phone was used twice and yet they claimed there were "deep scratches" - there weren't, I took pics of all the phones before I sent them in..so they dropped the price on this one substantially. The third one they claim was locked, nope - all paid off and unlocked. The last one they said had a small crack which it did but it wasn't on the screen and didn't affect anything - they dropped it to $80...for a S9 . So my initial OFFER went was cut in HALF. I told them to send them back and while it took TWO WEEKS to get them there in the first place with their shipper I sure hope I get them back sooner. Beware. I tried them as a new customer having used Gazelle before but i'll never return and will gladly tell anyone who listens to not sell to them. Gazelle has my business and i'm sorry I ever switched...they NEVER gave me less than my offer ever. Very disappointed. Beware!

michael H
I just sent two phones into them that were in great condition and was quoted a solid price for a trade in.
I got a message after they received the phones finding every reason the offer would be 40% less then they offered. It was a total waste of my time and effort.
I would highly recommend using someone local that you can talk with and trust. DO NOT use this company.

Ez R
Well worth the effort.I received what I asked for!

James M
A scam- Avoid at all cost!
I bought my fourth generation iPad brand new, unrefurbished, in an Apple store. I had it for many years with no damage sustained whatsoever, and never a need to have it repaired or altered in any way. I got a decent offer of $85 for it by this company, and then once they received they gave me some song and dance about finding some dust between the screen and the LCD, and reducedtheir offer to $15 claiming that it must have been altered or serviced in some way. What a total rip off scam artist company! Avoid this company unless you don't mind wasting your time and potentially have your device damaged in the back n forth shipping. (I immediately declined their pathetic offer and demanded to have it returned.)

Vincent
Horrible experience and shady practices
Horrible experience and shady practices. I sent in a brand new unactivated HTC 10 still with the factory wrap on it...I was quoted $400 which is way less then they are selling new. I was asked to take out the sd card and to send in the phone...after receiving the phone I'm told it can't be accepted as new because no charger was sent in which was never requested when the offer was made by itsworthmore......I was offered $325 after they wasted my time minus fees on a new $550 phone...I should have never wasted my time and sold it on craigslist...words can't describe what i think about these people.