ItsWorthMore Reviews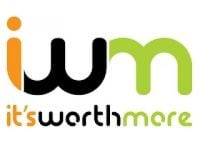 ItsWorthMore is a company that describes themselves as a 'reCommerce' service that is out to revolutionize the way customers buy and sell used electronics online.
How Does ItsWorthMore Work?
According to their website, the goal of ItsWorthMore.com was to give individuals and businesses a way to trade in their used electronics for the most value in a way that was both simple and convenient, and didn't have any of the risks associated with online auctions.
To do this, they ask their customers to find the used electronic device you are hoping to sell on their website, and then use their pricing calculator to get an instant quote based on the condition of that device. Customers will then print out a free shipping label and then pack and ship the item directly to them.
Once you have accepted their offer, you will have 14 days to ship out your item in order to qualify for their price guarantee.
Cost/Price Plans
Customers should do their best to select the most accurate description of their device's condition, and if the company evaluates the item as being in a condition other than what you had chosen, they will adjust their offer accordingly.
If there are no adjustments to your offer, your payment will automatically be initiated within 48 hours of the company receiving it. You will need to choose to be paid through either Check or PayPal.
In addition, any customer that refers their friends to use ItsWorthMore.com will be able to collect a $10 credit when they successfully sell their electronics through a link the company sends you for making referrals.
Refund Policy
This company doesn't have any published Refund Policy because their customers don't pay money to use their website, to ship their product, or to take advantage of their service in any way.
This website does not provide specific instructions for cancelling an offer or sale, but customers who have sent their device in and then change their mind should contact their Customer Service team as soon as possible.
Customer Service Contact Info
Customers who would like to speak to their Customer Service team about their questions, concerns, or complaints can do so by phone at (855) 487-9678, by email at [email protected], or by submitting them directly to their website through their Contact Us link.
Reputation
This company does appear to have a good reputation within the electronic resale industry and there are many positive reviews of their service, and how quickly and efficiently people are able to resell their devices through this website.
Competitors and Alternatives?
As mentioned above, many people choose to sell their old electronics through auction websites, like eBay, or there are other resale websites that customers are able to use if they are unhappy with the quote they get from ItsWorthMore.com, including NextWorth.com, and even companies like Amazon will allow you to trade in your old electronics for gift cards.
If you have any experience with ItsWorthMore or their products, please leave your reviews below.
You may also be interested in
ItsWorthMore Customer Reviews