iRT-5 Machete Rails Hybrid
iRT-5 Machete Rails Hybrid Reviews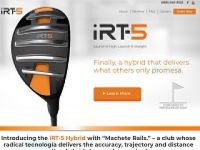 The iRT Machete Rails Hybrid, found online at iRT5Golf.com, is a new type of golf club that says they are able to deliver what other hybrid golf clubs only promise: deadly accuracy and rock solid consistency.
How Does It Work?
According to their website, when hybrid golf clubs were first launched, people were looking forward to having a superior club option to long irons. Unfortunately, they found that while most hybrid clubs were a slight improvement on the traditional long iron, they never really delivered what they promised.
The iRT Machete Rails Hybrid, on the other hand, says that they are a complete redesign of the standard hybrid club and that they have added an important element to their club head: their patented "Machete Rails."
Their website says that the biggest issue for most amateur golfers is hitting the ball on a steep angle which causes the toe to hit the ground first, opening the clubface and sending the ball to the right. Their Machete Rails compensate for this by preventing the toe from digging while steering the clubface toward a square impact position.&nbsp
&nbsp
But the club provides more than that. iRT says that the Machete Rails have multiple benefits besides reducing clubhead twisting to stabilize the face, including lowering the club's center of gravity for a higher launch, decreasing turf contact by approximately 75%, and reducing sidespin so that there is no fear of the ball veering off to the side.
Cost/Price Plans
At this time, the iRT Machete Rails Hybrid is not actually available for sale at any retail store. When it does become for sale through stores, it will retail for $229, but while it is still only available for sale through their website, it will retail for $179, plus a shipping and handling fee which is based on your residential location.
When ordering your club, they will ask whether you are right or left-handed and what level of flex you prefer in your club shaft, so customers will want to have this information ready.
Refund Policy
iRT says that most golf club companies have the same Return Policy, which is "You hit it, you keep it." They are proud to offer a very different policy, which they call their "60-Day, Hit-It-All-You-Want, Money-Back Guarantee."
Their website says that they are so confident that you will love their "consistent, high-trajectory, deadly accurate performance" that they welcome their customers to take their club to the course and "hit it all day, every day for two whole months" to see whether it really works for them.
They say that their policy simply says that "if the iRT doesn't blow the doors off any hybrid you've ever played, send it back and we'll refund the full purchase price" minus the cost of shipping and handling.
Customer Service Contact Info
Customers who would like to contact Customer Service with any questions, concerns, or complaints can do so by phone at 888-241-2460 or by email at [email protected]
Reputation
Unfortunately this club appears to be so new that there simply are not that many customer reviews available for it at this time, making it difficult for prospective customers to know whether or not this is the right product for them.
Another serious issue with this product is their lack of any published Terms and Conditions. Though their Refund Policy does seem very beneficial to their new customers, without a set of legal Terms and Conditions being available for customers it is difficult to really know if this policy works in reality the way it has been detailed on their website.
Concerned customers should just make sure to contact their Customer Service team and ask about all the details of this Return Policy before they make their purchase of this product official.
Competitors and Alternatives?
As mentioned by the iRT website, there are many different hybrid golf clubs available on today's market, including a variety which claim to take a "new and different" approach to older model hybrid clubs.
If you have experience with this company or their products, please leave your iRT Machete Rails Hybrid reviews below.
You may also be interested in
iRT-5 Machete Rails Hybrid Customer Reviews

Arnie
Hello, friends!
I am 25-level handicapper with a swing speed of only 75-80 mph, and cannot hit an iron to save my life. I bought a 32-degree loft iRT-5 Machete Rails (with Senior Flex) instead of the 24 degree because I had already purchased a Moonwood MW8 in 25-degree loft and had read that your clubs in the bag should never be redundant. I had been struggling with the highly acclaimed Moonwood so I did not have high expectations for the iRT-5. The Machete Rails arrived earlier today and I immediately left for the driving range to try it out, followed by 9 holes of golf.
Unlike my experience with the Moonwood, I instantly felt comfortable with the grip and address of the iRT-5. I had hit only about 15 balls off the simulated fairway and rough on the driving range before being quickly convinced that I would love this club. Every shot took off nice and high and within five degrees of my target except one, which I pulled due to sloppy setup. The carry distances were equivalent to what I could achieve with my best 6-iron shots (now please don't laugh: about 130-140 yards). I found I could adjust my swings to match my seven iron as well. I did not hit a single shot that resulted in an unplayable position.
Then I played the course and unfortunately only needed the iRT-5 once, because I found myself over 150 yards from the green after most drives, which required my 25 degree Moonwood. The one time I drove inside 150 yards of the pin, I was in the left rough with a 20-foot pine tree 25 yards in front of me in line with the flagstick 135 yards away from my ball: a perfect worst-case-scenario test for the iRT-5/32*. I used my normal swing and lofted the ball straight over the tree and had to duck down low to see where it landed. It hit the green about two degrees right of my line to the flag and rolled about 10' past pin high. I was able get down in two from there for my par.
I had never parred that hole before because of my terrible iron play on approach shots. I was always splaying them left or right, or clubbing the ball short of the green or over it. I never felt more confident on an approach shot as I did with this club.
My only regret was that I didn't also buy the 24-degree iRT-5 because most of my approaches required that club, and my Moonwood 8-25 and I just don't get along very well. I struggle with it as much as I did with my 4-5 irons it was supposed to replace. That is not the case with my Macheter Rails 32.
There is also a 21-degree iRT-5 to replace my 2- and 3-irons and I am considering purchasing it, but really, I should just dump the Moonwood and get both the 21 and 24 IRTs to join my 32 and be complete. I am seriously considering this in spite of the cost.
Conclusion: I love this club! I love how it feels and how it sets up to the ball at address, the ease of swinging in the plane, and its forgiving face at impact. I feel as though I have mastered it after only twenty swings. I cannot emphasize enough how important it was to my performance to feel comfortable setting up to the ball with the iRT-5. That confidence was reflected in my swing and also in my performance. I only wish the Moonwood would be that way as well!
All the best to you, fellow golfers!
- Arnie